The Entire Staff of Writers, IllinoisPayToPlay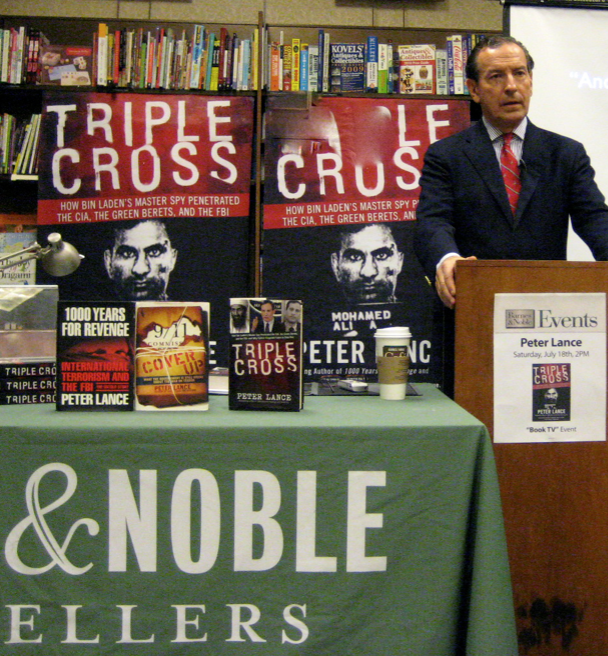 When U.S. Attorney Patrick Fitzgerald attacked Peter Lance, and his book Triple Cross, from the Office of the U.S. Attorney in Chicago, he crossed a dangerous line.
A line that, as Americans, we must not allow our government to cross.
That line protects our First Amendment Right of Speech, and prevents government censorship.
View Peter Lance talk about his book Triple Cross here: http://www.c-spanvideo.org/program/Triple
"Peter Lance filed a complaint with the Justice Department's Office of Professional Responsibility (OPR) asking for an investigation of Patrick Fitzgerald on June 13th, 2009.
He Fed Ex'd copies of the letter to both A.G. Holder and Mary Patrice Brown, then Acting Counsel of the OPR. Lance never received a response from either of them."
You can read the formal complaint filed with the OPR here:
http://www.peterlance.com/PL_OPR_%20Complaint_VS_PF_AP
When the Dept. of Justice's (DoJ) Office of Professional Responsibility (OPR) ignored that Fitzgerald abused his power as U.S Attorney in his attempt to censor a book containing material he disliked.  An act that violated the Constitution
The clear message was sent that, Holder's Dept. of Justice doesn't respect the First Amendment.  That should chill us all, and make us wonder: What other parts of the Constitution are they ignoring?
At IP2P, we believe the issue of government censorship is of such great importance that we urge all Americans who treasure their God-given right to freedom of speech to let the DoJ know how you feel.
And when you get no satisfaction from the OPR, consider contacting your member of Congress.
Mary Patrice Brown, and the OPR, have been asked to comment on this question:  "Why was no investigation into U.S. Attorney Patrick Fitzgerald's disturbing conduct ever initiated?"
So far, there's been no response.
As this story develops, ask yourself: Do I want the government deciding what I can and cannot read?
Ernie Souchak, Editor-in-Chief
Former U.S. Attorney Patrick Fitzgerald was right when he said this about Ali Mohamed: "This is the most dangerous man I have ever met. We cannot let this man out on the street."
However, we believe that, in hindsight, Fitzgerald proved more dangerous than Ali Mohamed.
In-fact, Patrick Fitzgerald may be remembered by history as being a danger to the American way-of-life - depending, of course, on who writes the history of this alarming era.
We hear you thinking, "Why that's nuts!"  Really?
It's not nuts when you take into account the events involving Fitzgerald leading up to 9-11, as those events have been documented by Peter Lance, and others.

                                                               Amazon/Triple Cross
It's not nuts when you examine the chain-of-events set off by Fitzgerald's willing incompetence, and wonder what this era would have been like had he'd done the right thing.
So let's play...What if?
What if Patrick Fitzgerald had had Ali Mohammed arrested - the person he described as "...the most dangerous man I have ever met. We cannot let this man out on the street.".
Would 9-11 have happened?
Would we have gone to war in Iraq and Afghanistan?
Would we have given up so many of our liberties under the guise of being more secure?
Would our financial institutions and the USD be eroding?
What if Patrick Fitzgerald had not been appointed U.S. Attorney of the Northern Dist. of Illinois?
Would John Chase have been instructed to call Rod Blagojevich and warn him that the feds were recording him?
Would Jesse Jackson, Jr. have been arrested for trying to buy the U.S. Senate seat vacated by Barrack Obama?
Would Barrack Obama have been elected President without the help and protection of U.S. Attorney Patrick Fitzgerald?
We agree with Patrick Fitzgerald's assertion that Ali Mohammed was dangerous, and should not have remained a free man.  (Did we ever find out why Mohamed remained free?)
If he had been arrested, would we have children being groped at airports by TSA agents?  Would we have warrantless wiretaps underway, or drones flying overhead?  Would there be American citizens on the President's kill list?
We think there's a good chance all that might not have happened.  And, consequently, we nominate Patrick Fitzgerald as America's "Most Dangerous Man."
To be continued.........
Editorial Staff
At IP2P, we've addressed several articles about Patrick Fitzgerald's idea of truth.
However, the piece that may prove to be our most important chronicle is ahead. It involves a book titled Triple Cross.
U.S. Attorney Patrick Fitzgerald's attack on investigative reporter and novelist Peter Lance, and his book Triple Cross, was Fitzgerald's war against the truth.
The Department of Justice declared war against the First Amendment when it allowed Fitzgerald to conduct his war on Lance, and on the publisher of his book, from within the U.S. Attorneys Office in Chicago.
Read about Fitzgerald's Attempts to silence Lance here:
U.S. Attorney Tries to Kill Triple Cross. Fitzgerald threatens to sue
Triple Cross is a must read for anyone who wants a truthful look at our government's actions, and lack of actions, that led to 9-11.
And, perhaps equally important, Triple Cross revealed that U.S. Attorney Patrick Fitzgerald, the man touted as the most likely candidate to replace FBI director Robert Mueller, has no problem employing Gestapo tactics on citizens who tell the truth about his, or his accomplices', actions in a significant cover-up.
In Triple Cross you can learn, thanks to old-fashion investigative work done by Peter Lance, the truth about Patrick Fitzgerald.  He is no Elliot Ness. And the thought of Patrick Fitzgerald ever becoming FBI Director should alarm all freedom-loving Americans.
Lance's work is a road map to understanding how we've come to a point in American history where the Justice Department routinely tramples on our constitutional rights, and now insists that it is within the President's power to kill American citizen's without due process.
Learn more from Peter Lance here: http://peterlance.com/wordpress/ 
More ahead on this.