Ernie Souchak, Editor-in-Chief
Robert Blagojevich is on a book tour trying to sell the idea that former U.S. Attorney Patrick Fitzgerald was using him to secure a conviction of his brother, former Governor Rod Blagojevich.
What Robert fails to realize is that his book, "Fundraiser A", tells a completely different story.
In fact, Robert's book confirms for us that the prosecutors withheld damning evidence against him and his brother, Rod, from the jury and the American public.
Case in point: Robert states in his book that he was playing a "game of chicken" with prosecutors.
Here is an excerpt from Robert's book that proves that to be true:
"Day Nineteen: Wednesday, July 7, 2010
Noted in my journal this day:
'Mike [Ettinger] spoke with [Assistant U.S. Attorney Reid] Schar again this morning, Schar wanting to know if I was going to testify. Mike told him I was. Schar's response was that he had other tapes that haven't been played that he could play if he needed. Mike told him to bring it on. I told Mike I won't testify if they drop the charges against me. That was a nonstarter for Mike, he just looked at me. This means they are threatening to use more tapes to get me not to testify."
Normally prosecutors salivate over the prospect of a defendant taking the witness stand.
Ask yourself this: Why would a prosecutor threaten a defendant in hopes of preventing him from taking the stand?
Why would Robert think the prosecutors would drop the case against him rather than see him take the stand?
Well, Robert took the stand, and the prosecutor delivered on his threat, as illustrated by this excerpt from Sun Times reporter Natasha Korecki's book.
"Rob was convincing on direct examination. Next was cross-examination by Niewoehner, who tore into the pristine image Ettinger created. Rob stumbled as Niewoehner asked about a tape that hadn't been played - a November 5, 2008 discussion. 'If you can get Obama to get Fitzgerald to close the investigation on you, it completely provides you with total clarity,' Niewoeher qouted Rob telling his brother.
Rob testified that this exchange had nothing to do with [Valerie] Jarrett's appointment and that it was instead meant 'in context of what politicians do'. He seemed caught off guard, though, and the tension in the courtroom was palable. If the prosecution could do this to Rob in less than 15 minutes, what would they do to his brother?"
So Robert, the day after getting elected president, you and Rod thought Obama would get Fitzgerald to close the investigation just because that's "what politicians do"?
Really Robert? Don't you mean crooked politicians?
And Robert, do you really expect us to believe that asking Obama to get Fitzgerald to close the investigation on your brother had nothing to do with the offer to appoint Valerie Jarrett to the U.S. Senate seat Obama vacated?
Like they say, let's go to the tape!
Here's a question that Fitzgerald was asked but he refused to answer.
Why did the prosecution not present such a damning recording in their case against Robert and Rod?
They obviously did not want that tape on record because it would implicate other well known politicians who were being protected by Fitzgerald.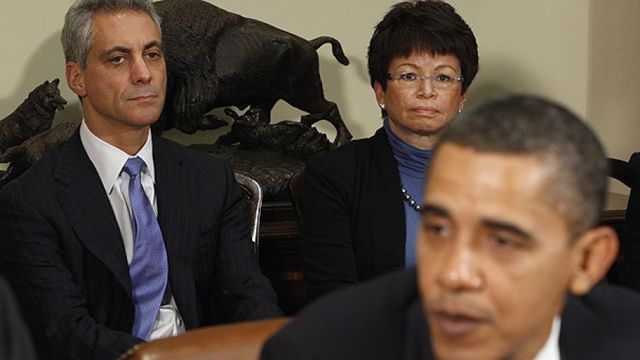 If Robert did not take the stand, we would have never known that he and Rod had reason to believe Obama would call off Fitzgerald and close the investigation if Rod appointed Jarrett to the U.S Senate.
But Robert did take the stand and Fitzgerald's office met him head on by using a single quote from the wiretap tape that they are still withholding to this day. The quote the prosecutors used can only be found in trial transcripts due to the fact that they never entered the tape or transcripts of it into evidence.
Clearly both the prosecutors and the defendants in this case do not want the full contents of that wiretap tape to be made public. Thus the "game of chicken" Robert referred to in his book.
By the way Robert, you spent a good part of your book calling Patrick Fitzgerald a liar. While I do not disagree with you on that assertion, I would like to point out that when you say "you beat him at his own game" and you were playing a "game of chicken" with him, that you are in fact boasting that you're a better liar!
Since you like to play games Robert, how about we play a game of truth or dare?
If you won't tell the truth, I dare you to release the full transcript of that November 5, 2008 conversation between you and your brother.
Or would that take away the leverage that you are using to get Rod out of prison?
More to come...

Enjoy this article?