Marty Watters, Investigative Reporter
Amy Jacobson, co-host of Salem Radio's Morning Answer Show, received a block-buster document that would lead to exposing the real reason corrupt DoJ officials took down the sitting governor of Illinois, Rod Blagojevich.
As explained here:
https://illinoispaytoplay.com/2018/06/13/robert-mueller-has-a-history-of-meddling-in-elections/
Jacobson was provided the protective order from the Blagojevich case. It proves that not only did the Deep State not want the public to hear all the FBI wiretap recordings in the Blagojevich saga, Blago himself does not want the public to hear them. And, he never did!
Initially Jacobson said she would confront Blagojevich with this new revelation as reported here:
But then Jacobson decided that she did not want to report this important development. Management at Salem Radio is standing squarely behind her decision, saying they trust her.
Remember now, that this is the same Amy Jacobson who was fired by NBC for taking her kids swimming at a suspected murderer's (Craig Stebic) house.
Jacobson most recently made national news by battling Illinois governor J.B Pritzker in court over whether or not she is a real reporter.
When Jacobson won her battle with Pritzker, her Station Manager, Jeff Reisman, celebrated the victory by declaring the following:
"Amy Jacobson has a long history in Chicago as a dogged journalist who asks tough questions. We're happy that she can finally get back to doing what she does best – asking the questions that are on the minds of so many in our audience."
Reisman did not respond to any of my phone calls or emails.
However when confronted with Jacobson's refusal to set the record straight and report the truth about the Blagojevich protective order Reisman's boss Salem Radio Network Vice President of News, Tom Tradup, explained to me that Jacobson was not really a reporter.
Talk about wanting to have your cake and eat it too.
David Santrella the president of Salem's broadcast media weighed in telling me that he does believe Jacobson to be a reporter and that Jacobson told him her radio audience wouldn't care about the Blagojevich hoax and that it is old news.
Santralla did make a point of telling me that he did not discuss any of this with Jacobson's co-host Dan Proft.
Does Jacobson run the show?
So, as it stands, Jacobson decided, on behalf of Salem Media, that Rod Blagojevich and his attorneys lying about wanting the public to hear all the FBI wiretap recordings is old news!
Really?
Blagojevich and his attorneys are to this day claiming they want the pulic to hear all the tapes. But that they can't because of a protective order.
Feb. 19, 2020 - Blagojevich attorney Sam Adam Jr.:
"To this day those tapes are under protective order. No one's allowed to hear 'em; I'm not allowed to tell you what's on 'em,"
What Adam Jr. does not tell us is that his client Rod Blagojevich is really the one who is preventing him from talking about those recorded connversations. Not a protective order!
Jacobson's co-host Dan Proft, who is an attorney and political insider in Illinois, slipped and let the Blago hoax cat out of the bag when interviewing Tribune reporter Jeff Coen. It happened when Proft blurted out that Blago can tell us about his conversations with Rahm Emanuel and others anytime he wants.
What Proft failed to do in this interview after he let slip that Blago can divulge his conversations with Rahm Emanuel was ask his guest Coen what Rahm and Blago talked about.
(Coen interview 8:45 mark)
https://youtu.be/ec6X2JkaEgM
Proft and Jacobson both know that Coen publicly claims to have been provided all the FBI wiretap recordings and transcripts.
Why are Proft and Jacobson not asking Coen what Emanuel and Blagojevich discussed?
Why would Jacobson think a topic that she said was lighting up the radio station phone lines during this interview be something her audience does not care about?
Worse yet, months after the Coen interview Proft and Jacobson interviewed Robert Blagojevich and they allowed him to tell the same old tired lie about wanting all the tapes to be heard.
(Robert Blago interview 4:40 min. mark)
https://youtu.be/p_MSuAkC6SI
Again Proft and Jacobson failed to ask about what was captured on the recordings despite knowing that the Blagojevich brothers can and always could divulge that information anytime they please.
Now why would Proft and Jacobson not want to know what was on those tapes?
Could it be that Proft and Jacobson know that asking these questions would expose that the Blagojevich takedown was a scheme carried out by President Bush's FBI Director Robert Mueller to protect Barrack Obama and his corrupt friends?
Here's the kicker. Rod Blagojevich himself relunctantly admitted recently (Feb. 23, 2020) during an interview with Eric Bolling that he can tell us what is on those tapes.
(9:00 min. mark)
https://m.facebook.com/WICSABC20/videos/1098644737163222/
Kudos to Bolling!
Now the question I have for the George W. Bush friendly management at Salem Media is this:
Why are you okay with your radio personalities promoting a false narrative, and suppressing block-buster news that would help expose the real reason that corrupt DoJ officials in the Bush administration after a six year "investigation" finally took down Governor Rod Blagojevich?
Election medlling is nothing new for this bunch.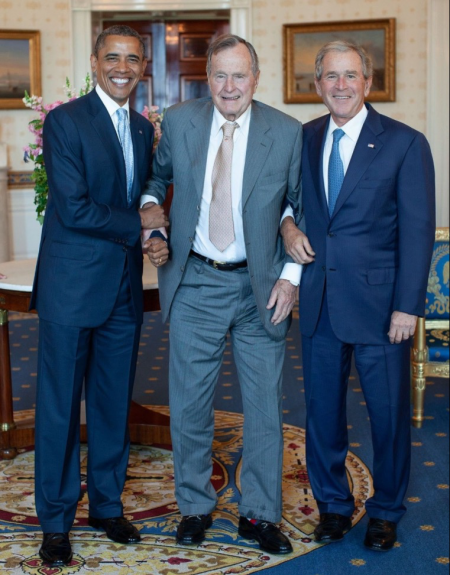 And the meddling will continue if the media is not held to account for their complicity.
Salem Corporate
4880 Santa Rosa Road
Camarillo, CA 93012
Phone: 805.987.0400
More to come...