Thomas Barton, Investigative Reporter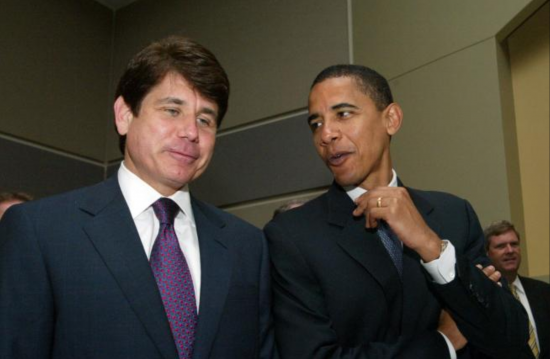 All indications are that the former governor of Illinois Rod Blagojevich will be set free mid 2013.
This is being done in the usual Chicago Way - smoke and mirrors narrative put out by the Chicago media to deceive the public, while deals are made in the back-room.
The deafening silence you hear from Rod Blagojevich's legal team in the midst of John Chase and Jeff Coen running around town saying that they have listened to the never made public wiretap tapes, and that there is nothing on them, says it all, the deal is done.
This is the same legal team that consumed Blago's $3,000,000. campaign fund in his first trial, running around town screaming the tapes will prove Blago's innocent if only the people could hear them all.
Listen to what Sam Adam Jr. had to say on Dec 8, 2011, no doubt before the back-room negotiations were concluded.
Did Sam Adam, Jr. mean, if only John Chase and Jeff Coen could hear them his client would be exonerated?
And Mr. Sheldon Sorosky - aren't you in the process of an appeal for Blago?
How does John Chase and Jeff Coen, running around town claiming there is nothing on any of the government wiretap recordings of Blago that exonerates him, not concern you as his attorney?
Sheldon aren't you the least bit curious how John Chase and Jeff Coen got their hands on the non-public tapes and transcripts?
And then there's Rod's loving partner in crime and Dick Mell's daughter Patti, why is she silent on the matter?
Could it be because recently her husband has publicly asked her out on a date next August, and that she has stated she believes this will be the last holiday season he spends in prison?
So, Patti believes her husband is going to serve approximately 1 year of a 14 year sentence, at a time when Chase and Coen are claiming the tapes do not point to anything other than Blago's guilt.
There will be time for us to address how the "Blagojevich Show" got to this point, and what can be done to stop this back-room deal and insure that justice is served by Blago paying his debt to society behind bars.
However, what should be most concerning to honest law-abiding citizens at the moment is, why is the government involved in this back-room deal with Blago?
Most of all.  Why are we expected to take John Chase and Jeff Coen's word for anything?
Didn't the USAO just call them liars?
Time for the public to hear the tapes and read the transcripts that everyone keeps talking about.
Time for some honest answers.

Enjoy this article?