Ernie Souchak, Editor-in-Chief
Chicago Tribune's Christy Gutowski reported that former House Speaker Dennis Hastert retracted his accusation that Mr. Doe (Individual A) was extorting money from him in her story on the civil case of James Doe vs Dennis Hastert.
She obviously did not fact check that claim.
Because the former speaker is still implying that he is being blackmailed in recent court documents.
IP2P emailed Gutowski to get verification of the claim that Hastert retracted his accusation.
---------------------------------------------
From: [redacted]
To: Christy Gutowski
Sent: February 23, 2017 at 3:20 PM
Subject: Dennis Hastert victim again argues for rest of hush money in court filing
Ms. Christy Gutowski
Did you fact check Ms. Browne's claim that Dennis Hastert has retracted his accusation that "Individual A" was extorting money from him?
Where and when did Hastert make this retraction?
In response, Kristi Browne, the victim's attorney, said in her recent court filing: "Hastert engaged in illegal conduct by failing to make proper disclosures in connection with withdrawing funds from his bank accounts in violation of banking law, rendering himself and the agreement between the parties the subject of a federal investigation. Hastert was the first to disclose his agreement to pay Mr. Doe to federal officials, but falsely accused Mr. Doe of extortion, an accusation he has since retracted."
http://www.chicagotribune.com/news/local/breaking/ct-dennis-hastert-lawsuit-met-20170222-story.html
[redacted]
Illinoispaytoplay.com
-------------------------------------------
Gutowski did not reply to our email.
When Gutowski was contacted by phone to discuss the seemingly fraudulent claim that Hastert had retracted his accusation, she refused to answer any questions and stated: "You will have to speak to my editor, I am just a reporter" before abruptly hanging up.
Is she implying that her editor at the Chicago Tribune is responsible for the false reporting?
Why would the Tribune do this? Especially since the Tribune has already reported that it knows the identity of "Individual A"?
(Reporters Shine Light on Alleged Victims in Dennis Hastert Case)
Perhaps the Tribune knows that if it was determined that "Individual A" was indeed blackmailing Dennis Hastert that the public would demand to know who he is?
The Tribune also knows that if it were to reveal the identity of "Individual A" it would not only confirm that Hastert was being blackmailed. It would also raise new and serious questions that would open a can of worms that U.S. Attorney Zachary Fardon desperately wants to keep closed to the public.
And lets face it, we all know that when the U.S. attorneys office in Chicago says "jump", the Tribune asks: "how high?"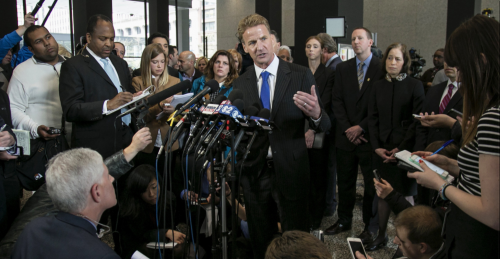 Nice try Zachary. But we are not falling for your "fake news"
Buckle up, folks. The Hastert story is about to take a wild turn!
(Kristi Browne and Tribune Editors did not respond to attempts for comment)


Marty Watters, Investigative Reporter
Occupational Safety and Health Administration officials Sukhvir Kaur and Angeline Loftus recently confirmed that United Airlines facilities maintenance manager Sylvia Empen lied to OSHA officials, and that by doing so Empen broke the law and could face criminal charges.
And as with many federal cases, it could be the cover-up that ultimately lands people in jail.
And for her part in the illegal removal and dumping of asbestos from buildings at United's former World Headquarters (WHQ), jail might be just where Empen is headed.
 DOJ Stresses Individual Accountability in New "Yates Memo"
Enhanced Criminal Prosecutions of Worker Safety Violations – Employers Beware
Here are the facts:
Empen contracted A&E Services Inc. to remove asbestos from United's former WHQ.
A&E Services hired Mexican day labor on an ongoing basis to illegally remove and dump the asbestos.
In doing so A&E exposed United employees and the public to vast amounts of airborne asbestos fibers.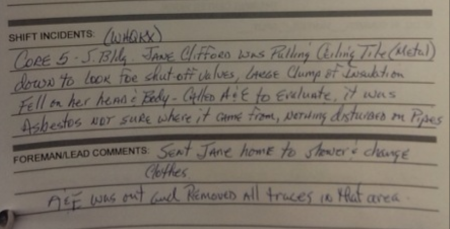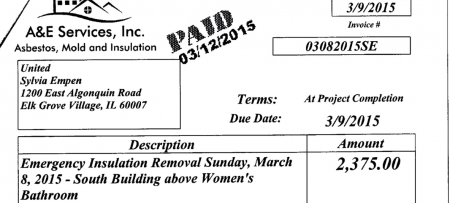 United employees then filed an official complaint with OSHA.
Ms. Empen told OSHA officials who were investigating that complaint for the record that A&E Services was removing fiberglass insulation and not asbestos.
Now thanks to whistleblowers at United, OSHA officials have learned that A&E Services was in fact removing large amounts of asbestos - not fiberglass insulation - from United's former WHQ, and that Empen lied to them during the investigation.
Thanks to Empen's lies, OSHA prematurely closed its investigation. As a result, United employees and members of the public are still being exposed to airborne asbestos fibers throughout the entire campus of United's former WHQ.
It has also been established in recent meetings with OSHA officials that during their interviews with United employees, OSHA investigators did not inform the employees of their whistleblower protection rights.
That will be very important moving forward due to the fact that United employees have since endured physical threats and retaliations at work for telling OSHA investigators and United management what they knew about the illegal asbestos removal.
Steps are now being taken to ensure that United employees begin receiving the workplace protections that they are due under the federal whistleblower protection laws.
Furthermore, U.S. Attorney Zachary Fardon has been informed of this situation and has even received a referral from the New Jersey U.S. Attorney's Office to investigate these developments due to concerns that United has violated the Non-Prosecution Agreement it entered into in a public corruption case with that office.
The question now is: How high up the United Airlines management chain does this cover-up go?
Oscar Munoz, does the buck stop with you?


Marty Watters, Investigative Reporter
Attorneys at the Department of Labor (DOL) have just hit the panic button in the case of Secretary of Labor, United States Department of Labor v. United Airlines, Inc.
Trying to conceal corruption within the agency, Dept. of Labor attorneys David Rutenberg, Allen Bean and Christine Heri have filed an absurd motion asking Administrative Law Judge Dennis Phillips to rule against himself and ignore his previous decision that the asbestos case against United Airlines would go to trial.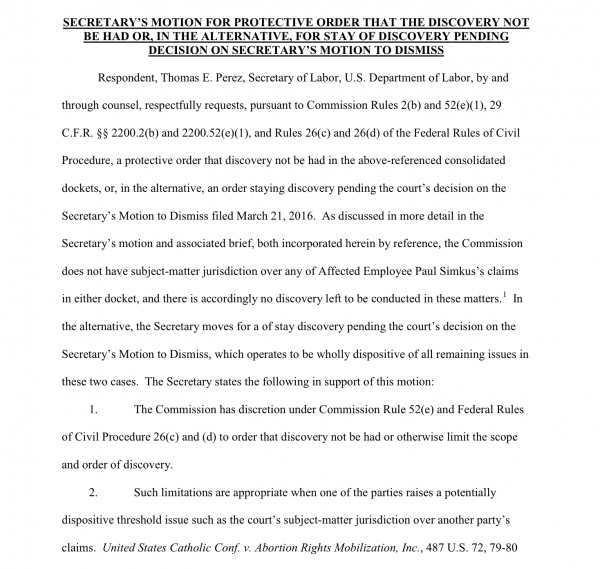 This desperate act on the part of DOL attorneys is due in part to the fact that they are in possession of documents and other material evidence that, if made public, would expose their complicity in committing fraud on the court.
So the DOL certainly does have good reason to panic.
But their sheer audacity may backfire on them.
Not only are they asking Judge Phillips to rule that his previous decision to go to trial was a mistake. They are also asking Phillips to completely ignore the overwhelming evidence that perjury and fraud have been committed by government officials in his very own courtroom.
Wow! That's a lot to ask of an OSHA Review Commision judge whose sole purpose as designated by Congress is to keep government powers in check.
In essence, DOL attorneys are asking Judge Phillips to commit fraud on his own court.
Bet that hurt to ask!
However, since that's what they did, perhaps the prudent thing for Judge Phillips to do at this point is to take the DOL's assertion that he lacks jurisdiction over fraud in his own court seriously, and request that the Department of Justice (DOJ) assist him in investigating the crimes being blatantly committed by the DOL right under his nose.
After all, the DOL attorneys are right about one thing: In public corruption cases, the DOJ does have jurisdiction.
What do ya say, U.S. Attorney Zachary Fardon?
Are you ready to take down some corrupt government officials?
Or is public corruption no longer a top priority?