Marty Watters, Investigative Reporter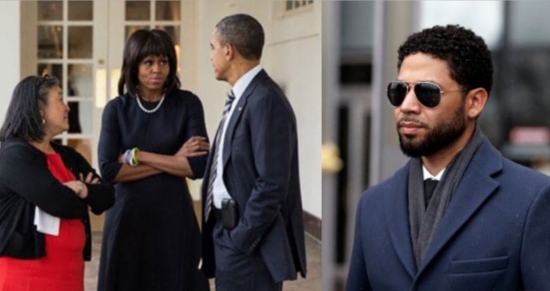 Anyone who was paying attention to details knew that the Jussie Smollett story was a hoax from the very beginning.
What they might not yet realize is that there now is a hoax within the hoax.
And this time it's the "fake news" Chicago media who are the perpetrators.
The narrative that the Chicago Sun Times obtained the phone records of the Cook County State's Attorney, Kim Foxx, by simply requesting them is so ridiculous it belongs in the Ripley's Believe It Or Not museum.
Sun Times:
'Moreover, she should have been up front with the public right from the start, instead of making the news media pull out the details about her interactions with Tchen and the Smollett relative. Foxx provided her emails and text messages about the case to the Chicago Sun-Times only after the newspaper filed a public records request.'
So the Sun Times wants us to believe that they just asked Foxx to turn over proof that she is corrupt and that she plans on derailing the case against Smollett, and she obliged.
Really?
No, sorry folks, it just don't work that way.
Not anywhere, much less Chicago.
As for the Sun Times lying to us, well they really had no choice now did they?
As usual they were just following orders.
Not to excuse them, but they sure couldn't tell us the truth, that Foxx came to them volunteering her phone records for publication.
That would raise too many questions.
Incredibly, after publishing the texts from Foxx, that in the real world mandates a federal investigation, the Sun Times editorial board is telling us the Feds should stay out of the Smollett case.
CHICAGO SUN TIMES EDITORIAL: No need to call in feds for Foxx's handling of Smollett case
The Sun Times editors must think their readers are really stupid.
Perhaps they are? I wouldn't know.
But, I can tell you with certainty, believing what you read in the Sun Times is definitely stupid.
The important questions now are:
Why did Foxx and friends want the public to know that the Smollett case was being fixed at the behest of the Obama clan?
Related: Former Asst. State's Attorney: Smollett Hoax Likely Implicated Someone VERY IMPORTANT Who Did Not Want to be Implicated
What exactly are Obama's Social Justice Warriors up to?
Judi McLeod at CanadaFreePress.com is on the right track in her thinking.
'Lie King' Jussie Smollett Major Distraction For Mueller Investigation Release?
Note. Editors at the Chicago Sun Times were contacted. They refused to provide any answers related to their Smollett case records request.
More to come on the 'Corrupt Chicago Media'

Enjoy this article?