Ernie Souchak, Editor-in-Chief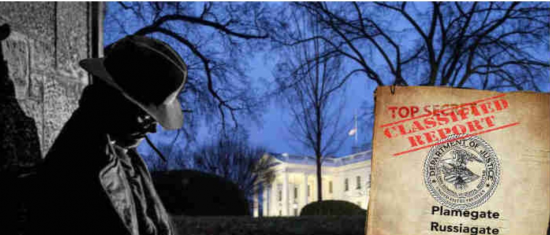 The Report On Mueller
By Lee Cary & Marty Watters
The only "Mueller Report" that matters was not written by Robert Mueller III. It's written about him, and his co-conspirators.
Long before the Russiagate hoax began, the authors examined the Special Counsel methods of then FBI director Robert Mueller, former Deputy Attorney General James Comey, and once U.S. Attorney Patrick Fitzgerald, before and during Plamegate.
We found that all three acted with an intent to serve and protect the Deep State.
Their modus operandi (M.O.) reflects Mueller's Fake Investigation Playbook.
The M.O. of the Playbook was evident during the George W. Bush administration in Plamegate. Then, before and during the first term of the Trump administration, it was replicated.
Below is a step-by-step comparison of the Playbook's 10 steps during two Special Counsel episodes.