Marty Watters, Investigative Reporter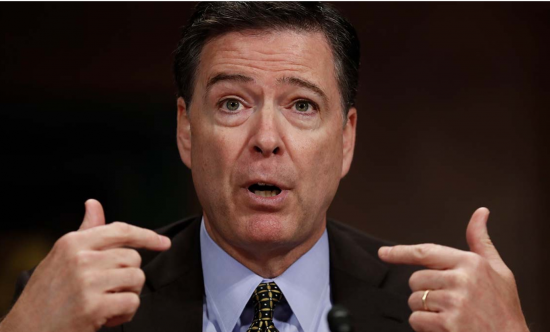 Former FBI Director James Comey may want to rethink his decision to have his friend, former U.S. Attorney, Patrick Fitzgerald, represent him in his upcoming Russiagate troubles.
Jimmy, trust me when I tell you Fitzgerald lacks the intelligence and intestinal fortitude to get you out of the jam you are currently in.
Case in point:
I recently informed Fitzgerald of the irrefutable evidence that I had compiled proving that his appointment by James Comey to be Special Counsel investigating the outing of Valerie Plame as a CIA employee (Plamegate), was fraudulent. And, that he (Fitzgerald) conducted a phony investigation culminating in the dog and pony show known as the Libby trial.
Fitzgerald was so rattled by my confronting him with the facts of his and Comey's criminal conduct in the Plamegate hoax that he completely lost his composure and made the following statement: "I'm not denying anything about this".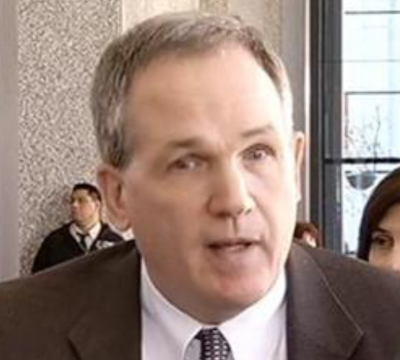 In other words. Fitzgerald pled guilty as charged!
Wow Patrick, you really shouldn't speak to me without your lawyer present.
Comically, unless Comey trades Fitzgerald in for a sturdier attorney, Fitz will be defending Comey against felony charges of leaking classified documents.
And the punchline is: the classified documents that were leaked by Comey were done so in order to ensure that another friend of his and Fitzgerald's (Robert Mueller) would be fraudulently appointed Special Counsel to perpetrate what's widely known as the Russiagate hoax.
Stay tuned, it gets better!
Related: Deep State Playbook: Comparing Plamegate and Russiagate


Ernie Souchak, Editor-in-Chief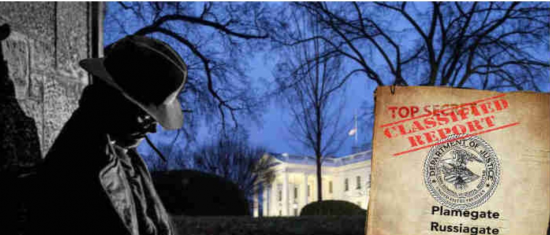 The Report On Mueller
By Lee Cary & Marty Watters
The only "Mueller Report" that matters was not written by Robert Mueller III. It's written about him, and his co-conspirators.
Long before the Russiagate hoax began, the authors examined the Special Counsel methods of then FBI director Robert Mueller, former Deputy Attorney General James Comey, and once U.S. Attorney Patrick Fitzgerald, before and during Plamegate.
We found that all three acted with an intent to serve and protect the Deep State.
Their modus operandi (M.O.) reflects Mueller's Fake Investigation Playbook.
The M.O. of the Playbook was evident during the George W. Bush administration in Plamegate. Then, before and during the first term of the Trump administration, it was replicated.
Below is a step-by-step comparison of the Playbook's 10 steps during two Special Counsel episodes.


Marty Watters, Invesigative Reporter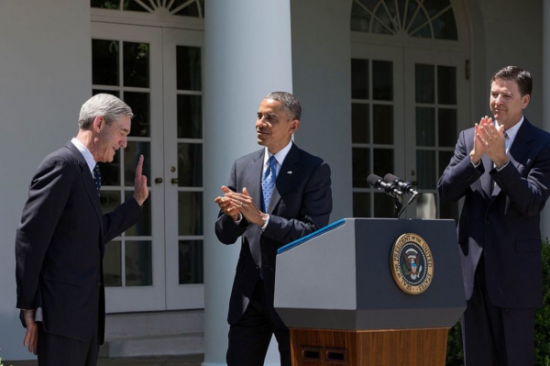 Robert Mueller has a history of meddling in elections.
In 2008, when the Deep State chose Barack Obama to be the 44th POTUS, it called on its lead legal-fixer, FBI Director Robert Mueller III, to clear Obama's road to the Oval Office.
As ordered, Mueller followed the Deep State playbook and found a patsy to deflect attention away from Obama's questionable activities and nefarious friends in Chicagoland.
Mueller's patsy was the likable but dimwitted Illinois governor, Rod "Hot Rod" Blagojevich, a politician with more charisma than good sense. Mueller's "investigation" of Blagojevich transformed Obama's bagman, Antoin "Tony" Rezko, into Blago's nightmare. By the way, Tony was also a Chicago and Detroit bagman for Saddam Hussein's former international banker and Obama friend, Nadhmi Auchi. But that's another story.
For several years, informants – none dare call them spies – and three, wired moles – all convicted of crimes and awaiting sentencing – shoveled slam dunk evidence to the FBI that was used to indict Blago.
One of those "informants," Bernard Barton (AKA: John Thomas) was released from the custody of the Long Island Office of the Eastern District of New York by U.S. Attorney…wait for it…Loretta Lynch, and sent to the U.S. Attorney's Office of Northern Illinois in Chicago led by Patrick Fitzgerald, where he was given a new identity, and assigned to worm his way into Rezko's confidence. Not as a spy, of course.
Mueller, a reincarnation of Eliot Ness in the minds of some, dragged the investigation of Blago on for six years, even allowing him to be reelected governor. Only after Obama was elected President did the FBI arrest Blago. By the way, the timing of Blago's arrest provided cover for Obama's Co-Campaign Chair, Jesse Jackson, Jr. who was, at the time of Blago's arrest, in the process of bribing Blago to appoint him to Obama's Senate seat. But that, too, is another story.
It worked out well for Obama.
He went to the White House. Blago went to the Big House, where he sits today.
Meanwhile, the Chicago media, particularly the Tribune and the Sun Times, were delighted to help the Deep State legal eagles, Mueller, Deputy Attorney General James Comey, and then U.S. Attorney Patrick Fitzgerald – now one of Comey's lawyers – clear the way for Obama's ascendency to D.C.
Doesn't that sound familiar? That's exactly what the Deep State operatives in the DoJ and FBI tried to do for Hillary Clinton in the 2016 election.
Unfortunately for them, Trump is light years smarter than "Hot Rod."
If Trump commutes Blago's sentence, as is rumored these days, he should only do so if Blago goes public with what he knows about Robert Mueller's corrupt alliance with Barack Obama.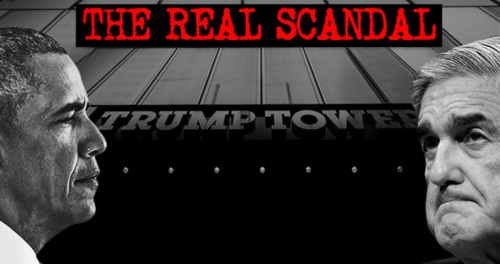 More to come...


Posted by Ernie Souchak
The Department of Justice Blueprint for Fake Investigations
By Lee Cary

A National Review article, posted December 4, 2017, written by former federal prosecutor Andrew McCarthy, entitled "It Is Now an Obstruction Investigation: Which means that it's an impeachment investigation," affirmed what's long been obvious to many.
The purpose of the Mueller Investigation is not now, nor has it ever been, to prove collusion between Russia and the Trump Presidential Campaign. That stated objective was, and remains, a red herring.
What the McCarthy article fails to address is the real motive behind the Mueller investigation.
Mueller's investigation, based on the choreographed dissemination of a fake dossier, was designed to: (1) discredit the election of Trump and hinder his efforts to govern, and (2) misdirect the media's attention – easily done – in order to distract attention away from an investigation related to Uranium One, as well as several other questionable behaviors that suggest possible criminal acts conducted by the Clintons.
In short, the Mueller Investigation is a set piece, misdirection-by-distraction operation.
And daily, more Americans are beginning to see that it is – fake.
The pattern for the current operation was used in a previous "special counsel" puppet show: Plamegate. Two of the same players, Comey and Mueller, who starred in that marathon special counsel investigation that led to the process-crime indictment of "Scooter" Libby, kicked-off this latest show.
Here's how the operation runs: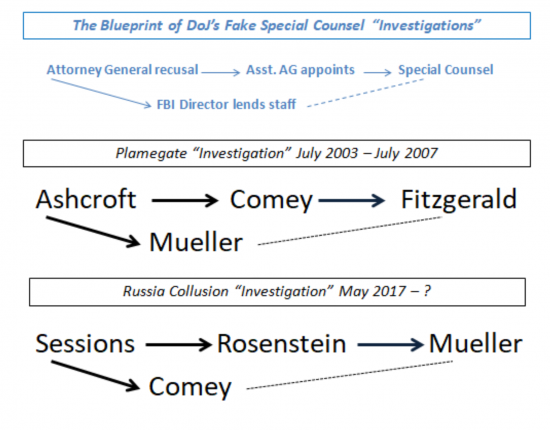 Rod Rosenstein, as Assistant Attorney General appointed by President Obama to serve under then Attorney General Loretta Lynch, has a history concerning Uranium One. According to The Hill, leading the news outlets exposing the Uranium One scandal, "Obama administration figures involved in the 2009-15 investigation of [the Uranium One deal] include Robert Mueller, James Comey, Rod Rosenstein and Andrew McCabe — all of whom are involved in some fashion in the current investigation of President Donald Trump alleged collusion with Russia."
The closer President Trump moves toward accomplishing major tax reform, the bigger the media headlines will chant the mantra of his inevitable impeachment. Daily, they become more desperate to damage Trump, as The Swamp runs scared.
And, all those involved in the current and past DoJ Blueprint are Swamp creatures.
Every…single…one.
http://canadafreepress.com/article/department-of-justice-blueprint-for-fake-investigations
Related articles:
Judith Miller blows the whistle on "Special Counsel" Patrick Fitzgerald
"Plamegate" was a CIA/State Dept. disinformation campaign