Marty Watters, Investigative Reporter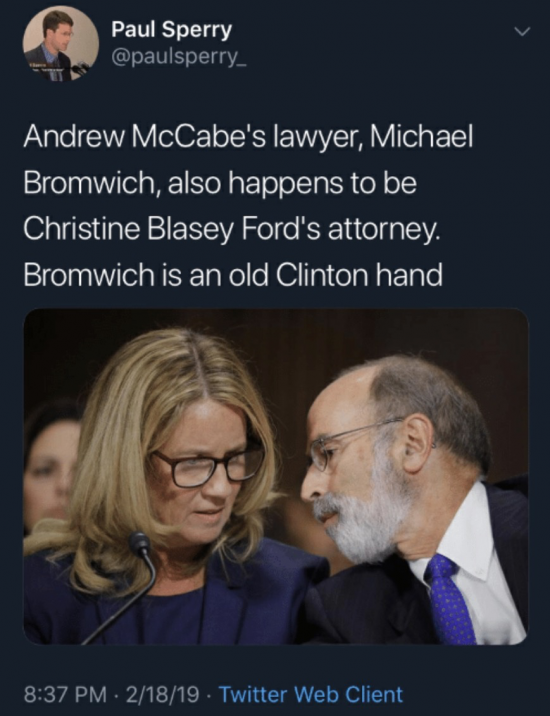 The folks that gave you the infamous "Steel dosseir" are now working to give you the "Waas dossier".
The former Deputy Director of the FBI, Andrew McCabe, who was instrumental in the Russia -Trump investigation, initiated by the phony Steele dossier, is currently under investigation for leaking confidential information to the media.
But don't think for one minute that's going to stop the Clinton clan from continuing their efforts to take down Trump.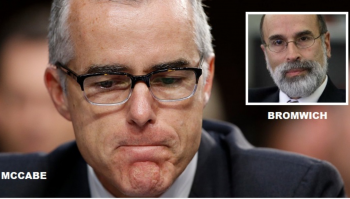 No, the Clinton crew never gives up. Now it appears that McCabe's attorney, Michael R. Bromwich, has taken on the task of orchestrating the latest false narrative about Trump to be fed the public via their friends in the media.
So get ready for yet another phony attack on Trump!
Bromwich, the former Department of Justice Inspector General under Bill Clinton, has teamed up with New York Review of Books (NYR) and independent journalist Murray Waas to help pivot from the discredited Christopher Steele dossier and "Russiagate" to the Waas dossier and "Obstructiongate".
Waas' latest fairy tale states that Trump fired FBI Director James Comey to obstruct the "Russiagate" investigation.
But Waas' credibility had already been destroyed years ago.
For those who don't remember Waas he's a blogger who was celebrated for his reporting on the Plamegate scandal even though he has since admitted his reporting on Plamegate was false, and that the whole thing  was a hoax.
Related: Murray Waas: Plamegate cover-up is "something that is bigger than Watergate"
Plamegate "journalist" dis-owns book!
Now, just like he did in Plamegate, Waas is claiming to have received confidential information and documents from anonymous sources inside the DoJ.
What Rod Rosenstein Knew When He Helped Trump Fire Comey
By Murray Waas
"I was able to read the full draft of that letter, and two earlier drafts, as well as notes made by Stephen Miller, a senior policy adviser to President Trump, who helped the president write the various drafts. The Trump administration has refused to provide these records to Congress, citing claims of executive privilege."
Waas' latest claim is that he has obtained access to multiple draft letters written by President Trump to Deputy Attorney General Rod Rosenstein that prove Trump obstructed justice in the firing of Comey. Drafts that only Waas can tell you about!
Waas claims to have access to draft letters that are protected by Executive Privilege? Really?
Wait! It gets better!
Bromwich is now extolling what a great case Waas makes for obstruction of justice against President Trump in his most recent article, and he is urging Democrats to use Waas' story as a guideline for questioning Robert Mueller in the upcoming July 17th hearing where Mueller will give public testimony.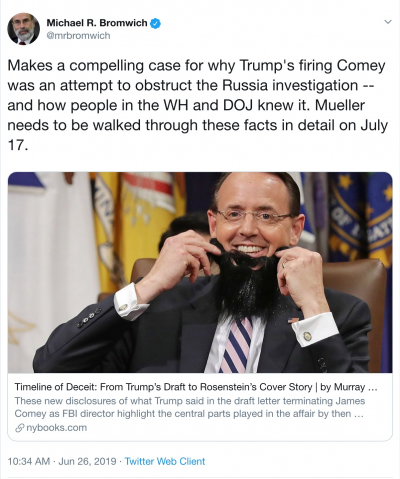 Timeline of Deceit: From Trump's Draft to Rosenstein's Cover Story
Bromwich wants Congress to ask Mueller about the recently created Waas dossier instead of the Steele dossier.
Do you think the Democrats will oblige him? Bet on it!
Now Laurence Tribe, a Clinton apologist and strong advocate for impeaching Trump, is also on board with Waas' unsubstantiated claims. Tribe states that Waas "makes a strong case for demanding the live public testimony of Rosenstein".
Joining Bromwich and Tribe in spreading the Waas claim is the Democratic National Committee insider, Alexandra Chalupa, who in 2016 solicited dirt on Trump from the Ukrainian government. Chalupa had this to say: the "confidential draft letter Trump wrote confirms he fired FBI Director James Comey because he was investigating Putin's attack on the 2016 U.S. election."
Wow! That's rich coming from a woman who will go to prison if a legitimate investigation is ever done.
Here's the best part:
Waas' editor at NYR, Matt Seaton, was asked specific questions about Waas' claims and Seaton's answers made it crystal clear that he did not want to go on record as having any knowledge about Waas' sources, or that he even vetted Waas' story. Instead, Seaton rambled on about a "trust" he had in Waas.
Now why would Seaton behave so squirrelly?
Well, could it have anything to do with the fact that former Inspector General Bromwich has a brother that also writes for NYR?
David Bromwich, author of the book: "American Breakdown: The Trump Years and How They Befell Us"(published 1-10-2019)
Waas alleges he is getting confidential information from an anonymous source inside the DoJ. But what Waas doesn't want you to know is that he just so happens to write for the same outlet as the brother of the attorney who represents both Christine Blasey Ford and Andrew McCabe.
How convenient. Could it be that Bromwich is Waas' anonymous source who is using Waas to further a false narrative, just like the FBI did with the Steele dossier?
Sure looks that way.
Maybe Congress should invite Murray Waas to testify about who was helping him construct his dossier.


Posted by Ernie Souchak
The Department of Justice Blueprint for Fake Investigations
By Lee Cary

A National Review article, posted December 4, 2017, written by former federal prosecutor Andrew McCarthy, entitled "It Is Now an Obstruction Investigation: Which means that it's an impeachment investigation," affirmed what's long been obvious to many.
The purpose of the Mueller Investigation is not now, nor has it ever been, to prove collusion between Russia and the Trump Presidential Campaign. That stated objective was, and remains, a red herring.
What the McCarthy article fails to address is the real motive behind the Mueller investigation.
Mueller's investigation, based on the choreographed dissemination of a fake dossier, was designed to: (1) discredit the election of Trump and hinder his efforts to govern, and (2) misdirect the media's attention – easily done – in order to distract attention away from an investigation related to Uranium One, as well as several other questionable behaviors that suggest possible criminal acts conducted by the Clintons.
In short, the Mueller Investigation is a set piece, misdirection-by-distraction operation.
And daily, more Americans are beginning to see that it is – fake.
The pattern for the current operation was used in a previous "special counsel" puppet show: Plamegate. Two of the same players, Comey and Mueller, who starred in that marathon special counsel investigation that led to the process-crime indictment of "Scooter" Libby, kicked-off this latest show.
Here's how the operation runs: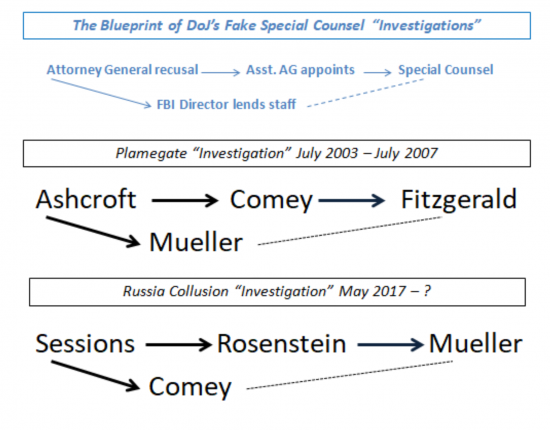 Rod Rosenstein, as Assistant Attorney General appointed by President Obama to serve under then Attorney General Loretta Lynch, has a history concerning Uranium One. According to The Hill, leading the news outlets exposing the Uranium One scandal, "Obama administration figures involved in the 2009-15 investigation of [the Uranium One deal] include Robert Mueller, James Comey, Rod Rosenstein and Andrew McCabe — all of whom are involved in some fashion in the current investigation of President Donald Trump alleged collusion with Russia."
The closer President Trump moves toward accomplishing major tax reform, the bigger the media headlines will chant the mantra of his inevitable impeachment. Daily, they become more desperate to damage Trump, as The Swamp runs scared.
And, all those involved in the current and past DoJ Blueprint are Swamp creatures.
Every…single…one.
http://canadafreepress.com/article/department-of-justice-blueprint-for-fake-investigations
Related articles:
Judith Miller blows the whistle on "Special Counsel" Patrick Fitzgerald
"Plamegate" was a CIA/State Dept. disinformation campaign