Ernie Souchak, Editor-in-Chief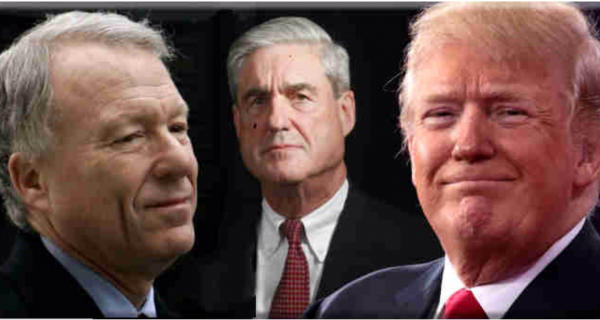 The following is from the Canada Free Press article titled:
Libby's pardon means Trump knows Mueller's witch hunt M.O. 
By Lee Cary & Marty Watters —— April 15, 2018
-----------------------------------
The M.O. in Plamegate saw the Department of Justice (then Deputy Attorney General James Comey) and the Director of the Federal Bureau of Investigation (then Robert Mueller III) collude to appoint a Special Counselor (Patrick Fitzgerald) to discover who leaked Valerie Plame's C.I.A. employment to a prominent Washington, D.C. reporter, the late Robert Novak.
But finding the leaker was not what this "investigation" was about—not at all. That assertion is provable.
Canada Free Press readers of an earlier post know the sequence of events that led to the fake investigation into Plamegate. Quoting mostly from that earlier article, here is the chronology:
Early October 1, 2003: An "agitated" Under Secretary of State Richard Armitage calls his boss, Secretary of State Colin Powell, to say he just realized he had inadvertently leaked Valerie Plame's C.I.A. employment to Novak. By then, the Department of Justice was looking into the leak. That morning the big wheels at the State Department spun-up, quickly.
Later October 1, 2003: "Within hours, William Howard Taft IV, the State Department's legal adviser, notified a senior Justice official that Armitage had information relevant to the case," wrote [Michael] Isikoff.
October 2, 2003: According to Isikoff, a "team of FBI agents and Justice prosecutors investigating the leak questioned the deputy secretary." In May 2015, an investigative reporter for a Chicago-based website interviewed Taft concerning that October 2, 2003, meeting Taft attended at F.B.I. Headquarters along with Richard Armitage and Colin Powell. According to Taft, in that meeting "Rich" Armitage confessed to the F.B.I. that he was Novak's source for the Valerie Plame story. Taft also said that the F.B.I. asked him, Armitage, and Powell to not disclose the information—that Armitage was the leaker—to anyone. Taft said he, Armitage, and Powell all agreed to that request, even though they were under no obligation to comply.
It is reasonable to assume that the Secretary of State and Deputy Secretary of State could not meet with F.B.I. officials, at the F.B.I. Headquarters Building, without the F.B.I. Director's knowledge of, or attendance at, the meeting. Mueller was the F.B.I. Director.
A description of this meeting was told telephonically, by William Howard Taft IV, to an IllinoisPaytoPlay website investigative reporter, Marty Watters, co-author of this article.
Taft was there. Mueller was likely there. And if he wasn't there, he surely knew about the meeting, before and after. And that means that Mueller knew who leaker was before the investigation began to identify the leaker.
---------------------------------------
Read full article here.
Related: Judith Miller blows the whistle on "Special Counsel" Patrick Fitzgerald