Martin Rivers, Introducing Illinois PayToPlay's Springfield Correspondent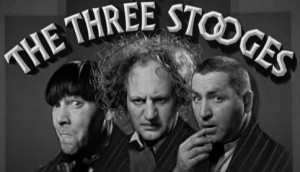 Is a third Illinois governor in- a-row destined for a trip up-the-river to the Big House?  That's Blago on the left, on a bad hair day.  Ryan is on the right. Is Pat Quinn, in the middle, the next Illinois governor to do the federal perp walk?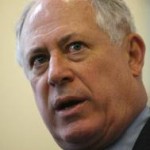 Pat sure looks like "Larry" of "Three Stooges" fame, if he'd let his hair grow out some.
Why could he be next in the conga line of incarcerated Land of Lincoln chief executives?
Well, first of all, here's what Pat once had to say about "Moe," AKA Blago:
"He's always been a person who's honest and one of integrity...I have confidence the governor does the right thing all the time."
That's evidence of complicity, or stupidity.  And Pat's not stupid.
Then there's Quinn's continuing attachment to Antoin Rezko through his current Chief-of-Staff, Jack Lavin.  Quoting the Chicago Tribune, here's what that extreme-conservative, Republican web site, the Huffington Post, wrote about Lavin:
"Lavin served as Blagojevich's director of the Department of Commerce and Economic Opportunity after [convicted fundraiser Tony] Rezko recommended him for the post. Lavin once worked as the chief financial officer for Rezko's food-related business, and took more than $12,000 in donations from Rezko's firm while considering a run for elected office in 2001."
Back on October 11, 2011, Illinois PayToPlay suggested that the professional journalists in the Chicago media pose these questions to U.S. Attorney Patrick Fitzgerald:
"Is there any evidence to suggest that, while he was Rezko's chief bean counter, Jack Lavin moved a $3,000,000 line item from the Panda Restaurant operated by Tony over into his Papa John's Pizza books in order to help get a loan from GE Capital?
And then, as a follow-up:
Well, if you can't answer that question, or won't, then who kept Rezko's second set of books for his Papa John's Pizza store? And why have we never heard about that?"
Well, of course, that didn't happen.
Illinois PayToPlay will soon be releasing information from a confidential informant, identified only as "CI2" (confidential informant #2) in the "Motion For Issuance Of An Arrest Warrant" for Rezko, filed on January 28, 2008 by Patrick Fitzgerald, that contains CI2's allegation that Rezko's CFO helped Tony R. cook the Papa John's books in order to get that loan from G.E. Capital.
As the late Paul Harvey used to say – "Stand by…for more."
Oh, and by the way, Fitz's office has known of Lavin's alleged involvement in the miracle bookkeeping incident for, at least, four years.  And what have the feds done with that information?
Blago's gone, but has anything really changed in the way the governor's office down here in Springfield operates?

Enjoy this article?