Hugo Floriani, PayToPlay Investigative Reporter
Did you know that a federal civil law suit went to the jury today, April 17, after Governor Pat Quinn's Chief-of-Staff, Jack Lavin, testified as a witness; Tony Rezko was deposed; and Daniel T. Frawley didn't testify because his lawyer indicated that, if called, he would "take the 5th"? Here's Jack.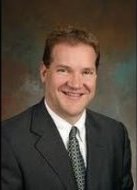 You probably didn't know any of that, unless you hang around the court house for grins.  And you certainly didn't know it if you rely on the Chicago Tribune or the Chicago Sun Times to keep you informed.  (Although today, the Times did report that some bald eagles are nesting in the south suburbs. Good to know stuff.)
The case, filed April 24, 2008, in the United States District Court for the Northern District of Illinois, Eastern Division, pits Semir D. Sirazi vs. Panda Express, Inc., Panda Restaurant Group, Inc. and the Citadel Panda Express, Inc.
(Illinois PayToPlay reported earlier on another law suit, filed just last January, pitting Semir Sirazi vs. Nadhmi Auchi. Tony Rezko plays a role in both cases.)
Here's the "Nature of the Action" paragraph in the Sirazi vs. Panda Express case that's now in the jury's hands:
"1. This is an action by Sirazi against Panda Express for unjust enrichment, fraud, civil conspiracy, aiding and abetting a breach of fiduciary duty and for violations of the Illinois Uniform Fraudulent Transfer Act. From 1993 to 2006, Panda Express, Antoin ("Tony") Rezko, and various Rezko-controlled companies owned and operated numerous Panda Express restaurants in 5 Midwestern states, the majority of which were in the Illinois/Chicagoland area. In June of 2006, knowing that Tony Rezko was under severe financial and legal distress, and desperate for funds, Panda Express (among other improper actions) bought out PE Chicago, LLC's 50% interest in the Rezko-Citadel partnership – the entity that owned and operated the Panda Express restaurants – at a price many times less than the fair value of that interest. At the time of the purchase, Panda Express knew that Sirazi and others had significant ownership interests in PE Chicago. In fact, Sirazi, at the time of the purchase – through his interest in Rezko Enterprises, LLC – owned a significant majority of PE Chicago. Panda Express, however, fraudulently conspired with Rezko to acquire PE Chicago's entire interest in the Rezko-Citadel partnership without Sirazi's knowledge and at a price far less than the fair value of such interest. As a result of the improper actions of Panda Express, Sirazi has suffered losses in excess of $15 million."
So, Sirazi asserts he was cheated big-time by Rezko and the Panda Express Chinese food chain, headquartered in Rosemead, California. The originating Pandas were "Andrew and Peggy Cherng and Andrew's father, Master Chef Ming Tsai Cherng, all of whom used to live in the Yangzhou region of China's Jiangsu province. They started their first Panda Inn restaurant in 1973 in Pasadena, California."
Here's the real interesting part: Daniel T. Frawley, in a recently obtained email sent to a confidential source and forwarded to Illinois PayToPlay, claims that Governor Pat Quinn's Chief-of-Staff, Jack Lavin, fraudulently cooked Rezko's Papa John's books by transferring $4,000,000 from Panda Express accounts into Tony's pizza business.  Here's that email:
From: Dan Frawley <Address withheld>
Date: Thu, Jun 2, 2011 at 1:00 PM
Subject: I MET OBAMA'S AID AT THOMPSON PRISON WHERE BO WANTED TO SHIFT QUANTANIMO PRISONERS
To: robert XXXXX <Address withheld>
THOMSON PRISON, OBAMA, REZKO, JACK LAVIN & MOE CONTRACT
THOMSON PRISON IS THE FIRST SIGHT THE STATE OF ILLINOIS PROVIDED ME TO LOOK AT TO TRAIN THE IRAQI MOE CANDIDATES.
SEAMUS AHERN OF SENATOR OBAMA'S JOILIET ILLINOIS OFFICE WAS AT THOMSON. NEVER CALLED THE SENATOR'S OFFICE TO ARRANGE TO BE MET.
TONY REZKO CALLED JACK LAVIN REGARDING TRAINING THE IRAQI'S AT AN ILLINOIS GOVERNMENT SIGHT.
JACK LAVIN WAS THE CEO OF ONE OF TONY'S COMPANIES. JACK LAVIN MADE A JOURNALENTRY IN PANDA RESTARAUNTS FINANCIAL STATEMENT. JACK TOOK 4 MILLION DOLLARS OF PANDA'S PROFITS AND MADE A JOURNAL ENTRY INTO PAPA JOHN'S PIZZA PROFITS IN ORDER FOR TO OBTAIN A 10 MILLION LOAN FROM G.E. CREDIT.
ANDREW CHERNIG WAS A 50/50 PARTNER OF TONY'S IN PANDA. WHEN CHERNIG DISCOVERED THAT LAVIN AND REZKO DEFRAUDED HIM CHERNIG CAME INTO CHICAGO ON A FRIDAY AND EMPTIED THE PANDA OFFICE.
TONY AND LAVIN KEPT A DOUBLE SET OF BOOKS FOR PAPA JOHN'S. TOD SELACK THE ACCOUNTANT FOR RECKON AND LAVIN PREPARED THE DOUBLE SET OF BOOKS PER AL CHAIB AND REZKO'S ORDERS.
I HAVE SEEN BOTH SET OF BOOKS AND PROVIDED THE USAO'S OFFICE THE OPPORTUNITY TO COPY SAID BOOKS. THE ENTRY LAVIN MADE INTO THE PAPA JOHN BOOKS WAS KNOWN AS THE MIRACE ENTRY AROUND THE REZMAR OFFICE.
CHERNIG NEVER REPORTED THE FRAUD BECAUSE CHERNIG PARTICIPATED WITH AL CHAIB AND TONY IN STAFFING PANDA RESTAURANT WITH ILLEGAL CHINESE ALIENS CHERNIG HELPED SMUGGLE INTO THE UNITED STATES. CHERNIG WORKED THE CHINESE 80-100 HOUR PER WEEKAND PAID THEM FOR 40. TONY AND CHAIB HOUSED THE CHINESE IN THEIR BUILINGS IN OVER CROWDED CONDITIONS AND OVER CHARGED THE CHINESE FOR RENT.
Plenty to chew on there, such as…
Was Rezko deposed about the allegation that he was a slum landlord for illegal Chinese immigrant workers employed by the Pandas?
Was Lavin asked about the fraudulent bookkeeping allegation from Frawley?
 Is this why Frawley's attorney announced that Frawley would "take the 5th" if called to testify?
Peggy Cherng testified at the trial.  Did she mention the use of illegal Chinese immigrants in Panda Express restaurants, as alleged by Frawley?
How about Al Chaib – was he asked about any of this?
Now that they have this email, no doubt the intrepid investigative reporters at the Sun Times and the Trib will jump on this story.
Hey, we can dream can't we?


Martin Rivers, Introducing Illinois PayToPlay's Springfield Correspondent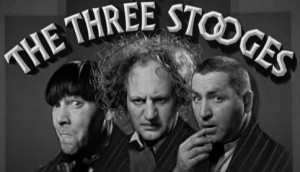 Is a third Illinois governor in- a-row destined for a trip up-the-river to the Big House?  That's Blago on the left, on a bad hair day.  Ryan is on the right. Is Pat Quinn, in the middle, the next Illinois governor to do the federal perp walk?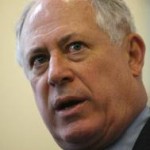 Pat sure looks like "Larry" of "Three Stooges" fame, if he'd let his hair grow out some.
Why could he be next in the conga line of incarcerated Land of Lincoln chief executives?
Well, first of all, here's what Pat once had to say about "Moe," AKA Blago:
"He's always been a person who's honest and one of integrity...I have confidence the governor does the right thing all the time."
That's evidence of complicity, or stupidity.  And Pat's not stupid.
Then there's Quinn's continuing attachment to Antoin Rezko through his current Chief-of-Staff, Jack Lavin.  Quoting the Chicago Tribune, here's what that extreme-conservative, Republican web site, the Huffington Post, wrote about Lavin:
"Lavin served as Blagojevich's director of the Department of Commerce and Economic Opportunity after [convicted fundraiser Tony] Rezko recommended him for the post. Lavin once worked as the chief financial officer for Rezko's food-related business, and took more than $12,000 in donations from Rezko's firm while considering a run for elected office in 2001."
Back on October 11, 2011, Illinois PayToPlay suggested that the professional journalists in the Chicago media pose these questions to U.S. Attorney Patrick Fitzgerald:
"Is there any evidence to suggest that, while he was Rezko's chief bean counter, Jack Lavin moved a $3,000,000 line item from the Panda Restaurant operated by Tony over into his Papa John's Pizza books in order to help get a loan from GE Capital?
And then, as a follow-up:
Well, if you can't answer that question, or won't, then who kept Rezko's second set of books for his Papa John's Pizza store? And why have we never heard about that?"
Well, of course, that didn't happen.
Illinois PayToPlay will soon be releasing information from a confidential informant, identified only as "CI2" (confidential informant #2) in the "Motion For Issuance Of An Arrest Warrant" for Rezko, filed on January 28, 2008 by Patrick Fitzgerald, that contains CI2's allegation that Rezko's CFO helped Tony R. cook the Papa John's books in order to get that loan from G.E. Capital.
As the late Paul Harvey used to say – "Stand by…for more."
Oh, and by the way, Fitz's office has known of Lavin's alleged involvement in the miracle bookkeeping incident for, at least, four years.  And what have the feds done with that information?
Blago's gone, but has anything really changed in the way the governor's office down here in Springfield operates?