B. C. Woodstein, Guest Writer
Below, watch James B. Comey's performance at a U.S. Senate Judiciary Committee hearing on May 15, 2007 concerning warrantless wiretaps, and the alleged stand-off between the Bush II administration and his Department of Justice (DOJ). Comey's performance is aided by Sen. Chuck Schumer playing the straight man in their skit. Enjoy their depiction of hospital room heroics, worthy of Saturday Night Live.
Now, when you're done laughing at Comey's Schumer-assisted performance that helped scrub clean all the top people at the Bush DOJ, who were just about to be outed by DOJ whistleblower Thomas Tamm for conducting warrantless wiretaps on American Citizens, consider this: After the hospital room "skit," Deputy Attorney General James Comey, Attorney General John Ashcroft, and FBI Director Robert Mueller all went right back to work conducting warrantless wiretaps on American citizens, just as though nothing had happened.
Today, the Hospital room comedy is touted by the regime as the main reason we should accept Comey as the next FBI Director.
If that doesn't get your attention, remember this: On December 30, 2003, Comey appointed U.S. Attorney Patrick Fitzgerald to be Special Counsel on what is commonly known as the Valerie Plame Case. Fitzgerald was given extraordinary powers to hunt down the source of a leak to a newspaper reporter who (1.) never wrote a story using the information while (2.) Comey, Patrick Fitzgerald, and half of Washington DC, knew who did leak the information before...yes, before...Fitzgerald was even appointed! The reporter was Judith Miller of the New York Times. The self-confessed leaker was Richard Armitage, the Deputy Secretary of State to Colin Powell.
In retrospect, the whole Plame saga was a surrogate whizzing contest between Powell and his-not-so-good friend Dick Cheney.
Now feature this: Shortly after appointing his buddy Fitzgerald to be Special Counsel in the Valerie Plame Case, Comey went to work as the top lawyer at Lockheed Martin. They do a lot of surveillance business with the feds.
Now factor in Mark Grossman. Remember him? He was the Undersecretary of State who reported to Deputy Secretary of State Dick Armitage. Grossman wrote the memo that started the whole Plame thing – as Gomer Pyle said, "Surprise, surprise."
Coincidently, two of Marc Grossman's colleagues at the Cohen Group (that would be Cohen as in Bill Clinton's former SecDef) – namely Vice-Chair Joseph Ralston and Senior Counselor James Loy – sit on the Board of Directors at Lockheed Martin.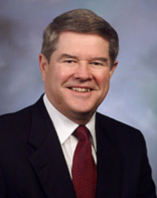 Joseph W. Ralston                                                                                          James M. Loy
You suppose Ralston and Loy were so delighted with the job that Comey and his buddy Fitz were doing keeping the Chicago/Washington/Bagdad Railroad that John Shaw exposed running, that they recommended Lockheed Martin bring Comey on board and pay him a boat load of money?
Comey's total compensation in 2009 alone was $6,113,797, which was multiple times higher than the position ordinarily paid.
Oh, and did you know that Grossman was Fitz's star witness in the Scooter Libby trial? Gee, it's a small world!
Here's a question the media never did ask: Did Grossman know Valerie Plame's husband, Joe Wilson. If so, how did he know him, and for how long? After all, Grossman and Wilson went to the same college, at the same time, and were doing the same job in neighboring countries leading up to, and during, "Operation Desert Storm." Grossman was Deputy Chief of Mission in Turkey, and Wilson was Deputy Chief of Mission in Iraq.
Think maybe they knew each other?
Do you think Chuck Schumer or any of the Senator's on the Senate Judiciary Committee will look for answers to these important questions?
Tune in to find out on the next "James B Comey Show" coming to a Senate committee hearing on your TV.


Ernie Souchak, Editor-in-Chief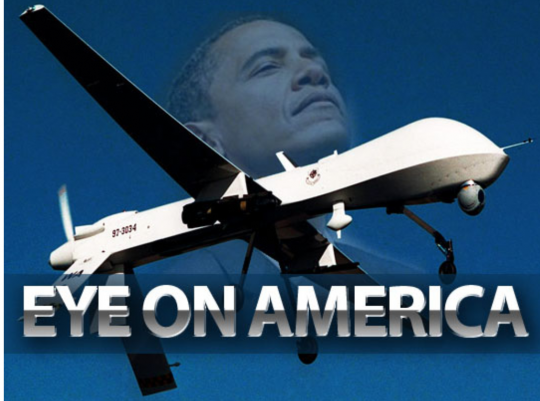 In the midst of a host of scandals plaguing the FBI, ranging from spying on Americans to intimidating their political foes, the Obama regime's solution is to put James B. Comey, former Deputy Attorney General (AG) in the Bush II administration, in charge of the FBI.
Comey was the Deputy AG who, along with former AG John Ashcroft and FBI Director Robert Mueller, was praised for taking an unsuccessful stand against including warrantless wiretaps in the Patriot Act.
What you will not hear from the Obama-friendly media, and our somnolent members of Congress, is this: Not only was the Patriot Act expanded under the supervision of Comey, Mueller and Ashcroft, when Comey left the AG's office in 2005 he went to work as the top lawyer for…wait for it…"Big Brother" himself – Lockheed Martin.
When most people hear Lockheed Martin they think military contracts. Well, welcome to 1984. "Big Brother" is another name for Lockheed Martin, and security and surveillance is their game. They've been working closely with the National Security Agency (AKA: NSA, as in No Such Agency) for many years.
So ask yourself: Why would the Obama regime appoint a new FBI Director who works for a prime contractor that sells NSA the technology to spy on Americans? Would PETA hire a fur coat distributor?
Oh, by the way, where's John Ashcroft today? Why he's on the Board of Directors of Blackwater USA, which now goes by the harmless sounding name – Academi – conjuring up images of ivy-covered buildings and lounging intellectuals.
So in the days ahead, when the media and politicians tell you that James B. Comey will stand up for your civil liberties as FBI Director (citing a hospital room performance over the Patriot Act), remember: If Comey didn't support spying on Americans, why would he work for a leading company that sells the government the tools to spy on Americans?
Are the manufacturers of hunting rifles against hunting?
Comey and Ashcroft - Lockheed Martin and Blackwater: Defenders of our civil liberties?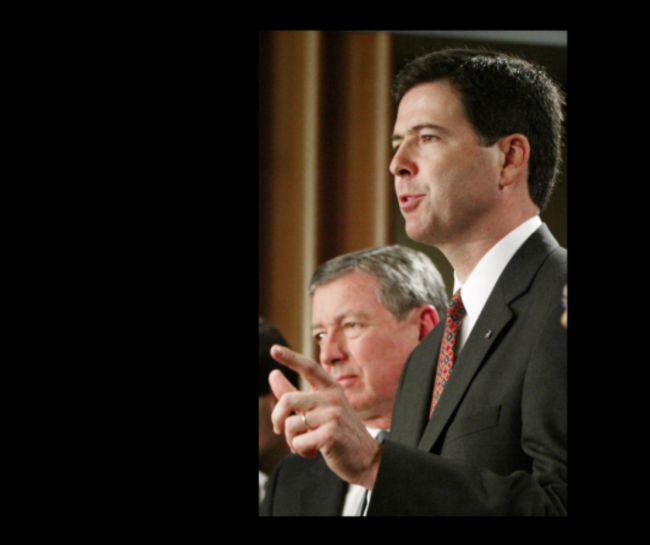 Ya think?


Ernie Souchak, Editor-in-Chief
Former U.S. Attorney Patrick Fitzgerald, who is a close, personal friend of Obama's choice to be the next FBI Director, James Comey, refuses to answer questions pertaining to the leaks from his U.S. Attorney's Office to the Chicago Tribune.
Remember, it was Fitz who acknowledged that a leak to the Tribune had revealed the existence of a federal wiretap on then Governor Rod Blagojevich.
The next words out of Patrick Fitzgerald's mouth were incredible – as in not credible.
He said the leak was information he knew, so he couldn't investigate the leak, nor did he know who could or would.
In other words: Because I might be the leaker and cannot investigate myself, I'm not going to do anything. And because I don't know who to call to investigate me, I can't ask anyone to investigate me.
The recipient of the leak, and the man who called Rod Blagojevich's people to warn them that Blago was being recorded, was Tribune reporter John Chase. Chase was sitting three feet in front of Fitzgerald when Fitzgerald made the incredible comments in a press conference.
All the while, the Chicago Media was…silent. Are they complicit, incompetent, or both?
The John Chase mentioned above is the same Tribune reporter who got the sealed Blago tapes and transcripts from the feds.
Now, it seems, former U.S. Attorney Patrick Fitzgerald may feel his close personal friendship with Obama's choice for FBI Director allows him to continue ignoring questions about the entire Blago saga. Immunity by association.
Patrick Fitzgerald once said, "The truth is the engine of our judicial system. If you compromise the truth, the whole process is lost." That was when he wanted Scooter libby to go to jail for lying to the government.
When a citizen lies to a U.S. Attorney, they go to jail.
What should happen to a U.S. Attorney who lies to the citizens?
So, former U.S. Attorney Patrick Fitzgerald: Did you really not know who to call to investigate you?


Editorial Staff
At IP2P, we've addressed several articles about Patrick Fitzgerald's idea of truth.
However, the piece that may prove to be our most important chronicle is ahead. It involves a book titled Triple Cross.
U.S. Attorney Patrick Fitzgerald's attack on investigative reporter and novelist Peter Lance, and his book Triple Cross, was Fitzgerald's war against the truth.
The Department of Justice declared war against the First Amendment when it allowed Fitzgerald to conduct his war on Lance, and on the publisher of his book, from within the U.S. Attorneys Office in Chicago.
Read about Fitzgerald's Attempts to silence Lance here:
U.S. Attorney Tries to Kill Triple Cross. Fitzgerald threatens to sue
Triple Cross is a must read for anyone who wants a truthful look at our government's actions, and lack of actions, that led to 9-11.
And, perhaps equally important, Triple Cross revealed that U.S. Attorney Patrick Fitzgerald, the man touted as the most likely candidate to replace FBI director Robert Mueller, has no problem employing Gestapo tactics on citizens who tell the truth about his, or his accomplices', actions in a significant cover-up.
In Triple Cross you can learn, thanks to old-fashion investigative work done by Peter Lance, the truth about Patrick Fitzgerald.  He is no Elliot Ness. And the thought of Patrick Fitzgerald ever becoming FBI Director should alarm all freedom-loving Americans.
Lance's work is a road map to understanding how we've come to a point in American history where the Justice Department routinely tramples on our constitutional rights, and now insists that it is within the President's power to kill American citizen's without due process.
Learn more from Peter Lance here: http://peterlance.com/wordpress/ 
More ahead on this.