Ernie Souchak, Editor-in-Chief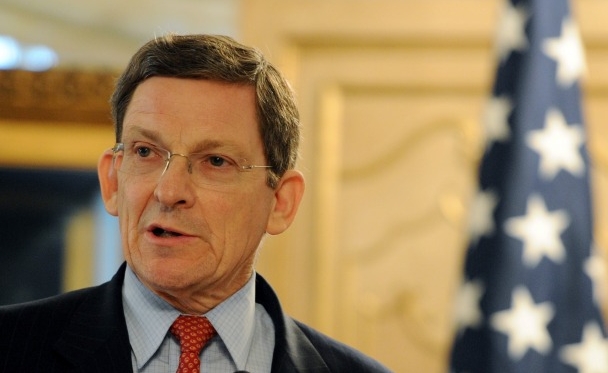 We know, from sworn testimony given by FBI whistleblower Sibel Edmonds, that former Undersecretary of State Marc Grossman committed treason when he divulged classified information to Turkish operatives in the summer months of 2001, included in that information was the fact that Brewster Jennings & Associates and Valerie Plame were CIA.
We also know, from testimony given by Marc Grossman in the U.S. v. Libby trial, that he and the Wilsons are friends.
Here's what we don't know:
(1) Will Joe Wilson pronounce Marc Grossman a traitor to his country for outing his wife as a CIA operative?
When Joe Wilson accuses Dick Cheney of being the person behind the outing of his wife, he calls Cheney a traitor to his country.
(2) Do Valerie and Joe expect an apology from Marc Grossman? They once wanted one from Cheney.
(3) When the Wilsons claim they want to "Hold Government to Account," does that mean they support Sibel Edmonds efforts to do the same?
These are simple questions; however, the Wilsons refuse to answer them.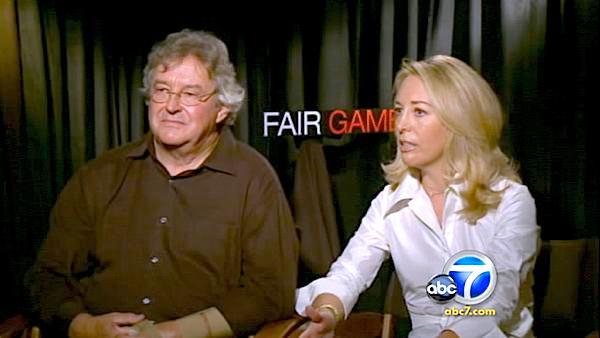 Here are a few questions you can answer for yourself:
(A) Would a real covert CIA agent not know that their cover was blown in 2001, and believe it was blown in 2003 as purported?
(B) Would the Department of Justice not tell the CIA that Plame's and Brewster Jennings & Associates' covers were blown?
(C) Should it concern us that Marc Grossman's former boss at the State Department, Richard Armitage, claimed he originally outed Valerie Plame two years after Grossman actually did, and now Armitage is Chairman of the Board at the American-Turkish Council (ATC)
Keep these things in mind about the ATC:
• Our federal government doesn't want FBI whistleblower Sibel Edmonds talking about the ATC.
• Grossman told ATC that Brewster Jennings was a CIA front.
• The ATC helps facilitate billions in defense contracts between the Turkish government and FBI Director James Comey's friends at Lockheed Martin, where Comey used to be VP and Senior Counsel. Lockheed Martin's Board of Directors also includes Joseph Ralston and James Loy who work with Grossman at the Cohen Group. (that would be Cohen as in Bill Clinton's former SecDef)
• And, the ATC hosted the function where Valerie and Joe Wilson claim to have first fallen in love.
So is that just a series of coincidences?
Crimes against the United States are also committed by those who help cover-up an act of treason.
It's long past time for Sibel Edmonds to be heard, and for traitors to be held accountable by the Law.
Learn more at Edmonds website: http://www.boilingfrogspost.com/


B. C. Woodstein, Guest Writer
Below, watch James B. Comey's performance at a U.S. Senate Judiciary Committee hearing on May 15, 2007 concerning warrantless wiretaps, and the alleged stand-off between the Bush II administration and his Department of Justice (DOJ). Comey's performance is aided by Sen. Chuck Schumer playing the straight man in their skit. Enjoy their depiction of hospital room heroics, worthy of Saturday Night Live.
Now, when you're done laughing at Comey's Schumer-assisted performance that helped scrub clean all the top people at the Bush DOJ, who were just about to be outed by DOJ whistleblower Thomas Tamm for conducting warrantless wiretaps on American Citizens, consider this: After the hospital room "skit," Deputy Attorney General James Comey, Attorney General John Ashcroft, and FBI Director Robert Mueller all went right back to work conducting warrantless wiretaps on American citizens, just as though nothing had happened.
Today, the Hospital room comedy is touted by the regime as the main reason we should accept Comey as the next FBI Director.
If that doesn't get your attention, remember this: On December 30, 2003, Comey appointed U.S. Attorney Patrick Fitzgerald to be Special Counsel on what is commonly known as the Valerie Plame Case. Fitzgerald was given extraordinary powers to hunt down the source of a leak to a newspaper reporter who (1.) never wrote a story using the information while (2.) Comey, Patrick Fitzgerald, and half of Washington DC, knew who did leak the information before...yes, before...Fitzgerald was even appointed! The reporter was Judith Miller of the New York Times. The self-confessed leaker was Richard Armitage, the Deputy Secretary of State to Colin Powell.
In retrospect, the whole Plame saga was a surrogate whizzing contest between Powell and his-not-so-good friend Dick Cheney.
Now feature this: Shortly after appointing his buddy Fitzgerald to be Special Counsel in the Valerie Plame Case, Comey went to work as the top lawyer at Lockheed Martin. They do a lot of surveillance business with the feds.
Now factor in Mark Grossman. Remember him? He was the Undersecretary of State who reported to Deputy Secretary of State Dick Armitage. Grossman wrote the memo that started the whole Plame thing – as Gomer Pyle said, "Surprise, surprise."
Coincidently, two of Marc Grossman's colleagues at the Cohen Group (that would be Cohen as in Bill Clinton's former SecDef) – namely Vice-Chair Joseph Ralston and Senior Counselor James Loy – sit on the Board of Directors at Lockheed Martin.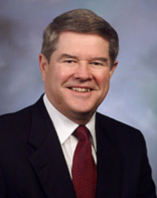 Joseph W. Ralston                                                                                          James M. Loy
You suppose Ralston and Loy were so delighted with the job that Comey and his buddy Fitz were doing keeping the Chicago/Washington/Bagdad Railroad that John Shaw exposed running, that they recommended Lockheed Martin bring Comey on board and pay him a boat load of money?
Comey's total compensation in 2009 alone was $6,113,797, which was multiple times higher than the position ordinarily paid.
Oh, and did you know that Grossman was Fitz's star witness in the Scooter Libby trial? Gee, it's a small world!
Here's a question the media never did ask: Did Grossman know Valerie Plame's husband, Joe Wilson. If so, how did he know him, and for how long? After all, Grossman and Wilson went to the same college, at the same time, and were doing the same job in neighboring countries leading up to, and during, "Operation Desert Storm." Grossman was Deputy Chief of Mission in Turkey, and Wilson was Deputy Chief of Mission in Iraq.
Think maybe they knew each other?
Do you think Chuck Schumer or any of the Senator's on the Senate Judiciary Committee will look for answers to these important questions?
Tune in to find out on the next "James B Comey Show" coming to a Senate committee hearing on your TV.


Ernie Souchak, Editor-in-Chief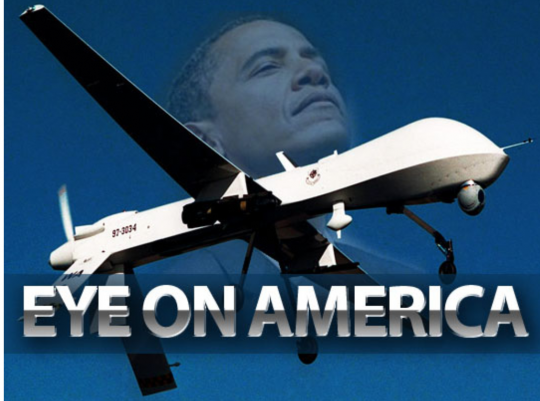 In the midst of a host of scandals plaguing the FBI, ranging from spying on Americans to intimidating their political foes, the Obama regime's solution is to put James B. Comey, former Deputy Attorney General (AG) in the Bush II administration, in charge of the FBI.
Comey was the Deputy AG who, along with former AG John Ashcroft and FBI Director Robert Mueller, was praised for taking an unsuccessful stand against including warrantless wiretaps in the Patriot Act.
What you will not hear from the Obama-friendly media, and our somnolent members of Congress, is this: Not only was the Patriot Act expanded under the supervision of Comey, Mueller and Ashcroft, when Comey left the AG's office in 2005 he went to work as the top lawyer for…wait for it…"Big Brother" himself – Lockheed Martin.
When most people hear Lockheed Martin they think military contracts. Well, welcome to 1984. "Big Brother" is another name for Lockheed Martin, and security and surveillance is their game. They've been working closely with the National Security Agency (AKA: NSA, as in No Such Agency) for many years.
So ask yourself: Why would the Obama regime appoint a new FBI Director who works for a prime contractor that sells NSA the technology to spy on Americans? Would PETA hire a fur coat distributor?
Oh, by the way, where's John Ashcroft today? Why he's on the Board of Directors of Blackwater USA, which now goes by the harmless sounding name – Academi – conjuring up images of ivy-covered buildings and lounging intellectuals.
So in the days ahead, when the media and politicians tell you that James B. Comey will stand up for your civil liberties as FBI Director (citing a hospital room performance over the Patriot Act), remember: If Comey didn't support spying on Americans, why would he work for a leading company that sells the government the tools to spy on Americans?
Are the manufacturers of hunting rifles against hunting?
Comey and Ashcroft - Lockheed Martin and Blackwater: Defenders of our civil liberties?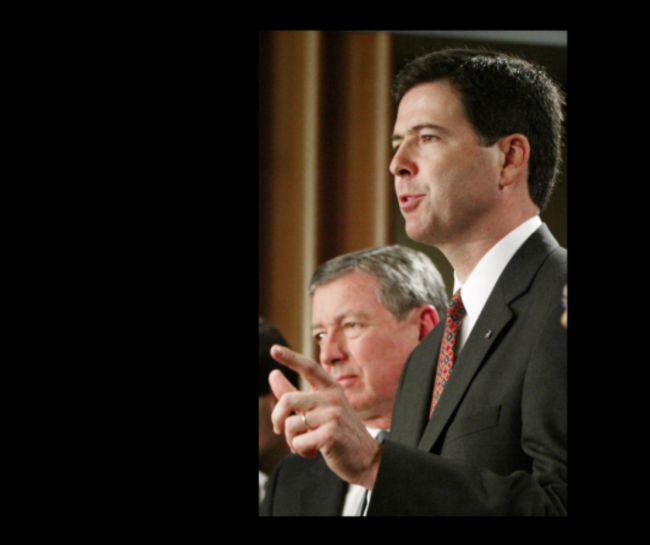 Ya think?


Hugo Floriani, Investigative Reporter
Why would James B. Comey appoint Patrick Fitzgerald as Special Counsel on a case that was already solved?

Why would he even appoint a Special Counsel at all when Richard Armitage, the man responsible for exposing the identity of CIA employee Valerie Plame to the media, had already confessed and had not even hired an attorney to represent him?

Who is James B. Comey?

_______________________________________________________________________________________
James B. Comey, Jr. (born December 14, 1960) was U.S.Deputy Attorney General in the George W. Bush's administration. As Deputy A.G., Comey was the second-highest ranking official in the Department of Justice (DOJ). He ran the day-to-day operations of the DoJ, serving in that office from December 2003-August 2005.
Comey had been U.S. Attorney for the Southern District of New York before becoming Deputy A.G.
In December 2003, he appointed his close friend and former colleague, U.S. Attorney Patrick Fitzgerald, to be the Special Counsel leading the investigation into the Valerie Plame leak after Attorney General John Ashcroft recused himself.
In August 2005, Comey left the DOJ and became General Counsel and Senior Vice President at Lockheed Martin. From there he went on to Bridgewater Associates in June 2010.
________________________________________________________________________________________

In 2009, Comey's total compensation package at Lockheed Martin was 6,113,797. Apparently, no one in the media cared that Lockheed worked closely with the Cohen Group where Marc Grossman was Vice Chairman.
Grossman was a key figure in Patrick Fitzgerald's quest to find out who leaked that Valarie Plame worked for the CIA.

Before Fitzgerald's investigation team even bought their office supplies, Comey and Fitz knew that Armitage had, innocently he claimed, leaked the knowledge about Valarie Plame to, now deceased, columnist Bob Novak.

Comey left Lockheed to work at Bridgewater Associates and then, after a short stay at Bridgewater, he became a partner with Attorney General Eric Holder's former law firm, Covington & Burling.

What do Lockheed Martin and the Cohen Group have in common? Did they have any vested interests in Iraq or Afghanistan while Fitzgerald was chasing down the phantom leaker? Did the old media ever explore that possibility? 

Has any reporter ever asked Fitzgerald or Comey why a phantom leaker was sought after the real leaker had already confessed? Did any Tribune or Sun Times reporter ever pose that question to Fitz? 

Has anyone asked former New York Times writer Judith Miller how she feels about having spent nearly three months in jail after Fitz already knew that Armitage was the leaker? Does that make her a victim of wrongful imprisonment?

What does Scooter Libby say about all this?
And, lastly, did Fitzgerald or Comey violate any laws during this Kabuki dance?
Many questions – no media interest – hence, no answers. Nothing to see here folks, move along. It's the Chicago Way.

Next..... Where did Dick Armitage eventually land?