Hugo Floriani, Investigative Reporter
When faced with an opportunity to display their professional inquisitive prowess, reporters from the Chicago dailies generally like to wind-up and lob softball questions to Fitz.
So, maybe they'd welcome a little help framing their queries. Here's a couple for them…
First a little background: Jack Lavin is Governor Pat Quinn's Chief of Staff these days. Once upon a time, he served as Blagojevich's director of the Department of Commerce and Economic Opportunity. Tony Rezko recommended him to Dead Meat for the job.  Before that, he was Chief Financial Officer of Rezko Enterprises. That means he handled Tony's money.  Countin' it. Movin' it. That sort of thing.  (Smile for the camera, Jack.)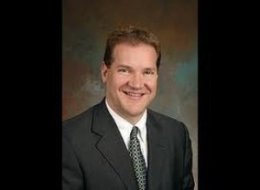 He's given some of his own money – a little over $20 grand – to Democrat politicians (much of it to Obama, but also $2K to Jesse Jackson Junior, and $2K to Sen. Barbara Boxer), all through the Big Bundler hisownself, Tony. Hey, not a thing wrong with that.
Given Jack's past starring role in Rezko Enterprises, maybe some enterprising Chicago reporter might ask Fitz this question:
"Is there any evidence to suggest that, while he was Rezko's chief bean counter, Jack Lavin moved a $3,000,000 line item from the Panda Restaurant operated by Tony over into his Papa John's Pizza books in order to help get a loan from GE Capital?"
And then, as a follow-up:
"Well, if you can't answer that question, or won't, then who kept Rezko's second set of books for his Papa John's Pizza store? And why have we never heard about that?"
Hat tip: C. Mc.