<<BREAKING NEWS>>
Thomas Barton, Illinois Pay-to-Play Political Commentator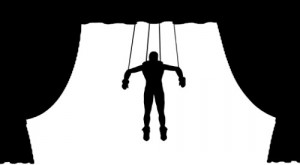 On April 19, 2012, Federal Judge Ronald Guzman sentenced Daniel T. Frawley to one year and one day in federal prison.  So Frawley joins Rezko and Blago in the Silence Chamber of federal prison until well after the November election. He reports to jail next August 20.
What Frawley knows about Rezko's dealings with former Illinois U.S. Senator Barack Obama will be unavailable…until it's irrelevant.
Let's review Frawley's puppet dance with the feds:
He pleads guilty to a crime after the statute of limitations had expired, and agrees to pay 4.4 million dollars restitution to the bank he defrauded.
He becomes a confidential informant in the case the U.S. Attorney's office builds against Antoin "Tony" Rezko, but doesn't testify at Rezko's trial.
He is identified as CI2 in the motion to arrest Rezko, after Nadhmi Auchi sent Rezko enough money to cover those who put up assets for Tony's bond. This causes the feds to suspect that Tony is about to jump bail and head back to the Middle East. So they arrest Tony.
The feds withhold a check for over three hundred thousand dollars made out to Frawley from Rezko, money that Frawley claims Rezko owes him. (So, where did that money go?)
Frawley is dragged through multiple postponements in his sentencing for the better part of a year, until the November '12 election is close enough for Frawley to receive enough jail time to keep him in the Silence Chamber until the man Patrick Fitzgerald has been protecting for years is re-elected President.
Implausible explanation?  Not when you step back and survey the pattern of the U.S. Attorney's catch and release program with regard to those most closely associated with Rezko and Blago.
Frawley was guilty as charged for the crimes he committed years ago. He admitted that. But the way his case has been handled over those years calls into question the motives of the U.S. Attorney's Office for the Northern District of Illinois.
Has it been about fighting crime?  Or, more about protecting corruption at the highest level of the land?
Frawley's been a dutiful puppet on federal strings.  And here's his pay-off: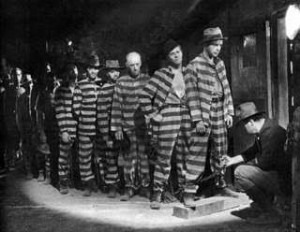 Thomas Barton, Illinois Pay-to-Play Political Commentator
The repercussions of Tony Rezko's business dealings with Nadhmi Auchi are now playing out in a lawsuit, filed on January 30, 2012 in the U.S. District Court, Northern District of Illinois, Eastern Division, pitting Plaintiffs Semir D. Sirazi, Greenstone Capital L.L.C. and Mardini, Inc., vs. Defendants General Mediterranean Holding, SA, Orifarm, SA, and Nadhmi Auchi.
The first numbered paragraph of the complaint sets the table:
1. This case arises out of the GMH Defendants' efforts to leapfrog the Sirazi Plaintiffs, superior creditors of Antoin S. Rezko1 ("Rezko") by secretly obtaining Rezko's ownership interests in a 62 acre parcel in Chicago's South Loop co-owned with the GMH Defendants (the "Parcel") in exchange for forgiving Rezko's debts to them and providing Rezko with access to millions of dollars in new capital.
Here's the entire document:
Are you wondering who Nadhmi Auchi is?
Illinois PayToPlay recently posted a 2008 piece written by John A Shaw, former senior official of US Defense, State, and Commerce departments that answers that question.
We'll highlight below another article about Auchi, this one written in 2008 by Andrew Walden. It will explain why you haven't heard much about Auchi to date.  It's because he has lawyers in Great Britain and the U.S. who, over the years, have…discouraged…writers for both the legacy media and the new media bloggers from even mentioning Auchi.
That includes the Chicago Sun Times and the Chicago Tribune.
That makes this lawsuit all the more interesting, since it's a matter of public record and impossible to suppress – although it is possible to ignore, as the Chicago big dailies have been doing.
Now, if you're interested in knowing more about Nadhmi Auchi, here's some of Walden's piece:
_____________________________________________________________________________
Iraqi Billionaire Threatens Reporters Investigating Rezko Affair
Posted By Andrew Walden, August 24, 2008 @ 12:18 pm, In Accuracy In Media
"Why aren't the American media investigating the role of British billionaire businessman Nadhmi Auchi in supplying loans to Barack Obama fundraiser Tony Rezko? Some point to media bias, but there is another factor. Working for Auchi, who was born in Iraq, attorneys from London law firm Carter-Ruck have for several months been flooding American and British newspapers and websites with letters demanding removal of material they deem "defamatory" to their client.
In its June 28 edition [1], British satirical magazine Private Eye explains: "Until Carter-Ruck and Partners and England's stifling libel laws got to work, the few American journalists not caught up in Obama-mania were turning to the archives of the British press to answer an intriguing question: who is Nadhmi Auchi [2]?"
What is so "stifling" about English libel law? In the U.K., as Carter-Ruck explains on its own website [3], "A libel claimant does not have to prove that the words are false or to prove that he has in fact suffered any loss. Damage is presumed."
The Obama campaign recently issued a non-denial [4] denial in response to claims that Obama met with Auchi―contained in Jerome Corsi's bestseller, The Obama Nation. They cited only two references. One is, "Mr. Auchi's lawyer" who told the February 27, 2008 London Evening Standard, "As far as he can remember he has had no direct contact with Mr. Obama." Another is, "A lawyer for Auchi, Alasdair Pepper" who says, according to the April 16, 2008 Washington Post, "Auchi Had 'No Recollection' Of Meeting Obama or Michelle." Alasdair Pepper is the attorney whose name appears [5] on the Carter-Ruck [6] demand letters [7].
The Secret Loan
A secret $3.5 million loan [8] from an Auchi company to key early-money Barack Obama fundraiser Antoin Rezko was exposed while Rezko was awaiting trial on fraud and money-laundering charges earlier this year. Rezko's bail was revoked and police showed up banging on the doors of his Wilmette Chicago mansion to drag him off to jail early in the morning of January 28th [9]. Auchi's loan to Rezko had come on May 23, 2005 but had not been disclosed to the Court as required in his bail agreement. Three weeks later, on June 15, 2005, Rezko's wife assisted the Obamas in the purchase of their South Chicago mansion by purchasing a next-door undeveloped lot being sold with the house.
According to the Times of London [10], "Mr. Rezko's lawyer said his client had 'longstanding indebtedness' to Mr. Auchi's General Mediterranean Holding (GMH). By June 2007 he owed it $27.9 million. Under a Loan Forgiveness Agreement described in court, M. Auchi lent Mr. Rezko $3.5 million in April 2005 and $11 million in September 2005, as well as $3.5 million transferred in April 2007. That agreement provided for the outstanding loans to be 'forgiven' in return for a stake in the 62-acre Riverside Park development.
Rezko's relationship with Barack Obama goes back to at least 1990, when Obama's law firm did work relating to thousands of now-decaying [11]Rezko apartment units in South Chicago. Rezko was a key early-money fundraiser in Obama's state Senate campaigns and his failed run at the U.S. Congress.
According to The Times of London [12], "Mr. Auchi first met Mr. Rezko after the 2003 Iraq war and they have a business relationship." At the time Auchi was facing the possibility of extradition to France [13]. The Times of London [14] explains: "Mr Auchi was convicted of corruption, given a suspended sentence and fined £1.4 million in France in 2003 for his part in the Elf affair, described as the biggest political and corporate scandal in post-war Europe. He, in a statement from his media lawyers, claims he is appealing against the sentence."
In 2003, Nick Cohen of the UK Guardian [15] wrote:
Allow me to introduce you to Nadhmi Auchi. He was charged in the 1950s with being an accomplice of Saddam Hussein, when the future tyrant was acquiring his taste for blood. He was investigated in the 1980s for his part in alleged bribes to the fabulously corrupt leaders of post-war Italy. In the 1990s, the Belgium Ambassador to Luxembourg claimed that Auchi's bank held money Saddam and Colonel Gadaffi had stolen from their luckless peoples. In 2002, officers from the Serious Fraud Squad raided the offices of one of Auchi's drug companies as part of an investigation of what is alleged to be the biggest swindle ever of the (British National Health Service). With allegations, albeit unproven, like these hanging over him, wouldn't you think that British MPs would have the sense to stay away?
But after threats from Carter-Ruck, Cohen's "defamatory" article became one of six Guardian and Observer articles [16]scrubbed from the Internet this April.
Blogger "A Jacksonian [17]" received a similar demand [18] on or before June 24. His article is still up. It details much of the information contained in the six deleted Guardian/Observer articles.
Source of Wealth
Auchi in 1967 began an Iraq Oil Ministry career eventually rising to be Director of Planning and Development under the Baathist dictatorship. He formed GMH in 1979 and then left Iraq. A key source of weapons procurement for Iraq [19] during the Iran-Iraq war, GMH became the largest single private shareholder [20] of Banque Nationale du Paris (BNP) which later merged with Paribas to form BNP-Paribas. BNP and BNP-Paribas, at Saddam Hussein's insistence, handled all Oil-for-Food [21] transactions [22] until 2001 when the incoming administration of George W. Bush demanded change. "Sirazi v GMH (62 acre S. Loop)
…to read more of Walden's article click here


Hugo Floriani, Investigative Reporter
The crime spree that plagued Illinois, and that was boldly brought to a stop by the sudden arrest of Governor Rod Blagojevich, is now officially over.
Blago is behind bars, and Patrick Fitzgerald's mission is complete:  Blago joins Rezko in the silence chamber of federal prison where the treasure trove of what they know about Illinois corruption, past and present, has been muted.
Gee, for a war against statewide crime, there sure aren't many official casualties, except, of course, Illinois' citizens.
We'll never know what Blago meant in these audio clips where he talks (in language unsuitable for children) in cryptic terms about the relationship between then U.S. Senator Barack Obama and Antoin "Tony Rezko."
(Video: H/T Citizen Wells News)
We'll never know the extent of influence that the international billionaire financier in the photograph wielded over Tony, Blago, and Barack.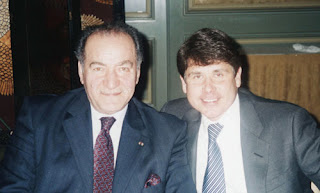 And, as soon as the two remaining Rezko Watchers highlighted in a recent piece in the Chicago Daily Observer receive their sentences this spring – unless sentencing is postponed yet again for Daniel Frawley and Daniel Mahru – they, too, will fade into silence, joining Bernard Barton, AKA John Thomas.
In the immortal words of Sonny & Cher…the beat goes on.


Illinois Pay-to-Play Editorial
A fond ado we'll bid to you, poor Blago.
For, alas, we knew you well.
And of your flair in the governor's chair,
The people here, with seldom a tear,
Will long remember.
Your flowing mane, your short-cut name,
How you quoted Kipling under pressure.
You rang in some a thrilling bell,
For you were a Man of the People.
The simple people.
The union people.
The people who came to you on bended knee for favors.
And state contracts.
You only did what other pols have done, and do still.
You simply asked for your fair share,
From the constant revolving till.
A mere pull of your rake
Through the spoils of the take.
Not for yourself, no, not for you.
But for the common ones.
The suffering ones.
The sick and aging ones.
The Little People.
But, alas, poor Blago, you lacked discretion.
Too boldly did you claim your share.
Too brashly did you drag your rake.
And with too much brass you grabbed your take.
And so, you did, poor Blago, make yourself contagious
With them who would otherwise a blind eye have turned,
Had you not been so audacious.
For in a state where other pols make secret hay,
Your crimes were in the light of day. (And on tape.)
As so yet it continues on past today,
With Illinois Pay-to-Play.
Yet, all would have been well with you, poor Blago,
Had you not flown too close to the Flame,
And burned your wings in the white heat of Him,
They chose past you for a Greater Fame.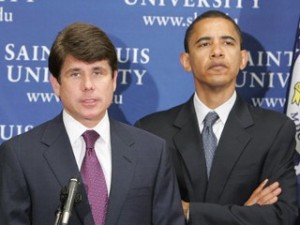 A bigger friend of Tony.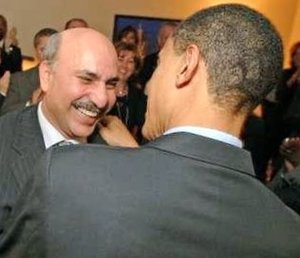 So, a fond ado we'll bid to you, poor Blago.
Be wise in the showers where you will go.
For some are eager there to do to you,
What you did to the People.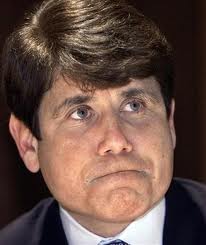 Introducing Annabel Kent, Chicago Media Critic
Tribune reporter Annie Sweeney wrote a nearly insightful piece on a former Governor Blagojevich "advisor" identified in the body of her piece as Antoin Rezko, and in the title as Tony Rezko.  Who is Annie writing about?
Is this the same Tony Rezko who served with Allison Davis and Valerie Jarrett as Barack Obama's senate election campaign finance committee?  She doesn't mention that.
Is this the same Tony Rezko who Obama said he only occasionally shared lunch with, but who federal mole Bernard Barton, AKA John Thomas, reported to have witnessed frequently meeting at Rezko's office where Barton-Thomas worked while wired. She doesn't mention Obama.
Is this the same Tony Rezko who helped Obama and Michelle buy that Hyde Park mansion near his home in Chicago, helped him expand his yard, helped him…well, you know all that.  She skips all that, too.
Or, was this the former governor's "advisor" – it's such a dignified word, "advisor" – who gave former Governor Blagojevich prescient recommendations on competent and knowledgeable persons he, Blago, should appoint to key state committees in order to best serve the tax-payers of Illinois?
Is this Tony Rezko the "advisor" who whispered in Blago's ear giving timely and clever political advice – cause that's what "advisors" do, you know – to Illinois' Chief Executive Officer so that he might act, in all ways and in all things, on behalf of the greater interests of the people of the Land of Lincoln?
The Governor's Advisor...
…and not Blago's senior extortionist bag man and close friend of the President.
It's just hard to tell from Ms. Sweeney's article who she's writing about.
She wrote, "Rezko opted to enter jail after his June 2008 conviction, but his sentencing was delayed because of the possibility that federal prosecutors would call him as a witness at other key trials connected to the probe of the Blagojevich administration, including the former governor's retrial over the summer."
Does Ms. Sweeney really believe that this Tony Rezko was ever going to be called as a witness at "other key Blago trials" where, on cross examination, he might have been forced to elaborate on his relationship with Barack Obama and commit perjury when he lied?  Did Annie just move to Chicago from Bulgaria?
For whom does Ms. Sweeney work?  Oh, that's right – the Chicago Tribune.  A newspaper that's been covering-up for Chicago's favorite son for a long time now.
Now we get it.
She also wrote, "Prosecutors, in a filing Monday, also described how Rezko withheld information from them, undercutting their investigation."
Sure.  We get that, too.
What's "shill" in Bulgarian?


Jontel Kassidy, Senior Capital Correspondent
Blago is next to be sentenced, on December 6.  Conventional wisdom among the Crook County media pundits is that, since Tony Rezko drew 10½ years, Dead Meat is facing the realistic prospect of even more time.
The prosecution said that Tony was "uncooperative"; even though he volunteered to go to jail before he was sentenced.  (Who gave him that advice?)  If the intent was to rack up goodwill points at his sentencing, it didn't work.  All it did was give him a preview of the future – at least until his friend Barack springs him with a commutation of his sentence.  (Is Vegas posting odds on that yet?)
But for Dead Meat, there's no commutation, no pardon, no escape on the horizon coming from the White House.  Blago and Barack didn't have that special, symbiotic relationship built, literally, on bags of cash that once linked Tony and Barack at the wallet.
So what's Dead Meat to do to mitigate the depth of the water he's to fall into when he walks the plank on December 6th? How might he, unlike Tony, "cooperate?"
He can't relate details about the former Chicago corruption days of the POTUS, and, thereby, shave off jail time. The U.S. Attorney's Office has done a stalwart job of protecting Chicago's favorite son through the whole sordid affair that's whirled around Tony and Rod.  Blago starts talking about Chicago Obama and he might get life without parole!
He can't squeal on Attorney General Eric Holder's association, once upon another time, with the effort to endorse a mobbed-up casino in Rosemont. Holder is Patrick Fitzgerald's boss. How would that work? – Blago fessing up that Holder's law firm was to get $300 g's for certifying that the people behind the casino were all former Eagle Scouts and fine, church-goin folks, when he knew otherwise. No joy there for Blago.
So does he tell on the current Governor's Chief of Staff for what he might have done as Tony's Chief Financial Officer? Naw, that'd be small potatoes. Besides, who cares? He has some dirt on the current Gov himself? Yawn.
Or, maybe he details how Rezko's close business associates Dan Frawley and Dan Mahru participated in…oh, serial bad behaviors of interest?  Nope. You don't use a big fish to catch smaller ones.
Okay, suppose Blago does a core dump on Illinois corruption, names names, give dates, outlines plots and pinpoints where the bones are buried, metaphorically speaking, of course.
Maybe he exposes details of the nefarious world of a longtime, high-profile, corrupt, senior alderman.  Or, tell true tales about the Daley's.  Rahmbo might like that, but it wouldn't help Blago.
So just what information, what "cooperation", does Blago have to offer now that he knows how deep the water may be when he walks off the plank on December 6th?
Is there even anything he can tell that will make the outcome any less catastrophic for him?  Or, would his prosecutors just as soon he say nothing and vanish quietly into the federal penal system? Sort of like Norman Hsu did – remember him? You probably don't, and that may be just what the U.S. Attorney's office is hoping for. That Dead Meat disappears down the federal rabbit hole and in, say, 15 years, no one notices when he walks out with short gray hair, his children grown, Patty remarried, a self-defeated man. Not a pretty picture.
Not looking good for Dead Meat.


Hugo Floriani, Investigative Reporter
WOW!  Today Federal U.S. District Judge Amy St. Eve sentenced Tony Rezko to 10½ years in prison!  That can't be good news for Blago. He's next.
This reporter is, frankly, surprised – astonished is a better word – that St. Eve came down so hard on Tony.  (But we don't back off the analysis of the Sun Times article yesterday wherein a case was implicitly made by the reporter for giving him time served.)
Does this mean that Tony will do at least the federally mandated 85% of his time before being a free man again? Maybe. Maybe not.
Presidential Candidate Senator Barack Obama was considerably less than forthcoming and truthful when describing his relationship with Tony before the '08 election.  In short, he lied. Illinois Pay-to-Play will elaborate on that assertion in the weeks ahead.
We expected that, today, Tony might be a free man, sentenced to time served. Or, that his sentencing might be postponed yet again. We were wrong. But that won't stop us from sticking out collective neck again.
Rezko expects to be pardoned by his friend Obama. Whether Obama wins or losses (or doesn't even run in) the next election, he will pardon his friend and financial benefactor Tony after the '12 election.  Tony is expecting that, given two eyewitness accounts known to us wherein Tony said he expects Obama to pardon him.
We hope we're wrong about that prediction, too. Very wrong. Tony did the crime – he should do all  the time.  And more.
It's time that will tell.


Thomas Barton, Illinois Pay-to-Play Political Commentator
The Jimmy Hoffa of federal prisoners may be getting ready to finally surface, in the flesh. Talk of Tony Rezko's imminent sentencing is building. Suppose that means anything, this time?
After 3½ years of self-imposed incarceration, somewhere on the planet, he's about to surface, according to the Chicago Tribune.  According to another source, Tony "has spent much of his more than 3½ years in jail in solitary, rarely getting fresh air and subject to a diet that has resulted in him losing 80 pounds, according to a defense filing unsealed Thursday."  Poor Tony.  He's been Steve McQueen in the 1973 movie Papillon.
Paa-leese.  We're supposed to believe that Tony has been doing hard time at the…well, where has he been all this hard time? On a military base in Wisconsin playing golf in a light disguise four times a week?  Indoor tennis on rainy days? And where is he now? When will those relentless investigative reporters at the Chicago Tribune and Sun Times be able to ask him their piercing interrogatives?
Tony's attorneys want him sentences to time served. (Where was that again?)
Patrick Fitzgerald's office wants him sentenced to from 11-15 years because – get ready for this – he failed to cooperate with prosecutors.  That's why, we're to believe, Tony wasn't called as a witness in the Blago trial. After 3½ years, the U.S. Attorney finally decided that Tony hasn't cooperated. Geeze, Louise. Buying that requires…a willing suspension of disbelief. (The Tribune's John Kass will buy it, though. For him, Fitzgerald is the Great Exterminator.)
Sentencing by U.S. Judge Amy St. Eve is set, yet again, for Nov. 22.  Waiting for St. Eve to sentence Tony is like waiting for Gogot. Birthdays pass while waiting. Wanna bet it'll be postponed again?
But what if it isn't postponed? Will her Honor throw the book at Tony? Or, sentence him to time served.  Or, maybe 4 months in a federal pen where, for the 3 months he has to put in, he can work on his backhand tennis return.
The best way to watch all this is to pull up an easy chair, get a bag of popcorn and enjoy the show. Cause it's all theatre, folks.  Tony's friend Obama is going to pardon him eventually anyway.  After all the money Tony passed his way, Tony deserves some executive clemency. Tony's mentioned he expects a pardon to two former associates.
Aretha Franklin asked the relevant question about all this…


Hugo Floriani, Investigative Reporter
When faced with an opportunity to display their professional inquisitive prowess, reporters from the Chicago dailies generally like to wind-up and lob softball questions to Fitz.
So, maybe they'd welcome a little help framing their queries. Here's a couple for them…
First a little background: Jack Lavin is Governor Pat Quinn's Chief of Staff these days. Once upon a time, he served as Blagojevich's director of the Department of Commerce and Economic Opportunity. Tony Rezko recommended him to Dead Meat for the job.  Before that, he was Chief Financial Officer of Rezko Enterprises. That means he handled Tony's money.  Countin' it. Movin' it. That sort of thing.  (Smile for the camera, Jack.)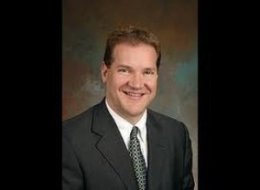 He's given some of his own money – a little over $20 grand – to Democrat politicians (much of it to Obama, but also $2K to Jesse Jackson Junior, and $2K to Sen. Barbara Boxer), all through the Big Bundler hisownself, Tony. Hey, not a thing wrong with that.
Given Jack's past starring role in Rezko Enterprises, maybe some enterprising Chicago reporter might ask Fitz this question:
"Is there any evidence to suggest that, while he was Rezko's chief bean counter, Jack Lavin moved a $3,000,000 line item from the Panda Restaurant operated by Tony over into his Papa John's Pizza books in order to help get a loan from GE Capital?"
And then, as a follow-up:
"Well, if you can't answer that question, or won't, then who kept Rezko's second set of books for his Papa John's Pizza store? And why have we never heard about that?"
Hat tip: C. Mc.