Ernie Souchak, Editor-in-Chief, Illinois PayToPlay
 Update;
The Department of Justice will not disclose Daniel S. Mahru's probation deal publicly until after the Presidential election.
 Mr. Mahru was scheduled to be sentenced on Oct 4, however to no surprise to anyone paying attention, that date has now been reset to November 15.
-
Are reporters at the Chicago Tribune and Sun Times covering this scandal, or are they drafting fairy tale books about it?
Origninal post  9-20-12
DoJ silences Obama associate Daniel S  Mahru with his freedom
-
Ernie Souchak, Etidor-in-Chief, Illinois PayToPlay
-
llinoispaytoplay.com (IP2P) has learned that Daniel S. Mahru, former business partner of Antoin "Tony" Rezko, made a deal with the Department of Justice (DoJ) for his silence. IP2P is the first to report that on, October 4 2012, Daniel S. Mahru will receive probation at his sentencing hearing.
IP2P has also learned that this is being done to insure Mahru will not speak of crimes, of which he has knowledge, that implicate Barack Obama, Valarie Jarrett, Allison Davis, Tony Rezko and others. (Remember Tony recently saying he committed crimes for which Fitzgerald did not charge him.)
IP2P is also investigating the circumstances surrounding meetings that took place where Daniel T Frawley and Daniel S Mahru (both convicted felons) met with author Jerome Corsi in Chicago to discuss secret meetings between Barack Obama, Nadhmi Auchi, Tony Rezko, (now Governor) Pat Quinn, and others.
Mahru is unwilling to talk about what was discussed at those meetings. Could that have anything to do with his probation deal?
The DoJ and (now former) U.S Attorney Patrick Fitzgerald protected Eric Holder, Barack Obama and a host of other criminals that occupy high offices in our state and federal government.
Brenda J Elliot at rbo2.com recently posted an article suggesting how important Mahru's silence is to the DoJ.  
Where's that special prosecutor when you need him?
Developing…


Hugo Floriani, Investigative Reporter
The crime spree that plagued Illinois, and that was boldly brought to a stop by the sudden arrest of Governor Rod Blagojevich, is now officially over.
Blago is behind bars, and Patrick Fitzgerald's mission is complete:  Blago joins Rezko in the silence chamber of federal prison where the treasure trove of what they know about Illinois corruption, past and present, has been muted.
Gee, for a war against statewide crime, there sure aren't many official casualties, except, of course, Illinois' citizens.
We'll never know what Blago meant in these audio clips where he talks (in language unsuitable for children) in cryptic terms about the relationship between then U.S. Senator Barack Obama and Antoin "Tony Rezko."
(Video: H/T Citizen Wells News)
We'll never know the extent of influence that the international billionaire financier in the photograph wielded over Tony, Blago, and Barack.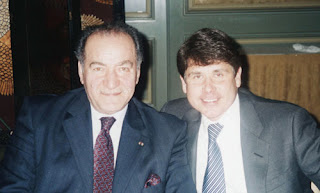 And, as soon as the two remaining Rezko Watchers highlighted in a recent piece in the Chicago Daily Observer receive their sentences this spring – unless sentencing is postponed yet again for Daniel Frawley and Daniel Mahru – they, too, will fade into silence, joining Bernard Barton, AKA John Thomas.
In the immortal words of Sonny & Cher…the beat goes on.


Jontel Kassidy, Capital Correspondent
Illinois PayToPlay has learned that, since January 19, 2012, two reporters and one editor at the Chicago Sun Times have held relevant information provided by an informant concerning Daniel Frawley's claim that he gave Tony Rezko $400,000 in cash that Rezko then passed on to U.S. Senator Barack Obama.
No one at the paper has either acknowledged receipt of the information, expressed an interest in how it was obtained, nor queried the source for additional details.
On February 27, 2012, Illinois PayToPay investigative reporter Hugo Floriani reported that:
"Frawley's claim that the money he gave Rezko went to Obama is alluded to in a December 1, 2010 deposition executed in the context of a legal malpractice complaint filed by Frawley, on July 9, 2010, against his former attorney and long-time friend, George Weaver.

Frawley alleges that Weaver was not representing his best interests when Weaver interrupted a March 2006 phone conversation, supervised by the U.S. Attorney's Office, between Frawley and Rezko who were scheduling a face-to-face meeting.

Frawley cooperated with U.S. Attorney Patrick Fitzgerald's investigation of Rezko by wearing a wire.

On page 21 of the deposition, this exchange is recorded between Weaver's attorney, Daniel F. Konicek, and Frawley:

Konicek: And Tony Rezko was where when you were speaking to him?

Frawley: He was on the other end of the phone. I don't recall where he was.

Konicek: Okay. Now, that answers one part of the question is who was present when Mr. Weaver made a gesture across his neck with both hands [signaling that the conversation should cease]. But my question was a little different because your complaint specifically alleges he [Weaver] told you to withhold certain information, right.

Frawley: Yes.

Konicek: I'm assuming the information is about the payments made by Rezko to Obama, so we know we're talking about the right conversation, right?

Franklin: (Charles Franklin, representing Frawley.) I'm not going to make any objection. I think that's – you may make that assumption, but I think it's unfair to make the – to have Mr. Frawley make the assumption. Also, it doesn't go to who or where or the forum non conveniens issue.

Konicek: There's going to be multiple conversations, I want to make sure I understand where each occurred. So you said he (Weaver) withheld information. Am I correct it was about Obama being paid by Rezko?

The Witness: (Frawley) I'm not answering that question based upon my attorney's instructions.
Since the July 11, 2011 Times article that linked to the deposition cited above, there's been no mention by the paper of the alleged payment of Rezko to Obama using money Rezko received from Frawley.
Perhaps the paper is sitting on the story, waiting for it to hatch.  Just as they sat for seven years on the story of David Koschman's murder and then hatched it on August 4, 2011.


Jontel Kassidy, Senior Capital Correspondent
Since at least last January 22nd, U.S. Attorney Patrick Fitzgerald has known of Daniel Frawley's claim that he gave Tony Rezko $400,000 in cash that Rezko then passed on to U.S. Senator Barack Obama.  We believe, though, that that knowledge goes back much earlier.
In a December 11, 2011 Illinois Pay To Play (IP2P) article entitled "The Fitz Solution to Corruption: The Citizens Report It," we noted that "While commenting on Blago's prison sentence, U.S. Attorney Patrick Fitzgerald repeated what has become for him a common theme: Illinois citizens are responsible for stopping corruption by reporting it to the authorities."
Along with that article, IP2P posted a video clip wherein Fitzgerald stated that there needed to "be a change in the public's attitude. People seem resigned to corruption at times and…they're afraid to say 'no' when someone in power asks them for something they shouldn't. The people in power should be afraid to ask."
So it's a fact that the U.S. Attorney has, on several occasions, encouraged average citizens to get involved in fighting corruption.
Well, we found one citizen who did just that, back on January 22nd – six weeks ago. Here's the email thread the citizen sent.
From: Address Deleted
To: "Randall Samborn" <Address Deleted@usdoj.gov>, "Kimberly Nerheim" <Adress Deleted@usdoj.gov>
Sent: Tuesday, January 24, 2012 9:15:44 PM
Subject: Public outreach/safety.

Mr Randall Samborn and Ms. Kimberly Nerheim

I am more than a little concerned by U.S. Attorney Patrick Fitzgerald's complete lack of response to the serious matter that has been brought to his attention below. Mr. Fitzgerald made a very public outreach encouraging people to report corruption to his office. Hopefully he will not disappoint those he urged to risk so much ?

Concerned Citizen

XXXXXXXXXXXXX

_____________________________________________________________________________

From: Address Deleted
To: "Randall Samborn" <Address Deleted@usdoj.gov>
Cc: "Kimberly Nerheim" <Address Deleted@usdoj.gov>
Sent: Sunday, January 22, 2012 4:11:12 PM
Subject: What happens when citizens step up?

Mr. Randall Samborn

U.S. Attorney Patrick Fitzgerald has repeatedly challenged the public to do something about corruption in Illinois by bringing information of illegal acts directly to him. Mr. Samborn, while I agree the premise of reporting crime to the U.S. Attorney is a logical step in fighting corruption, I do not underestimate the serious danger those who do are put in.

Need I remind you, it was also Patrick Fitzgerald who acknowledged that his office may be the source for information being leaked to the very criminals he urges the public to inform on. With this in mind, please personally hand a copy of this email to U.S. Attorney Patrick Fitzgerald and ask him to personally send me a response addressing concerns I have about his office and my personal safety. At the very least Mr Fitzgerald can acknowledge the risk I am taking exposing corruption at the highest levels.

> ---------- Forwarded message ----------
> From: Dan Frawley <Address Deleted@gmail.com>
> Date: Tue, 31 May 2011 08:08:15 -0500
> Subject: Frawely vs Weaver
> To: XXXXX XXXXX <XXXXXXXX@gmail.com>
>
> Hi XXXX
> I think the best way to bring this to the public and media is to fact
> plead
> the malpractice case against Weaver.
> I have discussed this with my attorney's and they are willing to do it at
> the right time and way.
> Instead of a news conference being called like the gay guy did with Obama.
> PUT AS THE GUTS OF THE SUIT THE MEETING AT THE FOUR SEASONS AND THE 4OO
> GRAND GOING TO YOU KNOW WHO AND THE USE OF THE MONEY.
> I would bring this out in the for of a legal action not a personal
> vendetta.
> The media with the right reporters would make sure that was national news.
> When the usual denials are made or the old I don't remember I hit him with
> the second naming names dates and places.
> Punches are always more effective when thrown in combination.
> know we figure out the best timing.
> DAN 
And in response, what did the citizen hear back from the U.S. Attorney's office?
Absolute silence.