Jontel Kassidy, Senior Capital Correspondent
Since at least last January 22nd, U.S. Attorney Patrick Fitzgerald has known of Daniel Frawley's claim that he gave Tony Rezko $400,000 in cash that Rezko then passed on to U.S. Senator Barack Obama.  We believe, though, that that knowledge goes back much earlier.
In a December 11, 2011 Illinois Pay To Play (IP2P) article entitled "The Fitz Solution to Corruption: The Citizens Report It," we noted that "While commenting on Blago's prison sentence, U.S. Attorney Patrick Fitzgerald repeated what has become for him a common theme: Illinois citizens are responsible for stopping corruption by reporting it to the authorities."
Along with that article, IP2P posted a video clip wherein Fitzgerald stated that there needed to "be a change in the public's attitude. People seem resigned to corruption at times and…they're afraid to say 'no' when someone in power asks them for something they shouldn't. The people in power should be afraid to ask."
So it's a fact that the U.S. Attorney has, on several occasions, encouraged average citizens to get involved in fighting corruption.
Well, we found one citizen who did just that, back on January 22nd – six weeks ago. Here's the email thread the citizen sent.
From: Address Deleted
To: "Randall Samborn" <Address Deleted@usdoj.gov>, "Kimberly Nerheim" <Adress Deleted@usdoj.gov>
Sent: Tuesday, January 24, 2012 9:15:44 PM
Subject: Public outreach/safety.

Mr Randall Samborn and Ms. Kimberly Nerheim

I am more than a little concerned by U.S. Attorney Patrick Fitzgerald's complete lack of response to the serious matter that has been brought to his attention below. Mr. Fitzgerald made a very public outreach encouraging people to report corruption to his office. Hopefully he will not disappoint those he urged to risk so much ?

Concerned Citizen

XXXXXXXXXXXXX

_____________________________________________________________________________

From: Address Deleted
To: "Randall Samborn" <Address Deleted@usdoj.gov>
Cc: "Kimberly Nerheim" <Address Deleted@usdoj.gov>
Sent: Sunday, January 22, 2012 4:11:12 PM
Subject: What happens when citizens step up?

Mr. Randall Samborn

U.S. Attorney Patrick Fitzgerald has repeatedly challenged the public to do something about corruption in Illinois by bringing information of illegal acts directly to him. Mr. Samborn, while I agree the premise of reporting crime to the U.S. Attorney is a logical step in fighting corruption, I do not underestimate the serious danger those who do are put in.

Need I remind you, it was also Patrick Fitzgerald who acknowledged that his office may be the source for information being leaked to the very criminals he urges the public to inform on. With this in mind, please personally hand a copy of this email to U.S. Attorney Patrick Fitzgerald and ask him to personally send me a response addressing concerns I have about his office and my personal safety. At the very least Mr Fitzgerald can acknowledge the risk I am taking exposing corruption at the highest levels.

> ---------- Forwarded message ----------
> From: Dan Frawley <Address Deleted@gmail.com>
> Date: Tue, 31 May 2011 08:08:15 -0500
> Subject: Frawely vs Weaver
> To: XXXXX XXXXX <XXXXXXXX@gmail.com>
>
> Hi XXXX
> I think the best way to bring this to the public and media is to fact
> plead
> the malpractice case against Weaver.
> I have discussed this with my attorney's and they are willing to do it at
> the right time and way.
> Instead of a news conference being called like the gay guy did with Obama.
> PUT AS THE GUTS OF THE SUIT THE MEETING AT THE FOUR SEASONS AND THE 4OO
> GRAND GOING TO YOU KNOW WHO AND THE USE OF THE MONEY.
> I would bring this out in the for of a legal action not a personal
> vendetta.
> The media with the right reporters would make sure that was national news.
> When the usual denials are made or the old I don't remember I hit him with
> the second naming names dates and places.
> Punches are always more effective when thrown in combination.
> know we figure out the best timing.
> DAN 
And in response, what did the citizen hear back from the U.S. Attorney's office?
Absolute silence.


Illinois Pay-to-Play Editorial
A fond ado we'll bid to you, poor Blago.
For, alas, we knew you well.
And of your flair in the governor's chair,
The people here, with seldom a tear,
Will long remember.
Your flowing mane, your short-cut name,
How you quoted Kipling under pressure.
You rang in some a thrilling bell,
For you were a Man of the People.
The simple people.
The union people.
The people who came to you on bended knee for favors.
And state contracts.
You only did what other pols have done, and do still.
You simply asked for your fair share,
From the constant revolving till.
A mere pull of your rake
Through the spoils of the take.
Not for yourself, no, not for you.
But for the common ones.
The suffering ones.
The sick and aging ones.
The Little People.
But, alas, poor Blago, you lacked discretion.
Too boldly did you claim your share.
Too brashly did you drag your rake.
And with too much brass you grabbed your take.
And so, you did, poor Blago, make yourself contagious
With them who would otherwise a blind eye have turned,
Had you not been so audacious.
For in a state where other pols make secret hay,
Your crimes were in the light of day. (And on tape.)
As so yet it continues on past today,
With Illinois Pay-to-Play.
Yet, all would have been well with you, poor Blago,
Had you not flown too close to the Flame,
And burned your wings in the white heat of Him,
They chose past you for a Greater Fame.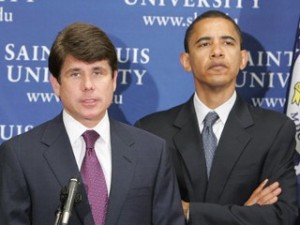 A bigger friend of Tony.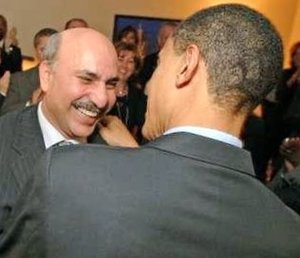 So, a fond ado we'll bid to you, poor Blago.
Be wise in the showers where you will go.
For some are eager there to do to you,
What you did to the People.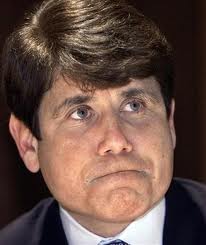 Jontel Kassidy, Senior Capital Correspondent
Blago is next to be sentenced, on December 6.  Conventional wisdom among the Crook County media pundits is that, since Tony Rezko drew 10½ years, Dead Meat is facing the realistic prospect of even more time.
The prosecution said that Tony was "uncooperative"; even though he volunteered to go to jail before he was sentenced.  (Who gave him that advice?)  If the intent was to rack up goodwill points at his sentencing, it didn't work.  All it did was give him a preview of the future – at least until his friend Barack springs him with a commutation of his sentence.  (Is Vegas posting odds on that yet?)
But for Dead Meat, there's no commutation, no pardon, no escape on the horizon coming from the White House.  Blago and Barack didn't have that special, symbiotic relationship built, literally, on bags of cash that once linked Tony and Barack at the wallet.
So what's Dead Meat to do to mitigate the depth of the water he's to fall into when he walks the plank on December 6th? How might he, unlike Tony, "cooperate?"
He can't relate details about the former Chicago corruption days of the POTUS, and, thereby, shave off jail time. The U.S. Attorney's Office has done a stalwart job of protecting Chicago's favorite son through the whole sordid affair that's whirled around Tony and Rod.  Blago starts talking about Chicago Obama and he might get life without parole!
He can't squeal on Attorney General Eric Holder's association, once upon another time, with the effort to endorse a mobbed-up casino in Rosemont. Holder is Patrick Fitzgerald's boss. How would that work? – Blago fessing up that Holder's law firm was to get $300 g's for certifying that the people behind the casino were all former Eagle Scouts and fine, church-goin folks, when he knew otherwise. No joy there for Blago.
So does he tell on the current Governor's Chief of Staff for what he might have done as Tony's Chief Financial Officer? Naw, that'd be small potatoes. Besides, who cares? He has some dirt on the current Gov himself? Yawn.
Or, maybe he details how Rezko's close business associates Dan Frawley and Dan Mahru participated in…oh, serial bad behaviors of interest?  Nope. You don't use a big fish to catch smaller ones.
Okay, suppose Blago does a core dump on Illinois corruption, names names, give dates, outlines plots and pinpoints where the bones are buried, metaphorically speaking, of course.
Maybe he exposes details of the nefarious world of a longtime, high-profile, corrupt, senior alderman.  Or, tell true tales about the Daley's.  Rahmbo might like that, but it wouldn't help Blago.
So just what information, what "cooperation", does Blago have to offer now that he knows how deep the water may be when he walks off the plank on December 6th?
Is there even anything he can tell that will make the outcome any less catastrophic for him?  Or, would his prosecutors just as soon he say nothing and vanish quietly into the federal penal system? Sort of like Norman Hsu did – remember him? You probably don't, and that may be just what the U.S. Attorney's office is hoping for. That Dead Meat disappears down the federal rabbit hole and in, say, 15 years, no one notices when he walks out with short gray hair, his children grown, Patty remarried, a self-defeated man. Not a pretty picture.
Not looking good for Dead Meat.


Hugo Floriani, Investigative Reporter
WOW!  Today Federal U.S. District Judge Amy St. Eve sentenced Tony Rezko to 10½ years in prison!  That can't be good news for Blago. He's next.
This reporter is, frankly, surprised – astonished is a better word – that St. Eve came down so hard on Tony.  (But we don't back off the analysis of the Sun Times article yesterday wherein a case was implicitly made by the reporter for giving him time served.)
Does this mean that Tony will do at least the federally mandated 85% of his time before being a free man again? Maybe. Maybe not.
Presidential Candidate Senator Barack Obama was considerably less than forthcoming and truthful when describing his relationship with Tony before the '08 election.  In short, he lied. Illinois Pay-to-Play will elaborate on that assertion in the weeks ahead.
We expected that, today, Tony might be a free man, sentenced to time served. Or, that his sentencing might be postponed yet again. We were wrong. But that won't stop us from sticking out collective neck again.
Rezko expects to be pardoned by his friend Obama. Whether Obama wins or losses (or doesn't even run in) the next election, he will pardon his friend and financial benefactor Tony after the '12 election.  Tony is expecting that, given two eyewitness accounts known to us wherein Tony said he expects Obama to pardon him.
We hope we're wrong about that prediction, too. Very wrong. Tony did the crime – he should do all  the time.  And more.
It's time that will tell.


Thomas Barton, Illinois Pay-to-Play Political Commentator
Writing for Forbes' on-line magazine, Larry Bell, an expert in climate, energy, environmental and space policy issues, explains how the Obama administration has deployed the Chicago Way in awarding contracts. His article, entitled "Obama Kick-Back Cronyism, Part 1: Stimulating Green Energy the Chicago Way" can be read here.
"This article is the first in a four-part series discussing the early formative Chicago political career days of Barack Obama as community organizer, lawyer, Illinois state senator, financial foundation executive, and U.S. Senate campaigner. Part 2 will emphasize his activities related to Illinois health care issues leading to Obamacare."
You can read Part Two here. It's entitled "Obama Kick-Back Cronyism - Part 2: Illinois Health And Human Disservices."
It's unclear whether Forbes will complete the four-part series with Parts 3 and 4.  Maybe they got a phone call.