Ernie Souchak, Editor-in-Chief, Illinois PayToPlay
 Update;
The Department of Justice will not disclose Daniel S. Mahru's probation deal publicly until after the Presidential election.
 Mr. Mahru was scheduled to be sentenced on Oct 4, however to no surprise to anyone paying attention, that date has now been reset to November 15.
-
Are reporters at the Chicago Tribune and Sun Times covering this scandal, or are they drafting fairy tale books about it?
Origninal post  9-20-12
DoJ silences Obama associate Daniel S  Mahru with his freedom
-
Ernie Souchak, Etidor-in-Chief, Illinois PayToPlay
-
llinoispaytoplay.com (IP2P) has learned that Daniel S. Mahru, former business partner of Antoin "Tony" Rezko, made a deal with the Department of Justice (DoJ) for his silence. IP2P is the first to report that on, October 4 2012, Daniel S. Mahru will receive probation at his sentencing hearing.
IP2P has also learned that this is being done to insure Mahru will not speak of crimes, of which he has knowledge, that implicate Barack Obama, Valarie Jarrett, Allison Davis, Tony Rezko and others. (Remember Tony recently saying he committed crimes for which Fitzgerald did not charge him.)
IP2P is also investigating the circumstances surrounding meetings that took place where Daniel T Frawley and Daniel S Mahru (both convicted felons) met with author Jerome Corsi in Chicago to discuss secret meetings between Barack Obama, Nadhmi Auchi, Tony Rezko, (now Governor) Pat Quinn, and others.
Mahru is unwilling to talk about what was discussed at those meetings. Could that have anything to do with his probation deal?
The DoJ and (now former) U.S Attorney Patrick Fitzgerald protected Eric Holder, Barack Obama and a host of other criminals that occupy high offices in our state and federal government.
Brenda J Elliot at rbo2.com recently posted an article suggesting how important Mahru's silence is to the DoJ.  
Where's that special prosecutor when you need him?
Developing…


Hugo Floriani, Investigative Reporter
The crime spree that plagued Illinois, and that was boldly brought to a stop by the sudden arrest of Governor Rod Blagojevich, is now officially over.
Blago is behind bars, and Patrick Fitzgerald's mission is complete:  Blago joins Rezko in the silence chamber of federal prison where the treasure trove of what they know about Illinois corruption, past and present, has been muted.
Gee, for a war against statewide crime, there sure aren't many official casualties, except, of course, Illinois' citizens.
We'll never know what Blago meant in these audio clips where he talks (in language unsuitable for children) in cryptic terms about the relationship between then U.S. Senator Barack Obama and Antoin "Tony Rezko."
(Video: H/T Citizen Wells News)
We'll never know the extent of influence that the international billionaire financier in the photograph wielded over Tony, Blago, and Barack.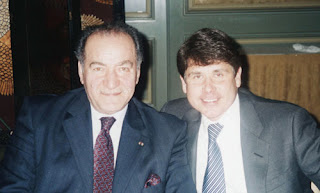 And, as soon as the two remaining Rezko Watchers highlighted in a recent piece in the Chicago Daily Observer receive their sentences this spring – unless sentencing is postponed yet again for Daniel Frawley and Daniel Mahru – they, too, will fade into silence, joining Bernard Barton, AKA John Thomas.
In the immortal words of Sonny & Cher…the beat goes on.


Hugo Floriani, Investigative Reporter
Was Bernard Barton, Jr. relocated to Chicago on a mission to help bring down Tony Rezko and, thereby, shield a young, articulate, African-American politician from his potentially incriminating associations with Rezko? Too conspiratorial, you say? Maybe. Maybe not.
Let's review the highlights of the Silent Mole, starting with an admission from the Complicit Newspaper.
The Chicago Tribune identified Thomas as a Mole in this May 4, 2007, article written by David Jackson.
John Thomas bought and sold downtown office buildings and helped other property developers secure multimillion-dollar mortgage loans.
But the high-living dealmaker had a double life.
Thomas, who was convicted of federal business fraud in New York in 2004, has been serving as an undercover government mole in Chicago for at least a year as part of an ongoing federal investigation into fraud in the financing of large-scale commercial real estate deals, the Tribune has learned.
Records made public so far do not identify the targets of the federal probe and the FBI and US Attorney's Office declined to comment for this article.
That same May, a concerned citizen spoke on the phone with a well-known Chicago Tribune reporter.  The concerned citizen was trying to chase down information as to when the Tribune learned that John Thomas was an FBI mole while working in Rezko's office.  "Thomas" was Barton's new name in Chicago after being relocated from New York, where he faced prosecution and eventual sentencing for fraud.  (The complete story of Burton-Thomas is well documented and won't be rehashed here.)
The concerned citizen asked the reporter why the Trib had sat on the Mole's story since, at least, 2006.  That timeframe was implicitly provided by the Trib reporter when stating that Patrick Fitzgerald warned the paper, a year earlier in May 2006, that outing the Mole would cause problems for the investigation and could prove dangerous for Burton-Thomas.
Then, in a moment of indiscretion, the reporter added that Fitzgerald told the Trib in May 2006 that identifying the mole could also "influence the election."
Now, the Illinois gubernatorial election came in November 2006, and the national election came two years after that.  To which election was the reporter referring? It wasn't explicitly stated, but the obvious inference pointed to the Presidential election in 2008. In either case, it's a curious statement coming from the USAO, as it was conveyed by the reporter.
There are other elements of the Burton-Thomas story equally curious.
Way back on February 22, 2002, then Tribune staff reporter Thomas A. Corfman, who followed the Mole over the years like a bloodhound, wrote this in an article:
Developer Donald Trump has picked prominent Chicago real estate firm U.S. Equities Realty to handle leasing for his proposed mixed-use skyscraper on the riverfront site of the Chicago Sun Times..
The selection was announced as questions surfaced in real estate circles about alleged criminal activity by two members of a small brokerage firm that, with Trump's blessing, last fall did some marketing of the 1.3 million square feet of office space in the massive tower.
John Thomas, a partner in Chicago-based Carnegie Realty Partners, and a Carnegie employee, Louis Giordano of New York, were arrested last year in connection with an alleged fraud scheme that took place over five years in New York.
According to an affidavit by an FBI agent, the wide-ranging scheme involved credit card fraud, forgery and allegations that the defendants, while running several billboard leasing companies, defrauded restaurants such as Hard Rock Cafe and Planet Hollywood, and entertainment companies such as Motown Records and Arista Records.
Thomas allegedly took upfront lease payments for billboards in Manhattan's Times Square and along Broadway, even though he has no contracts to hang the advertising from the buildings, according to the affidavit, which was filed in U.S. District Court in Chicago in order to obtain a warrant for Thomas' arrest.
Thomas and Giordano are free on bond, according to court records. The U.S. attorney for the Eastern District of New York would not comment on the case.
They have not yet been indicted, although a formal charge is expected, said attorney Eugene E. Murphy Jr., who represents Thomas [and also represented Buddy Wilkins when Buddy appeared before the Rezko Grand Jury as a witness against Rezko, and he later represented Tony Rezko while at the Byran Cave law firm.]. "I look forward to defending this case," said Murphy, a partner with Chicago-based law firm Horwood Marcus & Berk. Giordano and his New York attorney could not be reached for comment.
Back when the Mole was entangled with the Eastern District of New York, Patrick Fitzgerald was an Assistant U.S. Attorney in the adjacent Southern District.  The two would later rendezvous in Chicago.
So, in February 2002, shortly after Burton-Thomas was relocated to Chicago from the Big Apple, his nefarious past was outed by a Trib reporter, but lacked any hint of his cooperation with the feds, nor reference to his real name.
(So who alerted Corfman to Thomas's past, since he was arrested in NY under another Burton? And, if Rezko new of Burton-Thomas' past, what sense did it make to trust him to work in his office?)  
Four years later, Corfman reported again on Burton-Thomas.  His article appearing on November 1, 2006 at ChicagoRealEstateDail.com:
John Thomas, who has done more flips than an acrobat, has tied up another downtown office tower.
A venture managed by the controversial real estate entrepreneur has agreed to buy 20 S. Clark St., an office tower overlooking Chase Plaza in the Central Loop, says Mr. Thomas, who earlier this year formed Chicago-based Morgan Street Properties LLC for his investment activities.
The price is about $54 million, sources say…
In the last two years, Mr. Thomas has bought and quickly resold several other office buildings, including 250 S. Wacker Drive, 105 W. Adams St. and 11 S. LaSalle St. Last year, a Thomas venture bought 318 W. Adams St., a small West Loop office building that is being marketed as office condominiums…
He says he is also negotiating with developer Daniel Mahru, his partner on the 105 W. Adams and 11 S. LaSalle deals., to partner with him on 20 S. Clark.
Daniel Mahru was, as you probably know, a business partner of Tony Rezko.  Eventually, Burton-Thomas went to work in that same office. The Mole was in his designated hole.
Now, jump ahead to February 2008. Sun-Times staff reporter David Roeder elaborated on the Mole's activity:
But sources said that, for more than two years when he was giving information to agents, Thomas provided a fly-on-the-wall look inside Rezko's real estate operations and his desperate attempts to keep his projects afloat.
Sources said Thomas also logged frequent visits to Rezko from Gov. Blagojevich and U.S. Sen. Barack Obama (D-Ill.).Blagojevich and Obama were among the many politicians for whom Rezko raised campaign cash. Neither has been charged with any wrongdoing.
Thomas had good reason to help. He hopes to get probation for his own felony fraud conviction in a New York case. And he said he wants to redeem himself in the eyes of business associates and his family.
Sources said Thomas helped investigators build a record of repeat visits to the old offices of Rezko and former business partner Daniel Mahru's Rezmar Corp., at 853 N. Elston, by Blagojevich and Obama during 2004 and 2005…
Sources said the government had him wear a hidden wire to record conversations with a Chicago alderman -- but that he did not record Blagojevich or Obama.
Why no recording of Blago and Obama?  Maybe because Blago had notoriously loose lips and might say something that implicated the Protected One, Obama.
One month later, in March 2008, presidential candidate Barack Obama was subjected to an underhand, slow-pitch softball interview by the editorial board of the Sun Times. The transcript of the interview (no longer available on line) includes this exchange:
Q: In November 2006, you and your campaign exchanged with us written interrogatories. So a lot of the quotes I will give you just come out of those. The campaign said that you probably had lunch with Rezko once or twice a year. You sort of added four or five times, something like that.
John Thomas is an FBI mole. He recently told us that he saw you coming and going from Rezko's office a lot. And three other sources told us that you and Rezko spoke on the phone daily. Is that true?
A: (Obama) No. That's not accurate…
Okay, maybe the Mole misremembered.  A bad memory might explain why he was never called by the USAO as a witness in the Rezko trial. Or, perhaps, there was another reason.
On June 21, U.S. District Judge Elaine Bucklo sentenced John Thomas to three years probation. His court records are sealed. His mission accomplished.  And the extent of his subsequent success in Chicago commercial real estate is displayed on his face today.