<<BREAKING NEWS>>
Hugo Floriani, Investigative Reporter & Annabel Kent, Chicago Media Critic
Illinois PayToPlay has learned that, in addition to the Postman video recently released by Jerome Corsi on World Net Daily, Corsi also holds a 2011 recorded interview with former Rezko associate Daniel T. Frawley.
The recording was made late last year in Chicago in a meeting that involved Corsi, Frawley and three other persons who gathered to discuss the possibility of writing a book.
The recording reportedly includes a description of how, in 2004, during Nadhmi Auchi's visit to Chicago, Auchi, Antoin "Tony" Rezko, and Barack Obama met in the basement "cigar room" inside Rezko's 30-room mansion in Wilmette, Illinois where they discussed, among other things, the purchase of a 62-acres plot in the South Loop.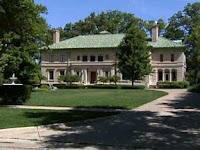 A January 2012 lawsuit pitting a Chicago investor in the land purchase, Semir Sirazi, against Auchi was linked in a previous Illinois PayToPlay article.
In response to an inquiry concerning access to the Frawley video, Corsi confirmed that Auchi's '04 Chicago visit was discussed but that the video would only be released with Frawley's approval.
A recent post on Illinois PayToPlay reported that Frawley claims that he gave Rezko $400,000 in cash that Rezko then gave to Obama.
Frawley faces sentencing in mid-April on a bank fraud charge to which he pled guilty in February 2011.


Thomas Barton, Illinois Pay-to-Play Political Commentator
The repercussions of Tony Rezko's business dealings with Nadhmi Auchi are now playing out in a lawsuit, filed on January 30, 2012 in the U.S. District Court, Northern District of Illinois, Eastern Division, pitting Plaintiffs Semir D. Sirazi, Greenstone Capital L.L.C. and Mardini, Inc., vs. Defendants General Mediterranean Holding, SA, Orifarm, SA, and Nadhmi Auchi.
The first numbered paragraph of the complaint sets the table:
1. This case arises out of the GMH Defendants' efforts to leapfrog the Sirazi Plaintiffs, superior creditors of Antoin S. Rezko1 ("Rezko") by secretly obtaining Rezko's ownership interests in a 62 acre parcel in Chicago's South Loop co-owned with the GMH Defendants (the "Parcel") in exchange for forgiving Rezko's debts to them and providing Rezko with access to millions of dollars in new capital.
Here's the entire document:
Are you wondering who Nadhmi Auchi is?
Illinois PayToPlay recently posted a 2008 piece written by John A Shaw, former senior official of US Defense, State, and Commerce departments that answers that question.
We'll highlight below another article about Auchi, this one written in 2008 by Andrew Walden. It will explain why you haven't heard much about Auchi to date.  It's because he has lawyers in Great Britain and the U.S. who, over the years, have…discouraged…writers for both the legacy media and the new media bloggers from even mentioning Auchi.
That includes the Chicago Sun Times and the Chicago Tribune.
That makes this lawsuit all the more interesting, since it's a matter of public record and impossible to suppress – although it is possible to ignore, as the Chicago big dailies have been doing.
Now, if you're interested in knowing more about Nadhmi Auchi, here's some of Walden's piece:
_____________________________________________________________________________
Iraqi Billionaire Threatens Reporters Investigating Rezko Affair
Posted By Andrew Walden, August 24, 2008 @ 12:18 pm, In Accuracy In Media
"Why aren't the American media investigating the role of British billionaire businessman Nadhmi Auchi in supplying loans to Barack Obama fundraiser Tony Rezko? Some point to media bias, but there is another factor. Working for Auchi, who was born in Iraq, attorneys from London law firm Carter-Ruck have for several months been flooding American and British newspapers and websites with letters demanding removal of material they deem "defamatory" to their client.
In its June 28 edition [1], British satirical magazine Private Eye explains: "Until Carter-Ruck and Partners and England's stifling libel laws got to work, the few American journalists not caught up in Obama-mania were turning to the archives of the British press to answer an intriguing question: who is Nadhmi Auchi [2]?"
What is so "stifling" about English libel law? In the U.K., as Carter-Ruck explains on its own website [3], "A libel claimant does not have to prove that the words are false or to prove that he has in fact suffered any loss. Damage is presumed."
The Obama campaign recently issued a non-denial [4] denial in response to claims that Obama met with Auchi―contained in Jerome Corsi's bestseller, The Obama Nation. They cited only two references. One is, "Mr. Auchi's lawyer" who told the February 27, 2008 London Evening Standard, "As far as he can remember he has had no direct contact with Mr. Obama." Another is, "A lawyer for Auchi, Alasdair Pepper" who says, according to the April 16, 2008 Washington Post, "Auchi Had 'No Recollection' Of Meeting Obama or Michelle." Alasdair Pepper is the attorney whose name appears [5] on the Carter-Ruck [6] demand letters [7].
The Secret Loan
A secret $3.5 million loan [8] from an Auchi company to key early-money Barack Obama fundraiser Antoin Rezko was exposed while Rezko was awaiting trial on fraud and money-laundering charges earlier this year. Rezko's bail was revoked and police showed up banging on the doors of his Wilmette Chicago mansion to drag him off to jail early in the morning of January 28th [9]. Auchi's loan to Rezko had come on May 23, 2005 but had not been disclosed to the Court as required in his bail agreement. Three weeks later, on June 15, 2005, Rezko's wife assisted the Obamas in the purchase of their South Chicago mansion by purchasing a next-door undeveloped lot being sold with the house.
According to the Times of London [10], "Mr. Rezko's lawyer said his client had 'longstanding indebtedness' to Mr. Auchi's General Mediterranean Holding (GMH). By June 2007 he owed it $27.9 million. Under a Loan Forgiveness Agreement described in court, M. Auchi lent Mr. Rezko $3.5 million in April 2005 and $11 million in September 2005, as well as $3.5 million transferred in April 2007. That agreement provided for the outstanding loans to be 'forgiven' in return for a stake in the 62-acre Riverside Park development.
Rezko's relationship with Barack Obama goes back to at least 1990, when Obama's law firm did work relating to thousands of now-decaying [11]Rezko apartment units in South Chicago. Rezko was a key early-money fundraiser in Obama's state Senate campaigns and his failed run at the U.S. Congress.
According to The Times of London [12], "Mr. Auchi first met Mr. Rezko after the 2003 Iraq war and they have a business relationship." At the time Auchi was facing the possibility of extradition to France [13]. The Times of London [14] explains: "Mr Auchi was convicted of corruption, given a suspended sentence and fined £1.4 million in France in 2003 for his part in the Elf affair, described as the biggest political and corporate scandal in post-war Europe. He, in a statement from his media lawyers, claims he is appealing against the sentence."
In 2003, Nick Cohen of the UK Guardian [15] wrote:
Allow me to introduce you to Nadhmi Auchi. He was charged in the 1950s with being an accomplice of Saddam Hussein, when the future tyrant was acquiring his taste for blood. He was investigated in the 1980s for his part in alleged bribes to the fabulously corrupt leaders of post-war Italy. In the 1990s, the Belgium Ambassador to Luxembourg claimed that Auchi's bank held money Saddam and Colonel Gadaffi had stolen from their luckless peoples. In 2002, officers from the Serious Fraud Squad raided the offices of one of Auchi's drug companies as part of an investigation of what is alleged to be the biggest swindle ever of the (British National Health Service). With allegations, albeit unproven, like these hanging over him, wouldn't you think that British MPs would have the sense to stay away?
But after threats from Carter-Ruck, Cohen's "defamatory" article became one of six Guardian and Observer articles [16]scrubbed from the Internet this April.
Blogger "A Jacksonian [17]" received a similar demand [18] on or before June 24. His article is still up. It details much of the information contained in the six deleted Guardian/Observer articles.
Source of Wealth
Auchi in 1967 began an Iraq Oil Ministry career eventually rising to be Director of Planning and Development under the Baathist dictatorship. He formed GMH in 1979 and then left Iraq. A key source of weapons procurement for Iraq [19] during the Iran-Iraq war, GMH became the largest single private shareholder [20] of Banque Nationale du Paris (BNP) which later merged with Paribas to form BNP-Paribas. BNP and BNP-Paribas, at Saddam Hussein's insistence, handled all Oil-for-Food [21] transactions [22] until 2001 when the incoming administration of George W. Bush demanded change. "Sirazi v GMH (62 acre S. Loop)
…to read more of Walden's article click here


Hugo Floriani, Investigative Reporter
The crime spree that plagued Illinois, and that was boldly brought to a stop by the sudden arrest of Governor Rod Blagojevich, is now officially over.
Blago is behind bars, and Patrick Fitzgerald's mission is complete:  Blago joins Rezko in the silence chamber of federal prison where the treasure trove of what they know about Illinois corruption, past and present, has been muted.
Gee, for a war against statewide crime, there sure aren't many official casualties, except, of course, Illinois' citizens.
We'll never know what Blago meant in these audio clips where he talks (in language unsuitable for children) in cryptic terms about the relationship between then U.S. Senator Barack Obama and Antoin "Tony Rezko."
(Video: H/T Citizen Wells News)
We'll never know the extent of influence that the international billionaire financier in the photograph wielded over Tony, Blago, and Barack.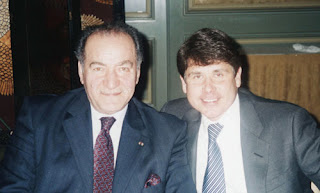 And, as soon as the two remaining Rezko Watchers highlighted in a recent piece in the Chicago Daily Observer receive their sentences this spring – unless sentencing is postponed yet again for Daniel Frawley and Daniel Mahru – they, too, will fade into silence, joining Bernard Barton, AKA John Thomas.
In the immortal words of Sonny & Cher…the beat goes on.


Jontel Kassidy, Senior Capital Correspondent
While commenting on Blago's prison sentence, U.S. Attorney Patrick Fitzgerald repeated what has become for him a common theme: Illinois citizens are responsible for stopping corruption by reporting it to the authorities.
In the longer video of his comments aired by NBC News Chicago, in response to a reporter's question (1:16 into the clip), Fitz says (beginning at 1:34) that there needs to "…be a change in the public's attitude. People seem resigned to corruption at times and…they're afraid to say 'no' when someone in power asks them for something they shouldn't. The people in power should be afraid to ask."
So, Fitz's solution is for citizens who are approached to give cash, benefits and favors in exchange for some consideration by corrupt officials, should run and tell the authorities – the federal, state, county and local police, and the various prosecutorial agencies.
That's The Fitz's Solution.  It has several weaknesses.
1.  To whom do citizens report corruption when their trust in the authorities is – to be kind – less than complete?
It's an exaggerated comparison, but what were the consequences to citizens who reported corruption in East Germany to the Stasi? Only if the corruption wasn't, in some way, sanctioned by the state, were the consequences anything but negative to the citizen.
2.  Much of the corruption in Illinois pay-to-play shakedowns happens at a small business level.  A three-trucks plumbing contractor submits a bid on a public housing project. The sub-contractor is told that a modest political donation to a particular politician would considerably enhance his chances of being awarded the contract. Suppose it's a federally funded project.
Is the States' Attorney's office going to launch an investigation after the Plumbing contractor reports the shakedown? When billions are involved, what resources will be used to address, say, an alleged $3,000 bribe?  Garden variety graft, events that don't reach the level of the $14 billion that Blago cost the taxpayers of Illinois, is so widespread that there just aren't enough policing and prosecutorial resources to stem a crime wave like that underway in Illinois.
3. In a culture steeped in corruption like Crook County, kickbacks and greased palms have been going on for so long, so successfully, and with such impunity that Fitz's suggestion that the authorizes are ready to aggressively prosecute the crooks that citizens report is flat goofy.
The "change of attitude" Fitz's preaches has to start with the agencies tasked to enforce laws.
To blame the people is to blame the victims.
The Fitz Solution is like saying that the people of Russia are responsible for the corruption of the Putin regime. They voted him in, after all.
That the Jews in 1933 Germany were responsible for the horror the Nazis delivered on them. They should have reported the injustices to the German Courts.
That innocent Mexican civilians are responsible for the violence of the drug traffickers along the border.  After all, the violence couldn't happen without the victims' complicity (and, in some cases, that of the U.S. Department of Justice for selling guns to the cartels!).
It's patently absurd when a high profile "crime fighter" – or the "Exterminator," as John Kass calls him – blames the victims.


Pay-to-Play Editorial Staff
Steve Bartin, writing for the website NewGeography.com, in an article entitled "Blago's Historic Sentencing: Organized Crime in Illinois," asks an important question. One that the Chicago media, particularly the Tribune and Sun Times, should be asking themselves today: "Could a more vigilant press have stopped the amazing political career of Rod Blagojevich?"
At Illinois Pay-to-Play, we've been wondering the same thing. Bartin mentions Robert Cooley in his piece. We at Illinois Pay-to-Play trust Cooley. He's proved his veracity as few in Chicago have. His story, linked within the excerpt from Bartin's article below, proves his reliability.
Also, we here are aware of the identities of several reporters, from both big Chicago tree-killing news outlets, who were given information by Cooley about Candidate Obama's associations with…let's say, persons-of-interest, before the '08 election. In most cases, the information was ignored. It didn't fit the papers' template of support for their local Senator. Obama, they assumed, would help Chicago get the Olympics, guaranteed to help slow the city's slide toward bankruptcy and grease the palms of some connected Southside land developers and contractors – not to mention politicians.  Good for business, and, therefore, circulation.
In one particular instance, a well-known reporter was so bold as to say to Cooley something to the effect that, "Our editors don't want us reporting on that."
We can report here that a staff member at Illinois Pay-to-Play had a similar response, nearly verbatim, with a reporter for one of the two major dailies concerning another corruption story.
Here's part of what Bartin writes:
Former Illinois Governor Rod Blagojevich was sentenced today to 14 years in prison. Illinois will now have the dubious distinction of having two back-to-back Governors in jail at the same time. Could a more vigilant press have stopped the amazing political career of Rod Blagojevich? When you look into the background of the former Governor the tentacles of organized crime can't be ignored.

Rod Blagojevich has been identified as a former associate of the Elmwood Park street crew of the Chicago Mob by Justice Department informant Robert Cooley. The allegations concern Blagojevich paying street tax to the Chicago Mob to operate a bookmaking operation. Former senior FBI agent James Wagner confirmed that Cooley told the FBI about Blagojevich in the 1980s. The Chicago Sun-Times and Chicago Tribune still haven't reported on the Cooley allegations concerning Blagojevich.
Visit here to read the rest of Bartin's article.
As the nation becomes further aware of Illinois', and especially Chicago's, depth of corruption, its attention is likely to turn toward the Chicago newspapers and start asking questions. One of those questions will be this:
Could the depth of Illinois corruption exist without, if not the direct complicity, at least the negligence and incompetence of the two big dailies?


Introducing Jontel Kassidy, Senior Capital Correspondent
As the nation wakes up to the systemic corruption of the Obama administration, and James O'Keefe outs journalistic fraud at the New York Times, it's only a matter of time until the Chicago mainstream media comes under scrutiny for ignoring the background of the once junior Senator from Illinois during their coverage of the '08 election.
Not because Chicago's media luminaries didn't know his associations with persons of questionable political ethics.  Not because they didn't know of his lack of experience at running anything as large as a White Castle franchise.  And, not because they didn't know of his friendships with, let's say, person with less than conventional beliefs about the nation he was campaigning to lead. Not for any of those reasons will the Chicago media come under popular indictment for journalistic malpractice.
Their professional veracity will be, and is already being, questioned because they were like the piano player in the bordello. He banged away on the keyboard every day while the banging in the building went on upstairs. And then the day after the police raided the place – someone forgot to pay protection – he said, "You mean Gertrude really isn't their aunt? And the nieces are, are…women of ill repute?  Who could have known?"
The Chicago Tribune's John Kass wrote the perfect piano player piece last September 11th.  It began:
The Solyndra scandal cost at least a half-billion public dollars. It is plaguing President Barack Obama. And it's being billed as a Washington story.

But back in Obama's political hometown, those of us familiar with the Chicago Way can see something else in Solyndra — something that the Washington crowd calls "optics." In fact, it's not just a Washington saga — it has all the elements of a Chicago City Hall story, except with more zeros.
Wow! What a journalistic revelation! You mean the politician from Chicago, now in the White House, is metastasizing Pay-to-Play across the nation and the folks back in Chicago knew it was coming?  And they didn't warn the rest of us? That takes your breath away, don't it?  Coming as it does from Chicago's most prominent living reporter.
It brings to mind that scene from the movie Die Hard where Bruce Willis throws a dead terrorist out the window of the besieged building in order to get the attention of the Twinkie-munching patrol officer.  When the body lands on the hood of his black-n-white and the shooting starts, Willis yells, "Welcome to the party, Pal."
Well, welcome to the party, Kass! You didn't know that Pay-to-Play would metastasize throughout the nation with a President Obama? Or you did know and didn't say?
While you're writing about solar corruption these days, here are some other tumors you might check out. Start with the Daily Caller – yea, I know, it's one of those amateur media outlets you pros look down on – and learn about First Solar, SolarReserve ($737 federal loan), SunPower Corporation and Abengoa SA. They're part of the solar power scam. And Barry has buds there, too.  What a surprise!  More Pay-to-Play.
Just one more lead, cause you don't need to be over-worked: Whatever happened to Cathy Zoi, former acting undersecretary of Energy at the Department of Energy? (Here's a clue.)
As for what set you off – i.e., Solyndra – no worries there, John.  As you wrote, "The FBI is investigating what happened with Solyndra." Right, and Eric Holder is their boss. We all remember how Eric had such a stellar legal reputation that Dead Meat planned to pay his law firm $300,000 to certify that the mob mutts who were going to build a casino in Rosemont were really all upstanding troop leaders for the Boy Scouts.
You Chicago media boys and girls, keep bangin' on your pianos, while Rome burns.


Hugo Floriani, Investigative Reporter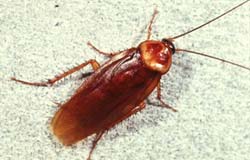 Is the result of U.S. Attorney Patrick Fitzgerald's ten-year, crime-fighting crusade in Illinois the near extermination of corruption?  Or, has it been more about trapping a few big bugs and spraying a catch-and-release treatment on them?
In a March 17, 2011 Chicago Tribune article by John Kass entitled "If Fitzgerald goes to Washington, will political cockroaches like Blagojevich multiply?" Kass bemoans the future of Chicago if Patrick Fitzgerald is eventually appointed Director of the FBI.  Kass wrote, "If the best exterminator leaves town, what will happen to all those political cockroaches?" (Answer: Dear John, They'll continue as if nothing's changed, cause nothing has.)
Kass is among the Chicago media types who've succumbed to Fitz idolization driven, in part, by the eventual conviction of Dead Meat at the hands of the Exterminator.  And so Fitz stands watch alone today, in his hands-on-hips-Superman-stance, along that thin line that separates law-and-order from Illinois' Pay-to-Play.
So, OMG! If the Exterminator moves to Washington, D.C., what will stop the proliferation of other political cockroaches, like Dead Meat? Kass asks. (It's hard to tell when Kass is being serious versus flippant, since his writing style aims to tease, not confront. It's both a literary niche, and a survival technique. If you really don't want to, you don't have to take him seriously.)
If you were reading Kass' piece on Mars, you'd think the Exterminator had pretty much wiped out corruption in the Land of Lincoln, Crook County, and the City that Capone built.
Such is the power of the myth of the Intrepid Crime Fighter. Question is: How does it match with reality? In the ten years the Exterminator has prowled the Windy City, spraying for cockroaches, has there been any substantive reduction in their numbers and impact?  Well, lets' do a body count and see.
The Chicago Sun Times, which doesn't have quite the simpatico relationship with Fitz that the Trib has, recently catalogued the cockroaches trapped in Operation Board Games.  Here's a short list:
Stuart P. Levine, Pleaded guilty in October 2006 (that's like 5 years ago) of masterminding extortion schemes and skimming "millions from construction deals the school [Chicago Medical School] gave to Jacob Kiferbaum." Stu awaits sentencing.
Jacob Kiferbaum, Pleaded guilty November 2007 (a mere 4 years ago) of participating in Levine's schemes.  Jake awaits sentencing
John Glennon, Pleaded guilty November 2007 of covering up for Levine and Kiferbaum.  John awaits sentencing. (Is there a trend here?)
Steven Loren, Pleaded guilty September 2007 "in the attempted extortion of an investment firm that sought business from the teacher-pension fund."  Steve awaits sentencing.
Tony Rezko, Convicted June 2008. Volunteered to be incarcerated. Disappeared down the Federal Rabbit Hole and hasn't yet surfaced. Tony has told associates that he expects his friend Barack to eventually pardon him. Anyone want to bet against that?
Ali Ata, Pleaded guilty April 2008 to not reporting $1.2 million in income from a Rezko deal, for lying to the FBI, and, as a bonus, admitted he got a well-paying state job at the Illinois Finance Authority from Rezko. Ali awaits sentencing.
Abdelhamid Chaib, Pleaded guilty July 2010 of interfering "with the administration of internal revenue laws" in a Rezko business transaction.  A.C. was sentenced to three years of probation and ordered to pay a $50K fine.
John Harris, Pleaded guilty October 2009 of helping Dead Meat try to sell Barack's Senate seat.  Another John awaits sentencing.
Alonzo "Lon" Monk, Pleaded guilty October 2009 of mail fraud and scheming with Dead Meat to "get rich off state deals and split the money with Rezko and Kelly." Lon awaits sentencing. What a surprise!
Anita Mahajan, Sentenced to four years of probation in August 2011 and, as the

Trib

reported, "ordered to pay $200,000 in fines and restitution Monday after pleading guilty to billing the state for drug tests her company never performed." She over-billed the state $2.1 million. "Anita Mahajan, 60, the wife of a major Blagojevich fundraiser, dabbed at her eyes with a tissue and apologized as she stood before Judge James Obbish to plead guilty to a reduced count of theft of $99,900."  You'd cry, too, if you got off so light for stealing two-mil from Illinois taxpayers.
One more not mentioned by the Sun Times…
Joseph Cari, Pleads guilty in September 2005 of involvement in an

extortion scheme

that aimed to steer state pension business to companies in exchange for campaign contributions to a public official described in court docs as "Public official A [as in Dead Meat]."  In August 2011, Joe – a close friend of Joe Biden – was sentenced to three years of…wait for it…wait for it…yes, pro-ba-tion.  Oh, the state pension fund was for school teachers.
Rezko's sentencing is pending.  Anyone want to bet against him being sentenced to time served (Where?) and three years of probation?
It's all part of the Exterminator's Catch & Release Program for the Cockroaches.
Hat tip: Chicago news humorist John Kass. He's such a kidder.