Hugo Floriani, Investigative Reporter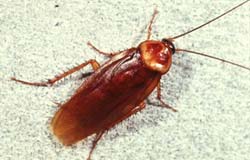 Is the result of U.S. Attorney Patrick Fitzgerald's ten-year, crime-fighting crusade in Illinois the near extermination of corruption?  Or, has it been more about trapping a few big bugs and spraying a catch-and-release treatment on them?
In a March 17, 2011 Chicago Tribune article by John Kass entitled "If Fitzgerald goes to Washington, will political cockroaches like Blagojevich multiply?" Kass bemoans the future of Chicago if Patrick Fitzgerald is eventually appointed Director of the FBI.  Kass wrote, "If the best exterminator leaves town, what will happen to all those political cockroaches?" (Answer: Dear John, They'll continue as if nothing's changed, cause nothing has.)
Kass is among the Chicago media types who've succumbed to Fitz idolization driven, in part, by the eventual conviction of Dead Meat at the hands of the Exterminator.  And so Fitz stands watch alone today, in his hands-on-hips-Superman-stance, along that thin line that separates law-and-order from Illinois' Pay-to-Play.
So, OMG! If the Exterminator moves to Washington, D.C., what will stop the proliferation of other political cockroaches, like Dead Meat? Kass asks. (It's hard to tell when Kass is being serious versus flippant, since his writing style aims to tease, not confront. It's both a literary niche, and a survival technique. If you really don't want to, you don't have to take him seriously.)
If you were reading Kass' piece on Mars, you'd think the Exterminator had pretty much wiped out corruption in the Land of Lincoln, Crook County, and the City that Capone built.
Such is the power of the myth of the Intrepid Crime Fighter. Question is: How does it match with reality? In the ten years the Exterminator has prowled the Windy City, spraying for cockroaches, has there been any substantive reduction in their numbers and impact?  Well, lets' do a body count and see.
The Chicago Sun Times, which doesn't have quite the simpatico relationship with Fitz that the Trib has, recently catalogued the cockroaches trapped in Operation Board Games.  Here's a short list:
Stuart P. Levine, Pleaded guilty in October 2006 (that's like 5 years ago) of masterminding extortion schemes and skimming "millions from construction deals the school [Chicago Medical School] gave to Jacob Kiferbaum." Stu awaits sentencing.
Jacob Kiferbaum, Pleaded guilty November 2007 (a mere 4 years ago) of participating in Levine's schemes.  Jake awaits sentencing
John Glennon, Pleaded guilty November 2007 of covering up for Levine and Kiferbaum.  John awaits sentencing. (Is there a trend here?)
Steven Loren, Pleaded guilty September 2007 "in the attempted extortion of an investment firm that sought business from the teacher-pension fund."  Steve awaits sentencing.
Tony Rezko, Convicted June 2008. Volunteered to be incarcerated. Disappeared down the Federal Rabbit Hole and hasn't yet surfaced. Tony has told associates that he expects his friend Barack to eventually pardon him. Anyone want to bet against that?
Ali Ata, Pleaded guilty April 2008 to not reporting $1.2 million in income from a Rezko deal, for lying to the FBI, and, as a bonus, admitted he got a well-paying state job at the Illinois Finance Authority from Rezko. Ali awaits sentencing.
Abdelhamid Chaib, Pleaded guilty July 2010 of interfering "with the administration of internal revenue laws" in a Rezko business transaction.  A.C. was sentenced to three years of probation and ordered to pay a $50K fine.
John Harris, Pleaded guilty October 2009 of helping Dead Meat try to sell Barack's Senate seat.  Another John awaits sentencing.
Alonzo "Lon" Monk, Pleaded guilty October 2009 of mail fraud and scheming with Dead Meat to "get rich off state deals and split the money with Rezko and Kelly." Lon awaits sentencing. What a surprise!
Anita Mahajan, Sentenced to four years of probation in August 2011 and, as the

Trib

reported, "ordered to pay $200,000 in fines and restitution Monday after pleading guilty to billing the state for drug tests her company never performed." She over-billed the state $2.1 million. "Anita Mahajan, 60, the wife of a major Blagojevich fundraiser, dabbed at her eyes with a tissue and apologized as she stood before Judge James Obbish to plead guilty to a reduced count of theft of $99,900."  You'd cry, too, if you got off so light for stealing two-mil from Illinois taxpayers.
One more not mentioned by the Sun Times…
Joseph Cari, Pleads guilty in September 2005 of involvement in an

extortion scheme

that aimed to steer state pension business to companies in exchange for campaign contributions to a public official described in court docs as "Public official A [as in Dead Meat]."  In August 2011, Joe – a close friend of Joe Biden – was sentenced to three years of…wait for it…wait for it…yes, pro-ba-tion.  Oh, the state pension fund was for school teachers.
Rezko's sentencing is pending.  Anyone want to bet against him being sentenced to time served (Where?) and three years of probation?
It's all part of the Exterminator's Catch & Release Program for the Cockroaches.
Hat tip: Chicago news humorist John Kass. He's such a kidder.