<<BREAKING NEWS>>
Hugo Floriani, Investigative Reporter & Annabel Kent, Chicago Media Critic
Illinois PayToPlay has learned that, in addition to the Postman video recently released by Jerome Corsi on World Net Daily, Corsi also holds a 2011 recorded interview with former Rezko associate Daniel T. Frawley.
The recording was made late last year in Chicago in a meeting that involved Corsi, Frawley and three other persons who gathered to discuss the possibility of writing a book.
The recording reportedly includes a description of how, in 2004, during Nadhmi Auchi's visit to Chicago, Auchi, Antoin "Tony" Rezko, and Barack Obama met in the basement "cigar room" inside Rezko's 30-room mansion in Wilmette, Illinois where they discussed, among other things, the purchase of a 62-acres plot in the South Loop.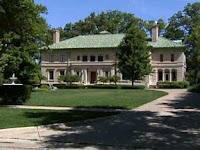 A January 2012 lawsuit pitting a Chicago investor in the land purchase, Semir Sirazi, against Auchi was linked in a previous Illinois PayToPlay article.
In response to an inquiry concerning access to the Frawley video, Corsi confirmed that Auchi's '04 Chicago visit was discussed but that the video would only be released with Frawley's approval.
A recent post on Illinois PayToPlay reported that Frawley claims that he gave Rezko $400,000 in cash that Rezko then gave to Obama.
Frawley faces sentencing in mid-April on a bank fraud charge to which he pled guilty in February 2011.