Thomas Barton, Investigative Reporter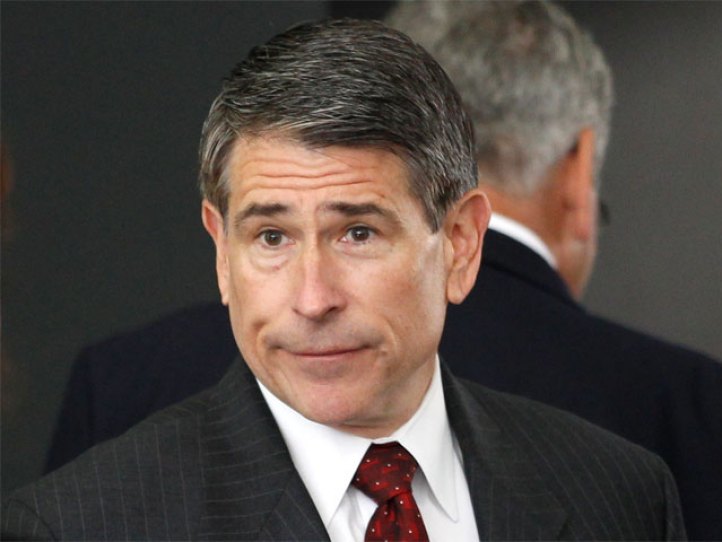 <Breaking News>
Robert Blagojevich has come clean during an interview with CNSNews.com reporter Barbara Hollingsworth. Blagojevich told Hollingsworth that Jesse Jackson, Jr. offered a "bribe" to him and his brother, Rod Blagojevich, for the Senate seat vacated by Barack Obama.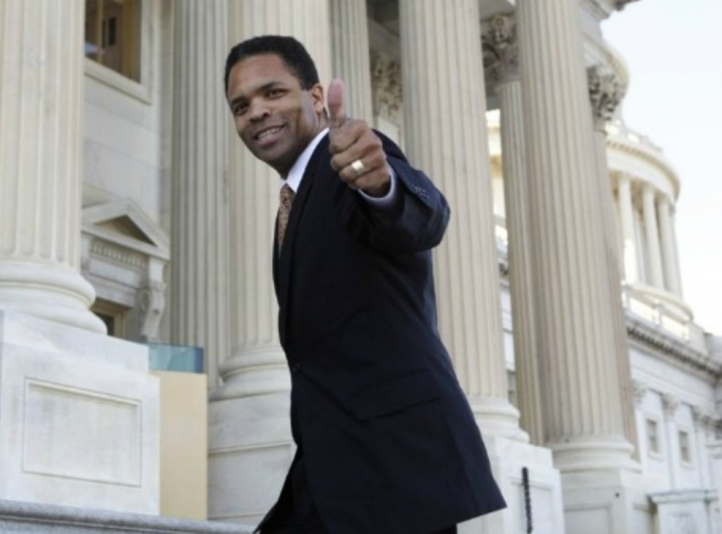 And, that it's time for the U.S. Attorney of the Northern District of Illinois to charge him with that crime.
Well, it doesn't get any simpler than that, folks.
Robert Blagojevich just handed Jesse Jackson, Jr. to the feds on a silver platter for attempting to purchase a seat in the U.S. Senate.
The only question that remains is this:
Will Barack Obama and Attorney General Eric Holder allow acting U.S. Attorney Gary S. Shapiro to enforce the law, and indict Jackson?

We will keep you posted.


Hugo Floriani, Investigative Reporter
It's only a matter of time before we hear Rod Blagojevich's advocates ask the question: How could Blago be guilty of trying to sell the U.S. Senate Seat that Barack Obama vacated, if there was no buyer?That's coming, as part of the puppet show staring Blago.
There was a buyer. But the feds just put him on ice with an indictment that could have, should have, been issued years ago.
The timing of the U.S. Attorney's office (USAO) in Washington, DC decision to stop looking the other way as Jesse Jackson Jr and his wife Sandi broke campaign finance laws, could not have been better. That is, if your goal is to protect Barack Obama and his administration from Chicagogate.
Jesse Jackson, Jr. has presented a dilemma for the Obama administration since the USAO in Chicago gave the go-ahead to the Chicago Tribune to warn Rod Blagojevich that the feds were recording him.
It was a warning given in order to save Jesse Jackson, Jr. from being arrested in a trap set for Blago.  After all, not only did Jackson Co-chair Obama's 2008 Campaign Committee, Obama and Michelle are near Jackson family members.  And J.J., Jr. knows too much - way too much.
However, as the Jackson's are learning, even family members are expendable if it means protecting the Obamas.
When J.J., Jr. resigned from congress not only did his political career end (perhaps), the investigation into his attempt to buy a U.S. Senate Seat ended, too.
And, the reason Jackson resigned?  The USAO in D.C. decided to indict Jackson for crimes the Attorney General had known about for years: Jackson's violation of campaign finance laws.
Simultaneously, the DoJ is protecting Jackson from being indicted for a different crime that the Attorney General has known about for years: Jackson's attempt to purchase a U.S. Senate Seat from then Governor, now federal prisoner, Rod Blagojevich.
It is all part of the puppet show.
And the media is doing their part, by being complicit in covering up the entire story.
Here's a radical idea.  Suppose some media personality asks John Chase, and the Chicago Tribune editors, this question: Why did you warn Rod Blagojevich he was being recorded by the feds?
Any takers?


The Entire Staff of Writers, IllinoisPayToPlay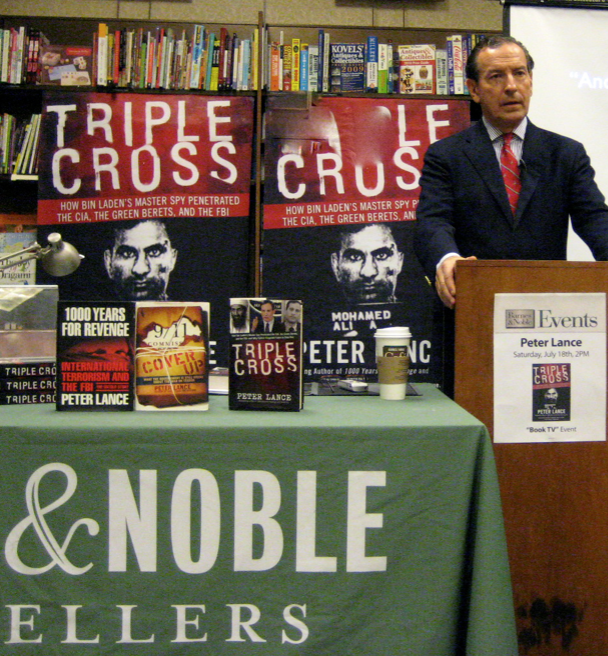 When U.S. Attorney Patrick Fitzgerald attacked Peter Lance, and his book Triple Cross, from the Office of the U.S. Attorney in Chicago, he crossed a dangerous line.
A line that, as Americans, we must not allow our government to cross.
That line protects our First Amendment Right of Speech, and prevents government censorship.
View Peter Lance talk about his book Triple Cross here: http://www.c-spanvideo.org/program/Triple
"Peter Lance filed a complaint with the Justice Department's Office of Professional Responsibility (OPR) asking for an investigation of Patrick Fitzgerald on June 13th, 2009.
He Fed Ex'd copies of the letter to both A.G. Holder and Mary Patrice Brown, then Acting Counsel of the OPR. Lance never received a response from either of them."
You can read the formal complaint filed with the OPR here:
http://www.peterlance.com/PL_OPR_%20Complaint_VS_PF_AP
When the Dept. of Justice's (DoJ) Office of Professional Responsibility (OPR) ignored that Fitzgerald abused his power as U.S Attorney in his attempt to censor a book containing material he disliked.  An act that violated the Constitution
The clear message was sent that, Holder's Dept. of Justice doesn't respect the First Amendment.  That should chill us all, and make us wonder: What other parts of the Constitution are they ignoring?
At IP2P, we believe the issue of government censorship is of such great importance that we urge all Americans who treasure their God-given right to freedom of speech to let the DoJ know how you feel.
And when you get no satisfaction from the OPR, consider contacting your member of Congress.
Mary Patrice Brown, and the OPR, have been asked to comment on this question:  "Why was no investigation into U.S. Attorney Patrick Fitzgerald's disturbing conduct ever initiated?"
So far, there's been no response.
As this story develops, ask yourself: Do I want the government deciding what I can and cannot read?


Hugo Floriani, Investigative Reporter
The first sentence in Part 1 of this series asked this:
"Is the United States Attorney for the Northeastern District of Illinois an intrepid crime fighter, as he's typically portrayed by most of the Chicago and national media? Or, is the legend of a modern day Untouchable Elliott Ness largely a media-created myth?"
What followed made a case that the Untouchable image of U.S. Attorney Patrick Fitzgerald is largely a myth.
As to circumstantial evidence:
"It means that existence of principal facts is only inferred from circumstances. Twin City Fire Ins. Co. v. Lonas, 225 Ky. 717, 75 S W.2d 348, 350. 

When the existence of the principal fact is deduced from evidentiary by a process of probably reasoning, the evidence and proof as said to be presumptive. Best, Pres. 246; Id. 12. All presumptive evidence is circumstantial because necessarily derived from or made up of circumstances, but all circumstantial evidence is not presumptive. Burrill.

The proof of various facts or circumstances which usually attend the main fact in dispute, and therefore tend to prove its existence, or to sustain, by their consistency, the hypothesis claimed.  Or as otherwise defined, it consists in reasoning from facts which are known or proved to establish such as are conjectured to exist."  (p. 309, Black's Law Dictionary, Fourth Edition)
So, what are the facts and circumstances that we know that collectively tend to prove, or sustain by their consistency, the existence of the hypothesis that Patrick Fitzgerald is a politically-driven, not jurisprudence-driven, prosecutor whose image as an intrepid, unbiased crime fighter is a media-created fabrication?
Here are a few headlines from Parts 1-9:
Fitzgerald acknowledged that someone leaked information to the Chicago Tribune, via a reporter for the Chicago Tribune, while the reporter, John Chase, sat mute in the front row of the news conference where the arrest of Blago was described as an effort to stop a crime spree. (Chase has told a source known to this writer that he would not identify who leaked him the information on First Amendment grounds.)
In fact, (1) Blago's crime spree had, with Fitzgerald's knowledge, been going on for several years.  (2) Chase has not been called to account for tipping off Blago that his conversations were being recorded by the feds. (3) Eric Holder's Department of Selective Justice has taken no steps – like that taken by Fitzgerald when he jailed Judith Miller of the New York Times in the Valerie Plame Case – to force Chase to reveal the source of the leak. And, (4) Fitz's demeanor in discussing the leak in a press conference can be accurately described as disinterested. 
The urgency to arrest Blago was manufactured out of whole cloth. The leak had to originate out of the DoJ. And, the closest outlet for the DoJ to the Chicago Tribune is Fitzgerald's office. You connect the dots.
In retrospect, we know now that Richard Armitage was the confessed leaker in the Valerie Plame Case.  We also know that Fitzgerald knew of Armitage's confession before undertaking a long and costly investigation that convicted a key staff member of Vice President Cheney of a crime not connected to the Plame leak. And, that this media event, upon which the foundation of the Untouchable myth was built by the main stream media, was politically-driven. 
The Plame "investigation" boiled down to a surrogate WWF-like wrestling match between two Big Beltway Boys: Armitage representing Powell – Libby for Cheney. With Fitzgerald as the biased referee.  And, it will be so chronicled by unbiased historians in the future.
The arrest of Blago was timed, not to stop a crime spree, or the selling of a Senate seat – since the latter notion is built on the myth that, once Blago got paid for appointing someone, the act was immediate and irrevocable.  The arrest was timed to save Congressmen Jesse Jackson, Jr., from criminal prosecution for bribing a governor in order to receive a Senate appointment. Connect the dots. It was about saving J.J., Junior.
The Mole was planted by the DoJ to contribute to building a case against Tony Rezko in order to (a) help scuttle Blago – who has his own self-destructive gene – and, (b)protect the image of Barack Obama as a Chicago politician untarnished by association with the likes of a Tony Rezko. 
Getting Tony out of the way was necessary to hiding his relationship to Barack. And, keeping him sequestered at an undisclosed location was necessary to remove him from access to the media. But perhaps even more importantly, Rezko was never called as a witness in either Blago trial, yet he was among Dead Meat's leading extortionists.  All part of concealing Barack Obama's involvement in Illinois Play to Play. 
By its general passivity, the Chicago media have been complicit in hiding of Rezko. After all, Obama was their guy, too.
In the end, Tony will be sentenced to time voluntarily served – wherever that was – and eventually be pardoned by his longtime friend and financial benefactor, Barack.  (Remember, Eric Holder facilitated the pardoning of Marc Rich.)
The Mole was a big winner in all this. He never appeared in court to testify against Rezko, since his appearance might have led to testimony as to Rezko's long financial support of the young Illinois, and then U.S., Senator. The Mole is on record as having witnessed the two together in a much closer relationship than Obama has ever admitted.  For his work, the Mole made out like a bandit. New name. New career. New wealth. In a New Town.
In a second Obama administration, Fitzgerald will be rewarded by being appointed the next FBI Director. Or, maybe even soon, he'll get Holder's job, if Eric's connections to Fast & Furious sink him.
This is a circumstantial case.  But remember Fitz's words:  "I think people need to understand we won't be afraid to take strong circumstantial cases into court." 
To conclude: Three public entities head the list of those responsible for putting Barack Obama in the White House.
The Chicago Tribune, the Sun Times, and the entire Chicago TV media,, for selectively withholding information concerning Obama's past in Chicago.
Former Tribune political reporter and consultant to Blago during his Congressional campaigns – David Axelrod.  And, the…
U.S. Attorney for the Northern District of Illinois, Patrick J. Fitzgerald.
This story is far from over.


Hugo Floriani, Investigative Reporter
When the Obama Regime wants a story buried who does Eric Holder's Department of Selective Justice call? Fitz, the Undertaker. For example…
Fitz's Alleged Investigation into the John Adam's Project
On March 19, 2010, Newsweek (linked by The Daily Beast) was among the MSM outlets that ever-so-briefly reported that "Holder Taps Fitzgerald for Gitmo Photo Probe."
"Attorney General Eric Holder Jr. has tapped the Justice Department's most feared [reinforcing the Untouchable Myth] prosecutor, Patrick Fitzgerald, to lead a sensitive investigation into whether defense lawyers at Guantánamo Bay compromised the identities of covert CIA officers. The probe was triggered by the discovery last year of about 20 color photographs of CIA officials in the cell of Mustafa Ahmed al-Hawsawi, an alleged financier of the 9/11 attacks, say three current and former government officials who asked not to be identified talking about an ongoing case."
The subject of the alleged investigation was the ACLU's John Adam's Project.  Don't remember it?  That's understandable. It only briefly popped up on the lame stream media's radar, and then – presto – it vanished.
FOX's Bill O'Reilly covered the story at the time.
O'Reilly followed up in this interview with conservative pundit Ann Coulter.
---
It seems there was, and probably still is, a dispute between the Regime and the CIA. On May 27, 2010, in a piece written by Marc Thiessen for the Journal of the American Enterprise Institute, Thiessen stated,
"The Justice Department reportedly clashed with the CIA over investigating the John Adams Project—with the CIA complaining that Justice did not take seriously enough the threat the ACLU's actions posed to CIA officials.
The Left is—of course—up at arms over the Miller amendment, calling it a "McCarthyite attack" on the al Qaeda lawyers and criticizing House Democrats for going along with the amendment."  [Follow the links for details]
That would, of course, be the same "Left" that heralded Fitz's dogged pursuit of the leaker in the Valerie Plame case, long after Richard Armitage confessed.
The question is: In the last 19 months what's become of the Undertaker's dogged pursuit of the truth in the John Adam's Project?  Answer: Zip, zero, nada. It's been buried by an administration politically amenable to the project's objectives – i.e., exposing the identities of the CIA interrogators of terrorists.  Buried by Fitz, the Regime's Undertaker.