Ernie Souchak, Editor-in-Chief
American Thinker's credibility is dissipating quickly.
You see, not disclosing conflicts of interest is turning out to be the norm at American Thinker.
For example: IP2P recently informed its readers of Clarice Feldman's close personal relationship with Richard Perle, whom she frequently goes on the attack for and staunchly defends. As in the case of her baseless attack on Sibel Edmonds.
Now IP2P has also learned that Feldman shares a close friendship with Paul Wolfowitz and Douglas Feith. And as is the case with Perle, she has never disclosed her conflict of interest when attacking others on their behalf.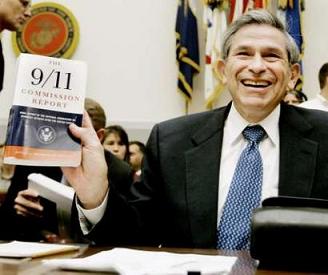 Nor has American Thinker editor Thomas Lifson required her to do so.
Keeping American Thinker's failure to disclose in mind, let me tell you some other disturbing facts that will have you asking this question: Who is really running the show over at American Thinker?
On September 20, 2012 American Thinker posted an article by Lee Cary entitled "Obama's Chicago Arab-American network comes into focus".
Cary's article states some unflattering facts about a man named Nadhmi Auchi, aka. Saddam Hussein's bag man.
Naturally Auchi did not appreciate this article and to no one's surprise he instructed his lawyers at the London law firm Carter-Ruck to send a letter threatening legal action if said article was not taken down.
Upon receiving Auchi's letter, Lifson took the article down momentarily to verify that it was completely factual. After determining that it was correct, Lifson promptly reposted Cary's article unchanged.
That's because Lee Cary's work was solid, and contributor John A. Shaw is as honest and credible a man as you will ever find.
Taking down that article would have given the public the perception that there was something wrong with the story. And that clearly would not be fair to either Cary or Shaw.
At that time IP2P, which was also named in the letter from Auchi's law firm, posted an article praising American Thinker for doing the right thing.
Due to many factors, including Auchi's inability to legally enter the United States, the letter from his lawyers was an idle threat. And that should have been the end of the story.
Unfortunately that happy ending was not to be.
What happened next was that someone on this side of the pond told Lifson to take the article down. And he did, a second time!
We can not tell you exactly who it was at the moment, we can tell that it was not Nadhmi Auchi or his people, according to Lifson.
Could it have been one of Clarice Feldman's close friends? Perhaps Wolfowitz, Perle or Feith?
In any case, if that wasn't bad enough, Lifson then had the audacity to think that IP2P would take the article down as well. And for some peculiar reason, he would not even tell us why.
Of course Lifson received a prompt, "Hell no!"
In fact, we at IP2P still feel that Thomas Lifson owes Cary and Shaw a formal apology for removing their article a second time from American Thinker without even giving them the courtesy of an explanation.
And more importantly, due to recent revelations about American Thinker's close ties to the Washington elite, Lifson needs to publicly address his publication's controversial policy of not disclosing conflicts of interest.
Read the article that Thomas Lifson took down twice here:
Obama's Chicago Arab-American network comes into focus
Related articles by John A. Shaw
REZKO, OBAMA, AND THE NADHMI AUCHI RAILROAD LINKING CHICAGO, WASHINGTON, AND BAGHDAD (Part 1 of 3)
REZKO, OBAMA, AND THE NADHMI AUCHI RAILROAD LINKING CHICAGO, WASHINGTON, AND BAGHDAD (Part 2 of 3)
REZKO, OBAMA, AND THE NADHMI AUCHI RAILROAD LINKING CHICAGO, WASHINGTON, AND BAGHDAD (Part 3 of 3)