Ernie Souchak, Editor-in-Chief
Not only was Richard Perle feeding the American Thinker what he wanted them to report during the Iraq war and Plamegate.
Turns out he was also sautéing foie gras for American Thinker editor Thomas Lifson and friends.
Lifson's good friend Bob Lee tells of an intimate gathering at the house of Washington insiders Clarice and Howard Feldman, where Perle played a co-host of sorts.
Yes, this is the same Clarice Feldman who writes for American Thinker and who recently insisted that Plamegate was not a deliberate plot by Goerge W. "Bush and pals to distract from Iraq."
It also turns out that Clarice Feldman considers Richard Perle such a good friend that she puts him to work in her kitchen when he attends her soirées.
Here's what Bob Lee wrote about the intimate gathering.
Richard Perle Sauteed The Foie Gras …
There were probably 1000s of other such conversational gourmands meeting inside the Washington Beltway on Friday night. Nine adults enjoying a 4-course gourmet dinner au conversation. Ours had a former Asst Secty of Defense, the ex-wife of The Head of The World Bank, a military historian, a Libby Trial aficionado, a right-wing fanatic from Berkley, and a North Carolina couple referred to as friends of Tom. … That grotesquely hilarious report about Apple Cheek Johnny's Poverty Castle ??? Wait til BobLee tells you THE REAL STORY!
If you want to skip down to the hilarious REAL STORY about Apple Cheek's Monster Manse go ahead … but do come back up for this account of our Foggy Bottom Fandango.
Remember The Brunswick Stew Party a few years ago. Given my druthers I'd take that over Friday night for pure conviviality plus b-stew trumps foie gras every time with me. But, our dinner party in a prominent DC-A list neighborhood certainly added a few memories to the life larder. The Mizzus could not get out of Georgetown fast enough Saturday as urban congestion about did her in. With me it was the Euros and faux Euros that slink up /down M Street. They are sorta like Shineolas except they (the Euros) have greasier hair.
Our dear friend Thomas The Berkley Right-winger had invited us. Clarice and Howard were our gracious hosts. We had no idea who was on the guest list, nor did they. They likely still don't know and we're still not sure ourselves.
Howard perked up when I said I am a legendary humorist. So is my brother he said. Feldman ... yikes ... was this MARTY FELDMAN's brother??? ... Hump, what hump ... Walk this way ... I'll take the one in the turban. No ... Michael Feldman ... an NPR talk show guy that is well outside my interest sphere.
When the big man in the hat said his name was Richard Perle I first thought the guy that started those Vision Centers. Close … the former Reagan Asst Secty of Defense not affectionately known around DC as the Prince of Darkness. Richard, legend has it, was the first one to get GWB's ear after 9/11 and strongly recommend taking down Saddam ASAP.
I introduced myself as the last remaining member of The Flying Wallendas and Mizzus said she was Stephanie Powers' younger sister. I detected a glimmer of recognition with the name Wallenda but it flickered and died quickly. After game after game of "hey look, IT'S BOBLEE…" it was sort of nice to be naught but a whozit for an evening. Now I know how those three little white boys at the end of Dean's bench musta felt all those years.
A pre-dinner conversational mini-joust highlighted by one of Thomas' Napa Valley finest led us to the dinner table. I was seated between Thomas From Berkley and a little Jewish lady named Clare with a daughter at Chapel Hill and an ex-husband who was almost CIA Director and instead is Head of The World Bank – Paul Wolfowitz.
Mizzus was between Richard and Peter The Lawyer From Annapolis. During the course of four courses and about two hours of chitting and chatting, Peter actually used the word Parenthetically ... TWICE. In well over 50 years I've never used in once nor do I ever intend to. Peter used it with a deftness that would lead one to believe he uses it daily if not hourly. I wonder if Paul Johnson, a football coach who lives in Annapolis, has ever used the word parenthetically? I doubt it.
A French onion soufflé began our epicurean journey. At about the 15-minute mark Richard left the table. When he returned he had grease stains all over the front of his blue oxford button-down. Since I've been known to get a tab rowdy in eating I chose not to inquire "yo Perle, whats with the grease spots?"
Clarise explained it all … she had asked Richard to sautee the foie gras. Although he knew one should slide the foie gras delicately into the hot pan, silly Prince of Darkness DROPPED the foie gras from several inches above the skillet … voila … grease spots all over his shirt. And this was the man that convinced GWB to take out Saddam! I wonder if Cindy Sheehan knows how to sautee foie gras?
The thought occured to me twixt Course Two & Three ... suppose Ol' Fruitcake Freddie From Franklin Street had been hiding under the table? That silly wabbit's tin foil hat woulda been spinning like a top. Lord have mercy, Freddie would have been dialing up the Mutha Ship for sure to report a new CONSPIRACY!
I cleaned my plate because that's how I was raised plus, like Mikey, I eat most anything. Mizzus nibbled and later expressed her pique at the goose liver. The Beef Wellington of Course Three was equally tasty to me but a bit too rare for Mizzus.
As the evening progressed everyone seemed to assume familiar roles … listening to Richard Perle tell about meeting with world leaders and getting the Chi Coms to reduce the price of AK47s to the Mujaheedin. Richard Perle does NOT care much for The Saudis. In other words, the same chit chat you get about anywhere. Richard did ask me which other humorists I admire the most. Since I did not mention PJ O'Rourke or Robert Benchley it didn't much matter who I mentioned. I deftly dropped Dave Huxtable's name and I thought I noticed a slight shiver from ex-Mrs Wolfowitz.
John McCain's name came up. Mizzus did that finger down the throat gag sign which took Peter Parenthetical aback. The military historian lady even pretended to care on that. Richard seconded Mizzus' low opinion of McCrazy with a few stories on him that likely are not in his official bio. Apparently John McCrazy has a hair trigger temper and the attention span of a gnat. But, unlike Barack, he has normal ears ... and unlike Hilly, he has discernible ankles.
I noted to ex-Mrs Wolfowitz that out-of-state tuition had just been increased at UNC. She said she didn't care since her(daughter's) father can afford it. He's head of The World Bank. She's likely right. I tried a second question tied to 40 Point Frank's next career move. I lost ex-Mrs Wolfowitz … never to regain her. I later learned she is a somewhat famous anthropologist specializing in Sumatra. She woulda lost me quickly on that.
We did learn all about the shadow government that really runs Washington … the insidious webees that have been in place forever and defy all administrations and/or new personalities.
Clarice, our gracious host, attends the Scooter Libby Trial each day. She had many harsh words for Prosecutor Patrick Fitzgerald. I later learned from Thomas that there are at least two websites devoted to people who dislike Clarice a lot. TWO … My kinda woman!
On the drive home Saturday we stopped at the Silver Diner at Potomac Mills. Mizzus had a grilled cheese. I had a crab cake melt. It was good.
>>><<<
Wow. Although no doubt unintentionally, Bob Lee has opened a serious can of worms for the American Thinker by preserving for the record the events of that little get-together.
First thing we have to ask is this:
If Richard Perle was feeling chatty enough to talk about "meeting with world leaders and getting the Chi Coms to reduce the price of AK47s to the Mujaheedin", why did Lifson and Feldman not find this interesting enough to write about?
And as long as Perle was telling war stories, why didn't Lifson or Feldman ask him about more current topics, such as the 550 Tons of yellowcake that was then still sitting in Iraq?
And while we're at it, why didn't the American Thinker editor ask Clare Wolfowitz about the letter she wrote to George W. Bush that derailed ex-husband Paul Wolfowitz's bid to be the director of the CIA.
Instead, Thomas Lifson and Clarice Feldman continued to publish stories attacking those who disagreed with Perle or Wolfowitz without disclosing that they were close personal friends.
How is that for journalistic integrity?
We now know that Clarice Feldman's ridiculous attack on Sibel Edmonds' credibility, claiming Edmonds "misunderstood what she had overheard," certainly must have come from Richard Perle.
We also know that Feldman cannot name Perle as her source for that dubious claim due to the fact that Edmonds made it clear that if the FBI wiretap tapes she translated were ever made public, Perle would go to prison.
Remember, the Department of Defense, Perle's old stomping grounds, was instrumental in invoking states secrets privilege on Edmonds so that she could not talk publicly about what was on those tapes.
Bit of a conflict there, don't ya think, Clarice?
If that's not enough to make you ask who's running things at the American Thinker, we have reason to believe that the "military historian lady" at this private gathering was none other than Laurie Mylroie.
If so, we have a few questions for Clarice Feldman's "dear friend" Mylroie as well.
Perhaps Lifson or Feldman will get back to us on that.
In any case, we can hardly wait to read Judith Miller's tell all book due out this spring.
Judith, can you give us a preview?


Ernie Souchak, Editor-in-Chief
American Thinker writer Clarice Feldman is not only on record stating that Plamegate was a "hoax", she has also at one point or another accused half of Washington of being involved in a "conspiracy" against George W. Bush.
Right, Clarice. Poor George Bush and Dick Cheney were being picked on by all those bad people that worked for them. Ok. Got it.
While being questioned about her "conspiracy" theories, Feldman let loose with this unexpected gem:
" When do we get to Ernie's fantastical notion that Plamegate was a deliberate plot by Bush and pals to distract from Iraq? "
Holy cow! Where did that come from?
Clarice, we never said that "Plamegate was a deliberate plot by Bush and pals to distract from Iraq." But now that you mention it, that scenario would explain a great deal of unanswered questions.
For example:
Why would the CIA send Joe Wilson to Niger to investigate Saddam Hussein's alleged attempt to purchase yellowcake uranium, when the CIA and George W. Bush knew Hussein had 550 tons of yellowcake 19 miles outside of Baghdad?
And why were the yellowcake documents that Wilson said he read long before they were actually ever made available to anyone in the CIA such poor forgeries? Were the forgeries designed to be easily discovered?
Would a President really tolerate any high-ranking officials in his administration keeping secrets from him, especially during wartime, as Feldman contends?
Of course he would not.
So while IP2P was trying to get Feldman to explain how she came to the conclusion that the CIA, the State Department, the Department of Justice, the FBI, and the DoJ Inspector General's Office were all involved in a "conspiracy" against President George W. Bush, she answered with this out-of-the-blue defense of Bush and his Defense Dept.
And in doing so could very well have helped solve the mystery of what the "Plamegate hoax" was really all about.
Coincidentally, the DoD is where Feldman's close personal friends Paul Wolfowitz, Richard Perle and Douglas Feith were practically running the show during the lead up to the invasion of Iraq.
Clarice, you may have really turned us on to something here. Thank You!


Ernie Souchak, Editor-in-Chief
American Thinker's credibility is dissipating quickly.
You see, not disclosing conflicts of interest is turning out to be the norm at American Thinker.
For example: IP2P recently informed its readers of Clarice Feldman's close personal relationship with Richard Perle, whom she frequently goes on the attack for and staunchly defends. As in the case of her baseless attack on Sibel Edmonds.
Now IP2P has also learned that Feldman shares a close friendship with Paul Wolfowitz and Douglas Feith. And as is the case with Perle, she has never disclosed her conflict of interest when attacking others on their behalf.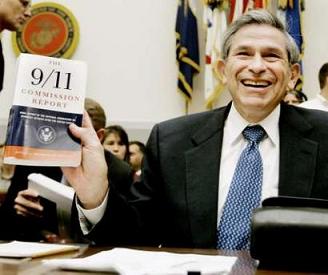 Nor has American Thinker editor Thomas Lifson required her to do so.
Keeping American Thinker's failure to disclose in mind, let me tell you some other disturbing facts that will have you asking this question: Who is really running the show over at American Thinker?
On September 20, 2012 American Thinker posted an article by Lee Cary entitled "Obama's Chicago Arab-American network comes into focus".
Cary's article states some unflattering facts about a man named Nadhmi Auchi, aka. Saddam Hussein's bag man.
Naturally Auchi did not appreciate this article and to no one's surprise he instructed his lawyers at the London law firm Carter-Ruck to send a letter threatening legal action if said article was not taken down.
Upon receiving Auchi's letter, Lifson took the article down momentarily to verify that it was completely factual. After determining that it was correct, Lifson promptly reposted Cary's article unchanged.
That's because Lee Cary's work was solid, and contributor John A. Shaw is as honest and credible a man as you will ever find.
Taking down that article would have given the public the perception that there was something wrong with the story. And that clearly would not be fair to either Cary or Shaw.
At that time IP2P, which was also named in the letter from Auchi's law firm, posted an article praising American Thinker for doing the right thing.
Due to many factors, including Auchi's inability to legally enter the United States, the letter from his lawyers was an idle threat. And that should have been the end of the story.
Unfortunately that happy ending was not to be.
What happened next was that someone on this side of the pond told Lifson to take the article down. And he did, a second time!
We can not tell you exactly who it was at the moment, we can tell that it was not Nadhmi Auchi or his people, according to Lifson.
Could it have been one of Clarice Feldman's close friends? Perhaps Wolfowitz, Perle or Feith?
In any case, if that wasn't bad enough, Lifson then had the audacity to think that IP2P would take the article down as well. And for some peculiar reason, he would not even tell us why.
Of course Lifson received a prompt, "Hell no!"
In fact, we at IP2P still feel that Thomas Lifson owes Cary and Shaw a formal apology for removing their article a second time from American Thinker without even giving them the courtesy of an explanation.
And more importantly, due to recent revelations about American Thinker's close ties to the Washington elite, Lifson needs to publicly address his publication's controversial policy of not disclosing conflicts of interest.
Read the article that Thomas Lifson took down twice here:
Obama's Chicago Arab-American network comes into focus
Related articles by John A. Shaw
REZKO, OBAMA, AND THE NADHMI AUCHI RAILROAD LINKING CHICAGO, WASHINGTON, AND BAGHDAD (Part 1 of 3)
REZKO, OBAMA, AND THE NADHMI AUCHI RAILROAD LINKING CHICAGO, WASHINGTON, AND BAGHDAD (Part 2 of 3)
REZKO, OBAMA, AND THE NADHMI AUCHI RAILROAD LINKING CHICAGO, WASHINGTON, AND BAGHDAD (Part 3 of 3)


Hugo Floriani, Investigative Reporter
Valerie Plame Wilson is now fair game for inquires by refusing to answer even the simplest of questions about the story and trial associated with her name.
So we ask: Valerie, how long have you known former Undersecretary of State Marc Grossman?
Seems like a simple question, right?
Well, maybe not. You see, it turns out that, according to court records in U.S. v Libby, the Wilson's have long known Grossman.
According to sworn testimony in a deposition of Sibel Edmonds in 2009, Grossman was the man who outed Brewster Jennings & Associates as a CIA front organization, and Valerie Plame, who worked there, as a CIA employee. That happened two years before Lewis "Scooter" Libby asked Grossman about Joe Wilson and about his famous trip to the nation of Niger on behalf of senior officials in the Directorate of Operations Counter-proliferation Division of the CIA.
Wilson's trip to Niger in the spring of 2002 was about determining the veracity of Saddam Hussein's alleged attempt to purchase enriched uranium (yellowcake).
For you true-history buffs, here's the story around that event:
In the Summer of 2001, Marc Grossman, a friend of the Wilson's, illegally, according to the Intelligence Identities Protection Act, divulged to Turkish operatives that Brewster Jennings, and consequently Valerie Plame who worked there, were associated with the CIA. This is according to sworn testimony by Edmonds.
Then, in the spring of 2002, the CIA asked Valerie Plame's husband, Joe Wilson, to go to Niger and determine if Saddam Hussein purchased yellowcake.
On September 26, 2003, the CIA asked the Department of Justice to investigate who outed Brewster Jennings and Valerie Plame as CIA. This came after Plame had already been outed by Grossman in 2001.
On October 1, 2003, Grossman's boss at the State Department, Deputy Secretary Richard Armitage, took responsibility for outing Plame as CIA; however, he was told by the Dept. of Justice to keep the information secret..
On December 30, 2003, then U.S. Attorney Patrick Fitzgerald was appointed "Special Counsel" by current FBI Director Nominee James B. Comey. Fitzgerald then went on a forty-month, taxpayer-funded fishing trip that caught Libby for allegedly lying to the FBI.
It's clear why Plame won't answer the question: How long have you known former Undersecretary of State Marc Grossman? Doing so would reveal how long she knew the man who actually blew her cover as a CIA "operative." And that person wasn't Libby or the late columnist, Robert Novak.
It was Mark Grossman.
All this begs the question: So what was the phony witch hunt that netted Libby really all about?
At IP2P, we're trying to find out the answer to that question.


"I first began to fathom the extent of Nadhmi Auchi's reach and corrupting influence when I was given responsibility for monitoring illegal transfers of technology and munitions to Iraq as well as overseeing all coalition transportation and communications reconstruction in Iraq. "
JOHN A. SHAW (Opinion: former senior official of US Defense, State, and Commerce departments)
 October 10, 2008
Barack Obama has been appropriately strident in his condemnation of the mortgage-based financial corruption which nearly led to the collapse of the investment banking system in the United States. But there are some strong smelling financial skeletons in his own closet. Obama has his own personal housing crisis that is tied not into Fanny Mae, but into a corrupt international financial combine headed by Nadhmi Auchi, the convicted Iraqi billionaire at the center of the Elf Aquitaine corruption trial in France. Auchi has been shown to be the fountainhead of a source of corruption flowing from Iraq, to France, Italy, and the United States. His financial network, under a Luxembourg company called General Mediterranean Holdings, spread from Baghdad and the Middle East to Paris, (where Auchi successfully posited Saddam's UN Oil for Food scheme), London, Washington, and Chicago, making very few ripples and raising no concerns.
Auchi is suave, cosmopolitan, brilliant, and ruthless, and he has bottomless pockets. His business is international banking, which is complexly organized and appropriately camouflaged to conceal any criminal activity. He is the Godfather, but speaks in an Iraqi, not a Sicilian, dialect. A British survey credits him with being toward the bottom of a list of the two hundred richest men in the world. But in such a rendering Auchi would both feign modesty and ensure that any such accounting show only the tip of his financial iceberg. Other sources credit him with being the fifth richest man in the world. His methodology, however, is straightforward: Under cover of seeking legitimate business, buy whoever is necessary in the political decision chain to control the process and the outcome. As his longtime telecommunications partner Ala al-Hawaja, candidly put it to a potential competitor in Cairo, "there is nothing that cannot be accomplished with a suitcase full of money". So far he has been proven correct.
Auchi has claimed to have been "a visitor to two White Houses", and his London web site flashes a picture of him at the Clinton White House between Bill Clinton and Al Gore (a long way from his early days with Saddam Hussein as part of a Baathist assassination squad.) Auchi is, however, also the shadowy puppet master to Antoin "Tony" Rezko, a Syrian American with whom he partnered for more than a decade in schemes from Baghdad all the way to Chicago. Their relationship began in the wake of the Iran-Iraq War, when the US was cultivating Iraq and Saddam Hussein. Rezko is now in federal prison awaiting sentencing for 16 counts of corruption involving Illinois officials. Buying influence is his métier, guided and financed by his master, Auchi. Rezko has also been a White House visitor, with his picture taken with Bill and Hillary Clinton for his contributions out of Chicago to the Clinton political war chest. Was Rezko then and now merely the main Chicago conduit for Auchi money? Or was he part of a larger Iraqi scheme dating back to Saddam to buy access to US government contracts and influence? What specifically was Auchi buying and where else did his money go? Was Obama, like the governor of Illinois, a recipient of Auchi's favors as part of Rezko's scheme to purchase government contracts through kickbacks from campaign contributions? There is no question that Obama, as a fledgling state senator, was a target of the Iraqi corruption combine, but did he become one of its pigeons? Was Rezko simply the front man for Auchi and Iraqi funding (whether it came from Saddam, Oil for Food, or General Mediterranean Holdings) over his entire Chicago career?
Rezko had identified Obama as a good political target before he graduated from Harvard Law School. He was both the source of Obama's employment and of his largest political donations during his short political career. Rezko had no financial source apart from Auchi, his partner of over a decade. Rezko was also the source of the financing for Obama's $2.3 million mansion despite his having no clear source of funding apart from Auchi. What did he get from Obama in return?
As the Wall Street Journal showed several weeks ago, Obama has been anything but forthcoming about his real relationship with Rezko and Auchi. And the public has no idea how extensive and how corrupt the network that Auchi has developed across the world is. Let me count the ways: Like organized crime, the network shows no public profile beyond legitimate business activities, and has a small army of lawyers threatening any critics with libel actions in Britain, Auchi's adopted residence where there is no First Amendment protection.
Billionaires can buy anonymity at the same time they buy influence and politicians. In 2000, although Nadhmi Auchi had spent two decades as Saddam Hussein's broker in the international oil and armament worlds, he was seen from the United States as essentially a European go-between, who worked the highest levels of the Italian and particularly the French and British governments. He had bought an aura of respectability by buying senior politicians and favorable press, and threatening any critics, a pattern he had begun to introduce in the United States with British assistance a decade earlier. I first began to fathom the extent of Nadhmi Auchi's reach and corrupting influence when I was given responsibility for monitoring illegal transfers of technology and munitions to Iraq as well as overseeing all coalition transportation and communications reconstruction in Iraq.
My office had two key responsibilities, international technology security and international arms and technology trade (essentially keeping good things out of the hands of bad people), with the latter function given the reach of the DoD Inspector General's office. Our investigations surfaced some salient facts about Nadhmi Auchi and his underreported activities: that Auchi had been Saddam Hussein's senior arms dealer and had morphed into his principal international financial bagman, and had become the Godfather of the UN Oil for Food scheme. (As a former State Department Inspector General overseeing all US foreign assistance and foreign military sales, I had had thirty years experience dealing with technology and armament sales, most of it in the Middle East.). I was therefore startled to also discover in addition that Auchi had surfaced as the financier and a principal beneficiary of the entire Iraqi cellular telecommunications tender, worth some $3 billion.
Through the customary combination of facilitating payments spread among political figures in Iraq and elsewhere, Auchi was able to fix the three contracts for three companies which in turn benefitted three of the most senior Iraqi politicians. $435 million was found missing from the Coalition Provisional Authority communications account along with all records. Multimillion dollar bribes were paid to various Brits and Americans to facilitate both the fix and its cover up.
The official DoD report of May 11, 2004, which Auchi has spent four and a half years trying to discredit, encountered cover up efforts within the DoD. These in turn prompted Secretary of Defense Donald Rumsfeld on December 10, 2004 to transfer the case to the Department of Justice to assure the integrity of the continuing investigation. The FBI is still working on the case with the continuing assistance of my office, and Auchi's US visa to come to the United States was cancelled.
The Rezko trial in Chicago, moreover, has highlighted Auchi's reach into other ministries to provide bribes for contracts. In the Ministry of Electricity the Rezko-Auchi combine was seen in action offering million dollar bribes for multi-million dollar contracts to Ayham al-Samarra'i, an Iraqi American who had become Electricity Minister. In addition, recent evidence has surfaced that an Auchi subsidiary, the Iraqi German Hospital (IG Hospital), has been awarded a billion dollar contract at the Ministry of Health thru the influence of Dr. Adel Mohsen, the notoriously corrupt arbiter of health ministry contracting. "Dr. Adel" is close to Prime Minister Maliki and is his point man on the appropriately named Iraqi Committee on Public Integrity. While Auchi was a frequent visitor to the Green Zone in Baghdad during the CPA era, and, according to reliable Iraqi sources, met numerous times with CPA viceroy L. Paul Bremer, that was a useful but temporary expedient. Auchi is now said to be an advisor to Iraqi Prime Minister Maliki as well as being the representative of major oil and commercial interests seeking contracts in Iraq. If Auchi now owns Maliki, he now owns everything.
As the above shows, Auchi has parlayed his long time presence on the Iraqi scene into a position of even greater wealth and influence than he enjoyed under Saddam. But it is his skill in buying his way to foreign leaders and funneling that advantage into a position of paramount influence into Iraq that is truly impressive. He simultaneously developed access to the nascent Iraqi leadership in London while he was buying access to the British leadership, and through that got access to US leadership and the Coalition Provisional Authority. It was done largely through lavish donations and largesse to the British establishment over several decades, and to the Labour party in particular. Auchi's purchase of respectability included the grant of a coat of arms from the Queen, and the support of very senior members of the cabinet, some of whom sat on his GMH board. On the 20th anniversary of GMH activities in Britain, Auchi was given a print of the Houses of Parliament signed by virtually everyone with any political pretentions in the House of Commons. His London sponsors then opened the doors to Washington, to the Pentagon and ultimately, to the White House.
But he had bought his way into France as well: As a major arms dealer for Saddam he had cultivated President Mitterand and President Chirac, as well as key members of their cabinets. In September 2003, however, a French court had found him guilty of corruption and of receiving improper commissions of $100 million in the Elf Aquitaine scandal. The trial showed that Auchi had developed direct relationships with the key players in the French political and business establishment, and was the largest single stockholder in the bank BNP Parisbas. He received a slap on the wrist in the form of a multimillion dollar fine and a suspended jail sentence.
By that time, however, he had moved to the US market. Thanks to his British network, he established relationships with Paul Wolfowitz, Lewis I. "Scooter" Libby, and others in the Bush I Department of Defense at the time of the first Gulf War, and deftly carried his insider utility and his reputation of being helpful in Iraq over to the Clinton administration in 1993. He arrived with a laying on of hands from Lord Cavendish, the former head of British intelligence, and soon was a member of the Kennedy School board of Advisors at Harvard. He became, thru charitable donations and investments in the US, largely in the Chicago and Detroit areas, the embodiment of the Good Iraqi and the Good Arab. He established an Auchi chair at the American University of Cairo, and there have been reports that he was a large donor to the Clinton library.
His seemingly innocent investments with Rezko in the Middle West, however, went hand in hand with Rezko's extensive scheme to trade off campaign donations to Illinois politicians for jobs and multimillion dollar state and city contracts. That strategy appears to have tied in as well to Joseph A. Cari, Jr., a Clinton administration official who served as Democratic National Committee Finance Chairman in 1993-94, and who, like Rezko, was found guilty of extortion of Illinois officials in 2006, and similarly is awaiting sentencing. Cari was Clinton's national finance chairman when Rezko and Auchi made their White House visits. Cari is now managing director of a Middle East trade and investment fund in New York. How many of Rezko's donations and US investments originated with and were dependent on Auchi? Is there any evidence that Rezko had any other major source of funding? How long had the Auchi network been in place in Chicago? And what were Auchi's connections to the Iraqi spy ring about to go to trial in Detroit, who in late 2002 paid two Democratic congressmen to go to Iraq and oppose the war, and which flourished on UN Oil for Food vouchers?
So we have a pattern of buying influence which tied directly into the Illinois Democratic Party, the Daley machine, and the Democratic National Finance Committee. It is no wonder that Barack Obama "has no recollection" of being at a welcoming dinner feting Auchi at Rezko's house in April 2004. At that moment Auchi was flying high despite his corruption conviction in France: He was then still the darling of the neocon cabal at the defense department, which was so heavily invested in Iraq. He had been a welcomed guest at two White Houses, and appeared to own the entire Illinois government. We still do not have any sense of the full extent of his influence.
A month later, however, his five year visa to the United States was revoked because of the findings of the DoD report on his central role in fixing the contracts for the entire Iraqi telecommunications system. In the ensuring four and a half years the outlines of his role as an ongoing arms dealer responsible for importing and exporting munitions into and out of Iraq, and as the financial ringmaster of reconstruction corruption in Iraq, have become increasingly evident, despite extensive efforts to cover up his role by Iraq reconstruction authorities and a submissive and buyable media. Auchi simply bought everyone he needed to buy in Iraq and the United States to carry out his Iraq agenda. Before his sentencing at the end of this month, however, Rezko may broaden our understanding of Auchi's larger agenda.
But his underwriting of the purchase of Obama's multimillion dollar Chicago mansion may have been the step too far which finally brought down Auchi's grand scheme of empire and intrigue. It was, however, cheap at the price to buy a putative United States Senator. Nothing boneheaded about that decision at all. What is a candidate worth? This was Chicago, after all. On the other hand, however, if Barack Obama becomes President of the United States, the sky may be the limit for Nadhmi Auchi.
John A. Shaw is a former senior official of the Defense, State, and Commerce departments, and served on several White House staffs. He is a specialist in international technology transfer and arms sales, and in the economic development of the Middle East.
http://wikileaks.org/wiki/From_Baghdad_to_Chicago:_Rezko_and_the_Auchi_empire