Ernie Souchak, Editor-in-Chief, Illinois PayToPlay
It appears that Mr Jerome Corsi is one person who can speak to the very real possibility that Barack Hussein Obama ,The President Of The United States Of America, is being blackmailed
Update:  Daniel T Frawley's date to report to prison has now been pushed back to after the presidential election , and Frawley's attorney Thomas M Durkin will likely be made a federal judge within days. Barack Obama nominated Mr Durkin to be a federal judge and Sen. Dick Durbin has given his strong support to Durkin's nomination.
-----Original Message-----
From: (redacted)
To: Jerome Corsi
Cc: (redacted)
Sent: 2012-08-29 13:49:55 +0000
Subject: Re: Nahdmi Auchi's secret meetings with Barack Obama
Jerry,
So that we're clear, are you seriously telling me that you have changed your reason for not releasing the information about Obama's secret meetings with Auchi from the one you stated below ? Now the reason you will not release the information is because you gave total control of what you do with that information to Daniel T Frawley, a convicted felon.  Really ?  Are you serious ?
(name redacted)
-----Original Message-----
From: Jerome Corsi
To:(redacted)  
Sent: 2012-08-29 12:32:14 +0000
Subject: Re: Nahdmi Auchi's secret meetings with Barack Obama
(name redacted)
You can beg, I couldn't care less.  I gave my word to Dan that I only did
the tape on the condition Dan had to OK its broadcast.  I will keep my
word to Dan.  Besides, Auchi may be important to you, but he is truly
yesterday's news.
I don't plan to answer you emails again if you merely repeat what you have
already sent me.
Regards
J.Corsi
On 8/29/12 8:09 AM, (redacted) wrote:
Jerry,
Nahdmi Auchi's ability to deploy his pitbull lawyers against American
authors has been greatly diminished, if not altogether eliminated by new
laws passed here in the last two years. American authors no long have to
adhere to the libel laws of the U.K.
Auchi's role in helping Barack Obama obtain the most powerful position in
the free world must be exposed. You, sir, are in a position to help do just that.
Jerry, there is very little difference between you refusing to release
the information you have pertaining to Nahdmi Auchi's secret meetings with
Barack Obama, and what the LATimes is doing in their refusal to release
the tape of Obama toasting Rashid Khalidi.
Many of us never expected that the LATimes would do the right thing. But
your readers, sir, do expect you to do the right thing. And so did (name withheld)
and I when we sent Bob Cooley and Dan Frawley to you.
So Jerry, it's time you tell what you learned in that Chicago interview,
for the good of the nation. After the election, no one will care what you know.
(name redacted)
----- Forwarded message -----
From: (Name and address withheld)
To: "Jerome Corsi"
Subject: Re: Frawley
Date: Fri, Feb 24, 2012 3:19 pm
Jerry I understand, however the play we are making is about U.S. Attorney
Patrick Fitzgerald. Fitzgerald is the focus here.
----- Reply message -----
From: "Jerome Corsi"
To: (redacted)
Subject: Frawley
Date: Fri, Feb 24, 2012 2:29 pm
(Name redacted)
I went back over my video with Frawley ‹ much of it was about Auchi.   I
understand how Auchi fits in, but it has to be really critical to go after
him.  He is a billionaire and he hires a battery of lawyers every time he is
mentioned in print.  I've already been through that with THE OBAMA NATION.
I will do it again, but only when I know the article will make a big impact.
Regards,
Jerry Corsi


Ernie Souchak, Editor-in-Chief, Illinois PayToPlay
For the moment, Illinois PayToPlay is going to let this provocative document created by Daniel T Frawley speak for itself.
But we do want to suggest that reporting on allegations of corruption, involving government officials tied to the Rezko investigation, does not fit the the current political agenda of the Chicago Sun Times or the Chicago Tribune.
Could that be because Chicago is a "Sanctuary City" for corrupt government officials?
For the lucky politicrooks allowed to set-up shop in Chicago, there's a blanket of protection provided in large part by the two major dailies. Who protects the honest citizen?
Perhaps in 7-8 years, when it's politicly expedient, the Chicago Sun-Times will be all over this Frawley story.
From: "Ernie Souchak" <address withheld>
To: "John Barron" <jbarron@suntimes.com>, "Andrew Herrmann" <aherrmann@suntimes.com>, "Gerould Kern" <gkern@tribune.com>
Cc: "Tim Novak" <tnovak@suntimes.com>, "Carol Marin" <cmarin@suntimes.com>, "Chris Fusco" <cfusco@suntimes.com>, "Dave McKinney" <dmckinney@suntimes.com>, "John Chase" <jchase@tribune.com>, "Jeff Coen" <JCoen@tribune.com>, "John Kass" <jskass@tribune.com>, "Eric Zorn" <ericzorn@gmail.com>
Sent: Thursday, May 10, 2012 7:38:17 PM
Subject: Rezko's partner testifies against the Feds ?
---------- Forwarded message ----------
From:
Date: Thu, May 10, 2012 at 7:19 PM
Subject: Fwd: FYI
To: Ernie Souchak<address withheld>
---------- Forwarded message ----------
From: 
Dan Frawley
 <email address withheld>
Date: Wed, Jun 1, 2011 at 7:07 AM
Subject: Fwd: FYI
To: robert XXXXX <
B
ob Cooley's email address withheld>
 1) The USAO told Tom Durkin during Tom's meeting with Fitzgerald, Shapiro, Ridgeway and FBI agent Jay Hagstrom that I was considered a fully co-operating witness until 2008.
The USAO was told in 2008 that I tipped him (Rezko) off that I was recording Rezko and the USAO had co-oberating evidence and because of this declination was off the table.
Tom mentioned this to me in Tom's email to me re: the meeting at 219 South Dearborn.
1) Tom called me and asked me about the incident and I had no recollection. I did not because it did not seem important at the time and I will explain later. I went and met with Sam Doerger as well as speaking to him on the phone about it. Sam suggested I ask Jay, I did.
2) I met with Jay at the FBI office in Lisle. Jay did not give me all the details but let me know almost 99% the incident happened before Jay was assigned to the case and it happened at Tony's office in the Sears Tower on July 3rd the year Sam retired.
                             SEARS TOWER MEETING WITH TONY JULY 3rd
1) I met with Sam Doerger and Mary Beth King at a Chinese restaurant on Jackson Blvd. July Fourth. During that meeting Mary Beth and Sam informed me they wanted me to wear a wire and record Tony in his office on the 95th story of THE SEARS TOWER. I told the agents of a prior meeting at the Sears Tower. (I will explain later)
2) The USAO wanted me to walk through a metal detector with metal on, bad idea.
4) Agent King to said Sam that this operation had disaster written all over it. Sam agreed and thought we should not do the taping that day. The agents were under pressure to tape Tony by the USAO.
5) I told the agents there were at least 3 levels of security of the tower
A) No one was allowed in with out having a pass and checking in with the security desk. The desk called Tony's office to confirm the visit, I also let the agents know most of the time Rezko sent someone down from Rezmar to escort me to the office.
B) The seconded line was a metal detector everybody had to pass through
C) The third line, which I did not have, enough information about was an automatic glass door entrance that set of a green light to allow the visitor to pass. I did not know how this glass door operated or what its function was. I suggested the agents let me go over to the SEARS TOWER let me observe the security and try later that week. I was told, "No". I then said give me a ten minute head start and let me at least get a look at it and I would figure a way through the system for the recording device.
D) The agents settled on a plan to send Mary Beth King in ahead of me. Mary Beth would gain entrance by going up to a law firm at sears Tower and then meet me on another floor and hand me the devise.
E) Mary Beth was unsuccessful. The law firm would not allow her into the Tower. I entered the tower and received permission from security and Tony to enter the Rezmar 95th floor office. I saw Mary Beth in the vestibule of the building after I received permission to enter. I could tell Mary Beth looked disconcerted. I walked past Mary Beth and dropped my AMX card and handed it to her as if she had dropped it. Mary Beth told me she could not get up to the law offices but she would try another way and meet me on another floor.
F) I went to the scheduled meeting floor and waited for 15 minute, when Mary Beth did not appear I had to go to Tony's office. I could not just have waited indefinitely; they were expecting me because security notified Rezmar that I was on my way
            I AM 99% SURE THIS IS WHAT HAPPENED/I NEVER THUGHT ABOUT IT UNTIL TOM ASKED ME AFTER HIS MEETING WITH FITZGERALD BECAUSE EVERYTHING WENT WRONG AND THE AGENTS Were AGAINST THE MEETING FROM THE START AND I WAS NOT RECORDED
 1) I met with Tony in his office, by this time the FBI had been called by the Chief of Security of the Sears Tower asking what was Agent Mary Beth King doing in the Sears Tower with Dan Frawley, the jig was up and the whole thing was an avoidable disaster caused by the USAO not the agents who wanted to wait. I had no device when I met with tony and for all I knew he was aware I was with the FBI & had a recorder. I SHOT THE BREEZE ABOUT NOTHING BECAUSE I DID NOT HAVE A RECORDING DEVICE.
2) Tony asked me to take out my cell phone and disassemble it, Tony was afraid it was a recording.
3) I think that is when I handed Tony a note saying I was wiring him, which I was not and then ate the note. I thought it would work to our advantage and Tony would trust me and be more forth coming in meetings when he thought he was not recorded. The plan worked. Tony met with me for another 2 years.
4) I left the Tower and met Sam and Mary Beth, who were waiting in my Tahoe. The agents were frantic. The agents received a call to go immediately upon my return to 55 West Monroe to meet with the USAU because the head of Sears Tower Security called the FBI and was livid about what was happening. The agents never asked me what had happened they were so distraught and worried: 1) That something had happened to me 2) the whole investigation was blown 3) I would never be able to record Rezko again. 4) I never mentioned what happened in Rezko's office because of the need of the agents were in such a hurry to get to Monroe St. that I was never debriefed. I dropped them off and it never crossed my mind and I was not asked until Tom met with Shapiro
Had I not regained Tony's confidence that day and continued meeting with him for an additional 2 years I would not have been able to get the following would never have come to fruition?
A) Buddy Wilkins and the second set of Papa John's books the FBI had no idea about and then later had me obtain and the FBI copied.
I) Tony plead guilty to defrauding GE Credit because of this
II) Al Chaib plead guilty based on this evidence, until then Chaib had been non-co-operative and was changing defense lawyers regularly.
III) Jack Lavin (Now Pat Quinn's Chief of Staff) moved a line item of $3 million dollars from Panda into Papa John's Pizza in order for Tony to get the GE loan
III) Buddy Wilkins was being bribed by Joe Duffy to withhold information from Carolyn and the grand jury! Duffy bribing Wilkins is no exaggeration. Wilkins was offered immunity to testify and Murphy advised Wilkins to turn the immunity down I was living at Maureen's house and Maureen heard the recorded conversations with Wilkins regarding the withholding information from the grand Jury. Jay Hagstrom was aghast and knew a former USAO was bribing a grand jury witness.
Gene Murphy was Buddy's attorney, Rezko was paying Murphy. Murphy would brief Duffy and his partners about Wilkins meetings with the FMI and USAO. Murphy would give Rezko's attorney's information before it Murphy gave it to his client Wilkins; this was confirmed to Wilkins by Murphy's legal secretary Diane.
V) USUA Carolyn McNiven used my information to have Murphy removed as Buddy's attorney as a conflict of interest.
VI) Richard Friedman the bribery and co-operation replaced Murphy with Tony's attorney's continued until I got the information on tape that Carolyn wanted. !) The FBI arrested buddy in North Carolina. 2) Buddy was taken back into custody and returned to Chicago. 3) Buddy testified truthfully in front of a grand jury. 4) Buddy was not prosecuted.
1) Tony and his wife both left the USA. Tony's wife left without the FBI knowing and they were very embarrassed about this. I knew because I had a contact at O'Hare who informed me. I am the one who let the USAU know Mrs. Rezko left the USAO to meet Tony.
2) I tracked Tony all over the world for the FBI for 4 months when they did not know where he was. I got info form my contact at Jordanian Airways and I knew the hotels where he stayed and I got to know the hotel staff that gave me all of Tony's travel plans. I think I also played a role in talking tony into returning to the US.
3) Weaver asked Steve Blanc to handle negotiations of my repayment from Rezko with Rezko's attorney, Steve thought this was Weaver's role and not his, but Steve agreed to do so. We now know why Weaver asked Steve.
4) Steve and I were able to get from Tony's attorney, Howard Adelman the routing of $3,500,000 in funds from a Syrian Bank to a Beruit Bank to a Belgium bank to a Toronto bank to Joe Duffy's US Client account) (Rezko) bank. Jay Hagstrom told me it was almost impossible for the FBI to get this info in real time and if the USAU had not received the information before the money hit the client account there is nothing the government could do. The USAU used this info to revoke Rezko's bail
5) I reached an agreement with Adelman for repayment of my loan from Tony Rezko. The USAO approved and Agent Hagstrom told me to go ahead and collect. I was on my way to pick-up 2 certified checks for $375,000 waiting for me at HOWARD ADELMAN'S LAW OFFICE, when I noticed a clause in the contract I thought would put me into a position of working with Tony's attorney's. I called my attorney's and could not reach any of them. I called Jay who said I could collect my money. I called Carolyn. Carolyn was livid and accused me of working both sides of the deal, which was ridiculous. I had the OK, I caught the USAO and FBI error and brought it to their attention, so their case would not be compromised. I was broke the $375,000 would have made a huge difference in my life. As it turns out I should have just taken the money because now they indicted me over another one of their mistakes. THE ORGANIZATION THAT WANTS PEOPLE TO ACCEPT RESPONSIBILITY NEVER ACCEPTS ANY OF IT'S OWN
6) THE FIRST SEARS TOWER INCIDENT. I HAD A RECORDING DEVICE ON ME WHEN I MET TONY REZKO AND MIKE RUMAN AT THE REZMAR OFFICES ON ELSTON AVE. UNEXPECTEDLY, TONY AND MIKE AND I GOT IN MIKE'S CAR AND DROVE TO THE SEARS TOWER. I WAS WEARING A WIRE AND HAD TO WALK THROUGH A METAL DETECTOR! I EXCUSED MYSELF WENT TO THE MEN'S ROOM AND DUPMED THE WIRE. I WAS ABLE TO TALK TONY INTO NOT GOING THROUGH THE DETECTOR AND TO HAVE A CONVERSATION IN THE CORNER BAKERY RESTAURANT BECAUSE I WAS NOT FEELING WELL. WHILE TONY WAITED IN LINE TO GET US COFFE I WENT BACK TO THE JOHN, RETRIEVED THE WIRE FROM THE GARBAGE AND RECORDED US.
7) SAM DOERGER COMPLIMENTED ME ON MY FAST THINKING AND TOLD ME NOT TO SHORT SELL MY OWN IDEA'S AND USE MY HEAD.
8)    AFTER THE 2ND SEARS TOWER INCIDENT SAM TOLD ME FROM THEN ON IF THERE WAS SOMETHING I DID NOT WANT TO DO, TO TELL HIM AND HE WOULD GO ALONG WITH IT.
9) I gave this accounting to Tom and Tom said it sounded like too much CLOAK AND DAGGER; well it is Cloak and Dagger
10) For this the USAU indicted me upon Tony's word and co-oberating evidence, probable that lying bribing cocksucker Joe Duffy former USAO. The USAU indicts me on the word of a man who bribed one of their most important witnesses and they let Joe Duffy walk.
--
Please send all emails to this Gmail address.


Introducing Nimat Tovakaz, Illinois PayToPlay's Foreign Correspondent, The Istanbulum Gazetesi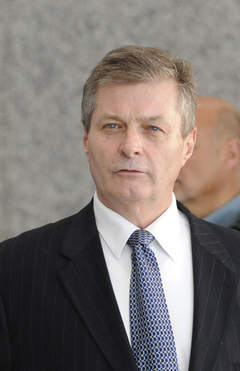 Regarding the federal sentencing of Daniel T. Frawley, former business partner of Antoin "Tony" Rezko, the Sun Times reports that,
"[Judge Ronald] Guzman ordered him to undergo a mental health evaluation and to serve time in a facility that has mental health services."
This statement came in the context of Guzman's noting that it's been six years since Frawley was arrested for the crime for which he now faces jail time.
Also, it came in the context of the Times' statement that,
"Over three years, Daniel T. Frawley would meet with government agents in an 'off-campus,' secret location. There, he divulged details used in at least a half-dozen different investigations, including the federal government's case against Tony Rezko, a onetime fundraiser for ex-Gov. Rod Blagojevich and Barack Obama before he became president."
According to his attorney, being "wired up" was a "risky endeavor" for Frawley.
Thomas M. Durkin, one of Frawley's attorneys, is quoted saying that Frawley was involved in investigation of "several significant public corruption cases".
What cases were those?  Are they still pending?  If they are, what did the feds just say about the mental stability of their potential confidential informant?
Plus, what impact does the judge's words have on the alleged "Whistleblower" law suit that the Times contends Frawley filed against his relatives, the McMahon's, that is allegedly under seal?
If the "significant public corruption cases" Frawley was involved with are buried today, why is that?
No one in the old Chicago media is asking these questions today. Perhaps they're not authorized to ask.
Frawley is referred to in the government's motion to arrest Tony Rezko as "CI2," for confidential informant #2.  His stability was good enough back then to take Tony off the streets while Tony awaited trial, and subsequent conviction.
But at Frawley's sentencing, the judge tainted Frawley's character with an implied judgment that Frawley needs medical mental treatment.
Well, perhaps he does.  But not that long ago, Frawley was mentally stable enough to wear a federal wire in dangerous situations.  So now he's a head case?
Looking at this episode from a foreign perspective, is this what's going on here in the Gulag that's Chicago justice?
"Forensic psychiatry in Eastern Europe, and in particular in the former Soviet Union, was closely and directly involved in the systematic use of psychiatry for political purposes by declaring political and religious dissidents mentally ill." (Block, S., & Reddaway, P., 1997, Russia's Political Hospital, London: Gollancz.)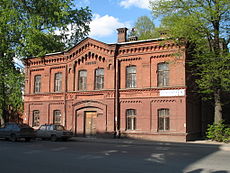 Leningrad Special Psychiatric Hospital
USSR Ministry of Internal Affairs