Guest Writer, John A. Shaw
"Shaw served as Deputy Undersecretary of Defense for International Technology Security and in a variety of other senior U.S. Government positions. Prior to his appointment by former Defense Secretary Rumsfeld, Shaw was President and CEO of the American Overseas Clinics Corporation. Prior senior positions in the government included the White House staffs of Presidents Nixon, Ford, Reagan, and Bush I. He served as White House Liaison to the US Defense Department under President Ford and to the US State Department under President Reagan.  Shaw received a B.A. from Williams College, as well as a Bachelors, Masters, and Ph.D. from Cambridge University,He has taught international security studies at Cambridge University, Williams College, Georgetown University, and theInstitut d'Etudes Politiques in Paris." (Source)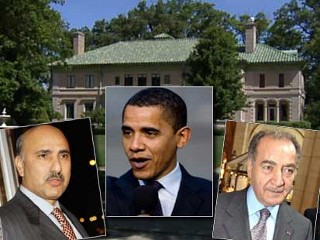 PART I.  NADHMI AUCHI: THE RAILROAD ENGINEER
The kingpin of Iraqi corruption, Nadhmi Auchi, and his Chicago henchman, Antoin "Tony" Rezko, built a well-financed network of political influence in Chicago over several decades. Barack Obama is its most famous beneficiary.
Nadhmi Auchi is an Iraqi-born billionaire who relocated from Baghdad to London in 1980 where he adopted British citizenship.
Auchi is the engineer who designed a new political railroad that connects the Middle East to the Middle West, with tracks that run through Washington.  Auchi financed it all. Think of him as the empire builder for the Chicago, Washington & Baghdad Railroad, with Tony Rezko as Conductor, and Barack Obama as its favored Passenger.
Auchi's efforts to play a role in American policy-making go back to the Jimmy Carter presidency. It took Auchi three decades to lay a track that reached into the U.S. intelligence community and built a spy ring operating out of Detroit funded by U.N. Oil-for-Food vouchers.
Auchi first appeared on the American scene backed by recommendations from European allies regarding his abilities and dependability. He arrived just as the U.S. was looking to lay tracks to Iraq at the commencement of the Iran-Iraq War. Once his bona fides were established in America, Auchi became a certified Washington player.
The First Gulf War provided Auchi an opportunity to ingratiate him with Pentagon figures whose influence would continue a decade later with the onset of the Iraq War. It gave him the Big Chance he sought.
In time, Auchi was seen as a transatlantic statesman with the magical, transformative ability to affect change everywhere in the world. He sold himself as a global entrepreneur who built a European empire and now wanted to extend it, in a helpful way, into America.
The substance of Auchi's leverage was simple: Money, the mother's milk of politics. As was his wont, the money went though middle men, multiple cut-outs, and a complex international financial grid, so that there were no Auchi fingerprints left on anything. It is the standard Auchi method of securing influence over politicians.  
Auchi bought influence in the old way with the Democrats. But while his money generally went to Democratic causes and candidates, intermittent Republican control of the White House enabled Auchi's influence to spread through his charitable donations to G.O.P. causes, and by bringing his substantive capabilities and sympathetic demeanor to their deliberations and problems concerning the Middle East.
In short, he came to be seen as a statesman and business wizard by men of stature in Washington as he created a positive reputation that transcended party lines.
Through the years, Auchi gained access to the Clinton White House and both Bush White Houses. Today, he is able to influence the Obama White House.
Auchi began as the international banker for Saddam Hussein. For Saddam, he bought national leaders the same way Rezko bought state boards, state senators and, eventually, a governor.
A man who has followed Auchi's activity closely for twenty five years, and who has held senior positions in the U.S. government, reflects due awe over "the suborning tactics of the patriarch of Arab deal making." Auchi's genius, this man says, "is not to start with the deals, but to master the environment so as to suborn it. After that he can drive a Mack truck through the environment. He is patient and wily, a master operator. He finds willing surrogates, like Rezko, to ply local folks in the 'target' zone with money and favors, not with grease ball stunts like cash in envelopes (though he does that very well too); he will do whatever it takes. His commitment is for the long term, and his involvement is concealed until everything is in place, be it in Baghdad, Cairo, London, Paris, or Chicago." The source adds that Auchi has developed a legion of surrogates, both Arab and Western, to act on his behalf so that his involvement in any deal is seldom overt. Everything he does tends to be understated, or denied.
Auchi's apparent invulnerability comes from two sources: The first is his investment and accompanying avalanche of philanthropy. The above observer notes that "his real gift is to enshroud the whole criminal enterprise in 'good works' and charitable giving, stuffed full of medals and titles and ceremonial dinners and cross-cultural 'peace-making' exercises. Who would dare bring down such a worthy man…hiding, if you will, in plain view?"
The second reason for his invulnerability is that, by 1980, he had became a major asset of British Intelligence, MI6, enabling him to gain entry into any situation, into anywhere in the Arab world or Europe, and into any problem, financial or political.
His connection with MI6 provided Auchi with an entrée into U.S. intelligence via Lord Cavendish's, former head of MI6, introduction to a small transatlantic group called Le Cercle,which focused on mutual national security interests. From then on Auchi enjoyed, relying heavily on his charitable donations, access to the U.S. policy-making nexus dealing with the Middle East and North Africa. Meanwhile, his Chicago-based political organization financially greased the skids to give him access to the White House across several administrations.
British journalists universally believe in Auchi's protective symbiosis with MI6. The best evidence of that is how it took eighteen months for the French government to get Auchi extradited from Britain for trial in the Elf/Aquitaine case. He returned to France, was convicted of getting a $100 million kickback, and admitted to all the charges against him, saying only that he had been told by the President de la Republique that there was no problem. He obviously has no problem with the British Government either.
The cover given Auchi by Whitehall, plus his ability to sue anyone who dared surface any facts about his continuing corruption activities, assured a continuing safe haven for him in London.  MI6 basically has given Auchi a license to steal, and allowed him to buy respectability through charitable donations and good works apart from his business dealings. He has been granted a coat of arms by the Queen, and has been knighted by the Pope.
Auchi has bought the leadership of the Labour and Liberal Democrat parties, and a measure of benign neglect from the Conservative party. He found them no less pliable than their neighbors across the Channel, or around the Mediterranean, who have been available for sale all his adult life. His General Mediterranean Holdings (GMH) is an appropriate name for Auchi's financial empire.
Auchi has a clear, long-term strategy.  He has been running a financial operation, parallel to that in the U.S., quite successfully in Great Britain and across Europe for a generation. He was a central, but shadowy, figure in the so-called London Group, which the Special Inspector General for Iraq Reconstruction identified as the hub of in-country Iraqi corruption after the 2003 invasion.
Some echoes of Auchi's methodology can be found in Britain where a pharmaceutical firm run by his daughter was indicted by the Serious Fraud Office at the Treasury for the largest fraud in the history of the National Health Service, but then was absolved. Hospital and medical investments have been a part of Auchi's strategy, not only in the U.K., but elsewhere in Europe, in Iraq, and in Chicago. He has been feted by the Royal Society of Medicine, and by its counterparts, from Cairo to Chicago.
Nadhmi Auchi was one of Saddam Hussein's most able and aggressive arms dealers when he came into my purview about twenty five years ago when I had responsibility for foreign military sales for the U.S. government.
As time went on, and I gained greater and greater involvement in the Middle East, I watched Auchi build his financial empire with his brilliant combination of political manipulation, financial genius, and ruthless opportunism. For three decades, I have followed arms and technology trade in the Middle East, and, for that reason, I have an acute sense of Auchi's operational methods.
I have spoken at length to people who know Auchi well, and to a legion of people who have observed him closely over decades. Most of them do not wish to be identified, either because they do not want their sources to dry up, or out of simple fear. I know of three deaths, two of them outright murders, in which Auchi is a lingering spectral figure. One of them was an American contractor who came to my Pentagon office to tell me how he had been defrauded of $25 million dollars by a Lebanese banker in Iraq. Three days later, he and his partner were shot to death by a hit squad northwest of Baghdad.
What follows is an attempt to put together an overview of the Auchi's concerted effort over those three decades to insinuate himself into the American political process and into various policy avenues in which he could both provide benefit and derive profit and power. It is necessarily a puzzle with many of the pieces missing. But the pieces that are conjoined provide a sketch of Auchi in action.
The myth propagated by Auchi is that he left Baghdad in 1980 because of disaffection with Saddam. In fact, he left Baghdad with a large chunk of Saddam's and Muammar Ghaddafi's overseas money, which became the nexus for his Luxembourg enterprise, GMH.
The reality is that, for well over a decade, Auchi was the main financial operator in Europe for Saddam, who established him everywhere as his principal financial guy. In 1993, Jamil al-Amdar, then Saddam's main man in China, when seeking asylum in the West, confirmed that "Saddam's enforcer for Europe is his cousin, Barsan al-Tikriti, who had diplomatic status from a U.N. post in Vienna, but his main money man in Europe and the West, was Nadhmi Auchi."
Auchi has woven another myth that he broke with Saddam over the killing of his brother. But, in fact, that murder arose from his brother's attempts to take over a Saddam pipeline deal.
For the next three decades Auchi built up his empire in Europe, the Middle East, and the U.S., with the U.S. as his ultimate and richest target, and with Saddam providing the money.
Auchi's overarching ability is to spread money around politically and use it to leverage lucrative government and commercial contracts. His role as Saddam's banker allowed him to build his GMH into the largest stockholder in BNP Parisbas, which, thanks to Auchi, became the trough for the U.N. Oil-for-Food scam. (A researcher for the Volker Report on the U.N. Oil-for-Food program confirmed that, while Auchi's name never appeared in the report, his fingerprints were evident across the program; French political pressure prevented its inclusion in the report).
Auchi was found guilty in 2003 of taking a million dollar kickback in the Elf-Aquitaine scandal in France, the largest corruption case in French history. His influence with successive presidents of France assured that he was only given a suspended prison sentence and a several million dollar fine. He returned to England unscathed.
A good indicator of Auchi's methods of operation and reach can be found in David Ignatius's 1994 novel, The Bank of Fear, where the main antagonist is based wholly on Auchi. The novel reflects the history of the two decades after 1980 when Auchi was the unacknowledged but actual financial front man for Saddam in Europe. Ignatius had started to write an expose of Auchi and his dealings, but decided that the British libel laws made a novel a wiser alternative.
COMING NEXT - PART II: A SNAPSHOT OF AUCHI'S METHODS: FIXING THE CONTRACT FOR THE IRAQI CELLULAR PHONE SYSTEM