B. C. Woodstein, Guest Writer
Below, watch James B. Comey's performance at a U.S. Senate Judiciary Committee hearing on May 15, 2007 concerning warrantless wiretaps, and the alleged stand-off between the Bush II administration and his Department of Justice (DOJ). Comey's performance is aided by Sen. Chuck Schumer playing the straight man in their skit. Enjoy their depiction of hospital room heroics, worthy of Saturday Night Live.
Now, when you're done laughing at Comey's Schumer-assisted performance that helped scrub clean all the top people at the Bush DOJ, who were just about to be outed by DOJ whistleblower Thomas Tamm for conducting warrantless wiretaps on American Citizens, consider this: After the hospital room "skit," Deputy Attorney General James Comey, Attorney General John Ashcroft, and FBI Director Robert Mueller all went right back to work conducting warrantless wiretaps on American citizens, just as though nothing had happened.
Today, the Hospital room comedy is touted by the regime as the main reason we should accept Comey as the next FBI Director.
If that doesn't get your attention, remember this: On December 30, 203, Comey appointed U.S. Attorney Patrick Fitzgerald to be Special Counsel on what is commonly known as the Valerie Plame Case. Fitzgerald was given extraordinary powers to hunt down the source of a leak to a newspaper reporter who (1.) never wrote a story using the information while (2.) Comey, Patrick Fitzgerald, and half of Washington DC, knew who did leak the information before...yes, before...Fitzgerald was even appointed! The reporter was Judith Miller of the New York Times. The self-confessed leaker was Richard Armitage, the Deputy Secretary of State to Colin Powell.
In retrospect, the whole Plame saga was a surrogate whizzing contest between Powell and his-not-so-good friend Dick Cheney.
Now feature this: Shortly after appointing his buddy Fitzgerald to be Special Counsel in the Valerie Plame Case, Comey went to work as the top lawyer at Lockheed Martin. They do a lot of surveillance business with the feds.
Now factor in Mark Grossman. Remember him? He was the Undersecretary of State who reported to Deputy Secretary of State Dick Armitage. Grossman wrote the memo that started the whole Plame thing – as Gomer Pyle said, "Surprise, surprise."
                                                                     Marc Grossman
Coincidently, two of Marc Grossman's colleagues at the Cohen Group (that would be Cohen as in Bill Clinton's former SecDef) – namely Vice-Chair Joseph Ralston and Senior Counselor James Loy – sit on the Board of Directors at Lockheed Martin.
Joseph W. Ralston                                                                                          James M. Loy
You suppose Ralston and Loy were so delighted with the job that Comey and his buddy Fitz were doing keeping the Chicago/Washington/Bagdad Railroad that John Shaw exposed running, that they recommended Lockheed Martin bring Comey on board and pay him a boat load of money?
Comey's total compensation in 2009 alone was $6,113,797, which was multiple times higher than the position ordinarily paid.
Oh, and did you know that Grossman was Fitz's star witness in the Scooter Libby trial? Gee, it's a small world!
Here's a question the media never did ask: Did Grossman know Valerie Plame's husband, Joe Wilson. If so, how did he know him, and for how long? After all, Grossman and Wilson went to the same college, at the same time, and were doing the same job in neighboring countries leading up to, and during, "Operation Desert Storm." Grossman was Deputy Chief of Mission in Turkey, and Wilson was Deputy Chief of Mission in Iraq.
Think maybe they knew each other?
Do you think Chuck Schumer or any of the Senator's on the Senate Judiciary Committee will look for answers to these important questions?
Tune in to find out on the next "James B Comey Show" coming to a Senate committee hearing on your TV.
Thomas Barton, Investigative Reporter
U.S. Attorney James B. Comey  was appointed Deputy Attorney General for the purpose of appointing U.S. Attorney Patrick Fitzgerald as "Special Counsel" to lead the investigation into who "leaked" Valerie Plame's identity as a C.I.A. employee to the press.  It was all choreographed.
It was known that Deputy Secretary of State Richard Armitage leaked Plame's identity as a CIA employee to the press - even before Patrick Fitzgerald was appointed "Special Counsel".  Go figure.
And, it was known that Armitage was the "Leaker" before Comey was chosen for his job, and before he appointed Patrick Fitzgerald as "Special Counsel," and before Fitzgerald was tasked to find out what the government already knew.
Seriously, you can't make this stuff up! Here's a sequence of key dates:
Oct 1, 2003:  Bob Novak published an article that causes Richard Armitage to go immediately to the FBI and confess to being the "Leaker" in the Valerie Plame case.
Oct. 3, 2003:  George W. Bush nominates Patrick Fitzgerald's peer and close friend, U.S Attorney James B. Comey, to be Deputy Attorney General.
Oct. 29, 2003: During Comey's senate confirmation hearing, Senator Chuck Schumer (D-NY) questions Comey about the possibility of Attorney General John Ashcroft  recusing himself in the Plame case and Comey appointing a Special Counsel to that case.
So, what happened next?
Comey was confirmed Deputy Attorney General.
Ashcroft recused himself, putting Comey in charge of the Plame case.
Comey appointed his close friend, Patrick Fitzgerald as Special Counsel in charge of finding the "Leaker".
And, this was all done after Armitage confessed to being the "Leaker," said he wouldn't seek legal representation, and claimed to be prepared to accept the consequences of his actions.
Fitzgerald asked Armitage to keep his guilt to himself.
Armitage complied.
Judith Miller went to jail, and Scooter Libby was prosecuted and found guilty...of something other than leaking.
Shortly after appointing Fitzgerald to the Plame case, Comey left the Attorney General's office to become lead counsel at Lockheed Martin. We'll explain the significance of that move later.
And where's Comey today?  Why he's a partner at Attorney General Eric Holder's former law firm, Covington & Burling.
Stay tuned.....
 Ernie Souchak, Editor-in-Chief
He's Dr. Ronald Michael, aka John Doe
And, it appears the Chicago Sun Times used the picture of Dr. Ronald Michael and George W. Bush that was taken at a 2003 Tony Rezko-sponsored fundraiser in Chicago in a full page article.

The Watchdogs.pdf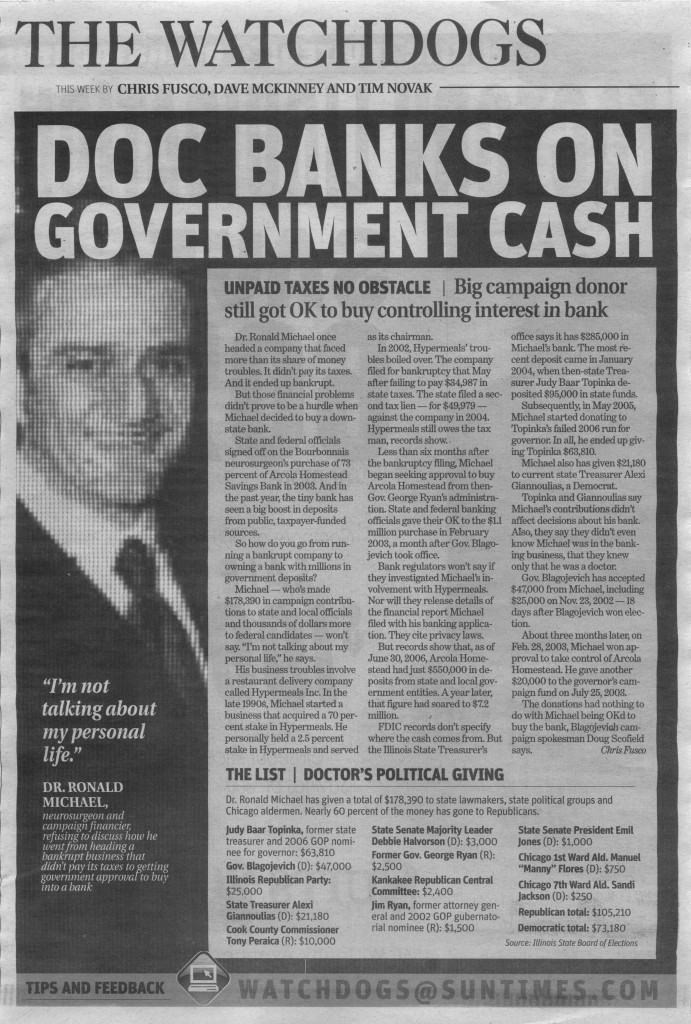 While this story unfolds ponder these questions:

(1) Why would the Sun Times eliminate President Bush from the picture?

(2) Why would Democrat Gov. Rod Blagojevich's right-hand man and convicted bagman sponsor a fundraiser for Republican presidential candidate George W. Bush?

(3) Why would Rezko co-sponsor a fundraiser for George W. Bush at the same time he is backing Barack Obama's political career? And, wait, wasn't the man that co-sponsored this event with Rezko a buddy of Karl Rove?

(4) Where was U.S Attorney Patrick Fitzgerald when all of this was going on right under his nose?

(5) What could Nadhmi Auchi's guy, Antoin "Tony" Rezko, tell us about all this? 

Developing story.......
Ernie Souchak, Editor-in-Chief
  <<BREAKING NEWS>>
He's "John Doe"
And he filed a lawsuit against the Chicago Sun Times
John_Doe_vs_Chicago_Sun_Times_Inc.pdf
Just when you thought you have seen it all "John Doe" files a lawsuit for libel . "Only in Chicago"
Mystery man and President George W. Bush 
We are waiting for a comment from the Chicago Sun Times and hope to bring you more details of this unusual situation shortly.
Developing story.....
Update:  
DOC Banks on government cash
Unpaid taxes no obstacle | Big campaign donor still got OK to buy controlling interest in bank
October 18, 2007
BY CHRIS FUSCO Staff Reporter
Dr. Ronald Michael once headed a company that faced more than its share of money troubles. It didn't pay its taxes. And it ended up bankrupt.
But those financial problems didn't prove to be a hurdle when Michael decided to buy a downstate bank.
RELATED STORIES
• Indicted but still lobbying
The List: Doctor's political giving
Dr. Ronald Michael has given a total of $178,390 to state lawmakers, state political groups and Chicago aldermen. Nearly 60 percent of the money has gone to Republicans.
Judy Baar Topinka, former state treasurer and 2006 GOP nominee for governor: $63,810
Gov. Blagojevich (D): $47,000
Illinois Republican Party: $25,000
State Treasurer Alexi Giannoulias (D): $21,180
Cook County Commissioner Tony Peraica (R): $10,000
State Senate Majority Leader Debbie Halvorson (D): $3,000
Former Gov. George Ryan (R): $2,500
Kankakee Republican Central Committee: $2,400
Jim Ryan, former attorney general and 2002 GOP gubernatorial nominee (R): $1,500
State Senate President Emil Jones (D): $1,000
Chicago 1st Ward Ald. Manuel "Manny" Flores (D): $750
Chicago 7th Ward Ald. Sandi Jackson (D): $250
Republican total: $105,210
Democratic total: $73,180
Source: Illinois State Board of Elections
State and federal officials signed off on the Bourbonnais neurosurgeon's purchase of 73 percent of Arcola Homestead Savings Bank in 2003. And in the past year, the tiny bank has seen a big boost in deposits from public, taxpayer-funded sources.
So how do you go from running a bankrupt company to owning a bank with millions in government deposits?
Michael -- who's made $178,390 in campaign contributions to state and local officials and thousands of dollars more to federal candidates -- won't say. "I'm not talking about my personal life," he says.
His business troubles involve a restaurant delivery company called Hypermeals Inc. In the late 1990s, Michael started a business that acquired a 70 percent stake in Hypermeals. He personally held a 2.5 percent stake in Hypermeals and served as its chairman.
In 2002, Hypermeals' troubles boiled over. The company filed for bankruptcy that May after failing to pay $34,987 in state taxes. The state filed a second tax lien -- for $49,979 -- against the company in 2004. Hypermeals still owes the tax man, records show.
Less than six months after the bankruptcy filing, Michael began seeking approval to buy Arcola Homestead from then-Gov. George Ryan's administration. State and federal banking officials gave their OK to the $1.1 million purchase in February 2003, a month after Gov. Blagojevich took office.
Bank regulators won't say if they investigated Michael's involvement with Hypermeals. Nor will they release details of the financial report Michael filed with his banking application. They cite privacy laws.
But records show that, as of June 30, 2006, Arcola Homestead had just $550,000 in deposits from state and local government entities. A year later, that figure had soared to $7.2 million.
FDIC records don't specify where the cash comes from. But the Illinois State Treasurer's office says it has $285,000 in Michael's bank. The most recent deposit came in January 2004, when then-state Treasurer Judy Baar Topinka deposited $95,000 in state funds.
Subsequently, in May 2005, Michael started donating to Topinka's failed 2006 run for governor. In all, he ended up giving Topinka $63,810.
Michael also has given $21,180 to current state Treasurer Alexi Giannoulias, a Democrat.
Topinka and Giannoulias say Michael's contributions didn't affect decisions about his bank. Also, they say they didn't even know Michael was in the banking business, that they knew only that he was a doctor.
Gov. Blagojevich has accepted $47,000 from Michael, including $25,000 on Nov. 23, 2002 -- 18 days after Blagojevich won election.
About three months later, on Feb. 28, 2003, Michael won approval to take control of Arcola Homestead. He gave another $20,000 to the governor's campaign fund on July 25, 2003.
The donations had nothing to do with Michael being OKd to buy the bank, Blagojevich campaign spokesman Doug Scofield says.
Ernie Souchak, Editor-in-Chief
When John Chase of the Chicago Tribune testifies about the part he played in derailing U.S. Attorney Patrick Fitzgerald's multi-year, multi-million dollar investigation of corruption in Illinois, don't forget to have him explain what he knows about the man pictured with President George W. Bush at the Bush/Cheney fundraiser held in Chicago in 2003 that Antoin "Tony" Rezko co-sponsored.
You can ask Fitz later.
Developing story....