Ernie Souchak, Editor-in-Chief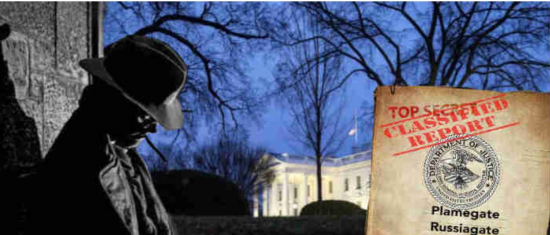 The Report On Mueller
By Lee Cary & Marty Watters
The only "Mueller Report" that matters was not written by Robert Mueller III. It's written about him, and his co-conspirators.
Long before the Russiagate hoax began, the authors examined the Special Counsel methods of then FBI director Robert Mueller, former Deputy Attorney General James Comey, and once U.S. Attorney Patrick Fitzgerald, before and during Plamegate.
We found that all three acted with an intent to serve and protect the Deep State.
Their modus operandi (M.O.) reflects Mueller's Fake Investigation Playbook.
The M.O. of the Playbook was evident during the George W. Bush administration in Plamegate. Then, before and during the first term of the Trump administration, it was replicated.
Below is a step-by-step comparison of the Playbook's 10 steps during two Special Counsel episodes.
Marty Watters, Investigative Reporter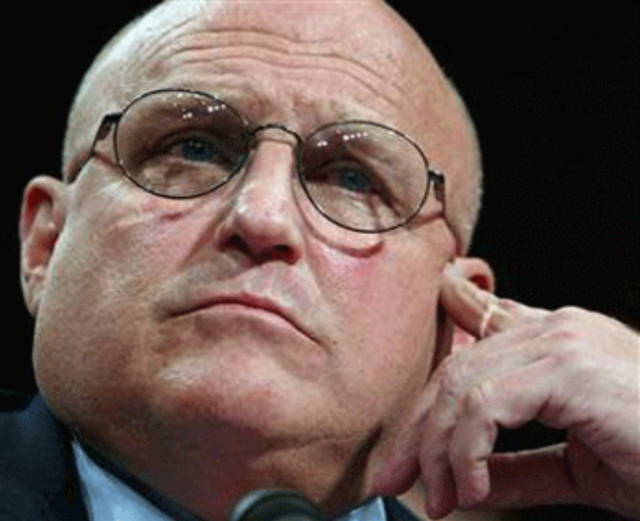 After years of dodging questions about his role in the appointment of a Special Counsel to investigate the outing of CIA employee Valerie Plame, former Deputy Secretary of State Richard Armitage finally confessed that "Plamegate" was a hoax orchestrated by senior officials at the FBI and DoJ.
And by doing so, he confirmed the fact that Robert Mueller and James Comey are Dirty Cops.
In 2006, Armitage told CBS News that he was the source for the Robert Novak article that led to the appointment of Special Counsel Patrick Fitzgerald. And that he, Armitage, told no one for three years because Fitzgerald asked him not mention it.
Armitage says he didn't come forward because "the special counsel, once he was appointed, asked me not to discuss this and I honored his request."
Armitage now admits that was a lie.
William H Taft III, who was legal advisor to the State Department and was present at the Oct 2, 2003 meeting at FBI headquarters when Armitage confessed to being Robert Novak's source, told me, in a telephone conversation, that in that meeting, Armitage, Secretary of State Colin Powell and he were all asked by the FBI to "not tell anyone" about Armitage's confession.
This silencing came three months before Fitzgerald was appointed Special Counsel tasked to find out who leaked Valerie Plames association with the C.I.A.
EXCLUSIVE: How Deep State 'Journalist' Michael Isikoff Has Been Setting Up Mueller's Enemies For Years
When asked to respond to what Taft told me, Armitage replied "you can put what Taft said on the record."
Armitage confirmed that it was FBI and DoJ officials, not Fitzgerald, who asked him to, withhold information. And by remaining silent he, Taft and Powell allowed a Special Counsel Fitzgerald to be fraudulently appointed three months later, even though everyone knew Armitage was the leaker. In short, there was no legitimate reason to appoint a Special Counsel.
How Mueller Has Been Silencing Whistleblowers To Set Up Fake Special Counsels For Years
Sound familiar?
When Armitage was pressed to provide the names of the FBI and DoJ officials that asked him to conceal his confession he stated "it was a long time ago," as if he couldn't remember. Then he abruptly ended the conversation by saying, "I'm going to go now," and hung up.
So, we ask:
Who was Director of the FBI at the time of the meeting?
Robert Mueller.
Who was the DoJ official that appointed Fitzgerald?
James Comey.
Isn't it time to appoint a Special Counsel to investigate the last two appointments of a Special Counsel? (Plamegate and Russiagate)
Related: New Witness Emerges In Mueller-Linked Scooter Libby Set-Up
Ernie Souchak, Editor-in-Chief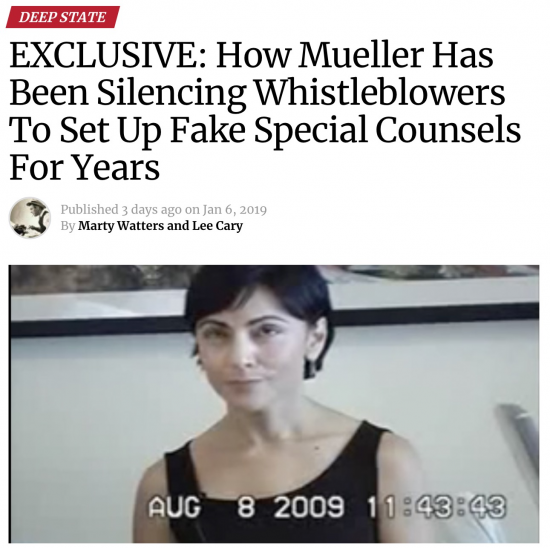 During his twelve-year reign as FBI Director, Robert Mueller not only protected his criminal friends by silencing those who could expose their bad acts, he projected his friends' crimes onto others in order to fraudulently appoint a Special Counsel. And the FISA court judge Reggie Walton — who was hacked by Obama officials John Brennan and James Clapper, according to whistleblower evidence — has been involved in more than one of these plots.
There is no better Deep State tool for punishing your enemies than a fraudulent Special Counsel (who is not accountable to anyone) with an unlimited budget and no deadline. Mueller is responsible for two such Special Counsel appointments.
First, there is Uranium One – the only genuine Russian Collusion case.
Related: EXCLUSIVE: How Deep State 'Journalist' Michael Isikoff Has Been Setting Up Mueller's Enemies For Years
EXCLUSIVE: Hacked Judge Reggie Walton Sat On Bench For Multiple Mueller-Comey Operations