Guest Writer, John A. Shaw
PART 3: OBAMA – PASSENGER ON THE AUCHI CHICAGO-D.C. EXPRESS
Nadhmi Auchi, despite his purchased respectability in England, was the financial eminence behind the Chicago-Arab combine, and the man who, with Rezko, helped invent Barack Obama as a political star.
Rezko was sent to Chicago by Auchi, just as Vladimir Lenin was sent in a sealed train to the Finland Station by the Germans to be a political virus planted in the Russian body politic. Auchi outdid the Germans of that era who dreamed of a Berlin-to-Baghdad Railway: Auchi built a longer Baghdad-to-Chicago Railway, one that ran through Washington, D.C.  
Auchi helped buy Barack Obama his ticket to Washington – all the way to the White House. His Conductor was Antoin "Tony" Rezko,
Arab financiers tend to deal only with men with whom they have developed a trusted relationship over a long period of time.Rezko indictment documents prepared by U.S. Attorney Patrick Fitzgerald in 2008, showed the extent that Rezko had been involved with Auchi over time in a series of corrupt deals in Iraq. The indictment established that their relationship predated Auchi's arrival in Chicago, and probably Rezko's arrival there as well. Rezko was sent there to pave the way for Auchi. Until then, it was not evident that they had been long-term business associates outside the U.S.
Rezko, through Auchi, had the resources needed to build an Arab-American system compatible with Chicago, but not identified with Auchi. Rezko was a small scale entrepreneur and contact-seeker who, thanks to Auchi's untraceable money, had the financial muscle to gain contracts and donate to political campaigns.
In retrospect, Rezko may seem to have been a weak link in the Auchi system, but he had all the skills needed to operate at the street-level in Chicago. He made useful friends, got politically connected, and built his network. He entered housing and hospital service worlds at the ground floor and snaked his way,al la Auchi himself, into small contracts in Chicago that led tobigger contracts, there and beyond. He became a genuine part ofthe "Chicago Way," rather than just Auchi's facilitator for the combine.
Rezko is in jail, but the foundations he laid in Chicago on behalf of Auchi are still there. The Auchi railroad is not out of business there. It is merely parked on a side-track until after the 2012 election.
Auchi ensured that Rezko, and others in the Chicago clan like Aiham al'Sammara'e, got into the Iraq contracting game when those opportunities began to arise in spades after the Iraq invasion in 2003. Al Sammara'e, an Iraqi American, who can be seen below seated to Blago's left at their Chicago rendezvous in April 2004, went back to Iraq to become Minister of Electricity. There he helped usher in a series of deals involving both Rezko and Auchi, showing how adaptable the Chicago combine had become, and how Auchi's surfacing in Chicago energized the whole of his operation.
Thanks to Auchi's money, Rezko helped Rod Blagojevich get elected to Congress, and then to the Illinois Governor's office. And, while he first failed to get Barack Obama into Congress, he ultimately helped him get elected to the Illinois State Senate, and then to the United States Senate.
While Rezko and Blagojevich had been compromised by the time Obama was en route to the White House, Auchi thought he had merely experienced an unjust series of setbacks: A felony conviction in France, and his outing as the No. 1 corruption figure in post-invasion Iraq.
He ignored the conviction, as it was "under appeal," and set out to do whatever he could to discredit my DoD report about his role in Iraq telecom scam. He tried, unsuccessfully, to smear me with false accusations concerning actions I had taken to thwart his fixing of the telecom deal in Iraq.
In Chicago, Auchi retrenched financially and bought out Rezko's interest in the South Side land deal that would probably have housed part of the Olympic Village for the 2016 Olympics.
After momentarily retrenching, he revealed the extent of his continuing involvement in Chicago by hosting a major fete for Jesse Jackson in London in October 2010. The Chicago Machine left Auchi no doubt his visa will be restored before January 2013 and that Rezko will be pardoned by President Obama, whatever the outcome of the election. All that, as the Arabs say, is "in the pocket".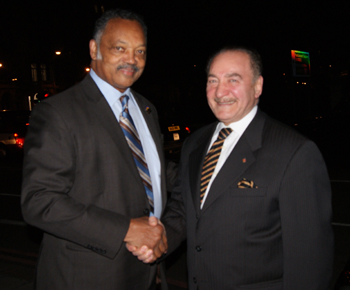 It should now be clear that Auchi was not auditioning for a role with Blago and Obama on his trip to Chicago in April, 2004, as the Chicago media reported. He was coming to make good on his Chicago investments, and, particularly, to cash in on his South Side land deal, which involved several important people in the city government, some of whom went with Obama to Washington four years later to ensconce themselves in the White House so that they could return to the Chicago trough after a decent interval.
Rahm Emmanuel is now the Mayor of Chicago. Valerie Jarrett, born in Iran, remains as Obama's main counselor at the White House, but she was an unwitting facilitator for Auchi and Rezko in their Chicago organization.
Auchi's Middle East hub in Chicago remains strong and viable. He now characterizes the South Side land deal as a property-development project that will be worth over two billion dollars.  And that could well be true, given the seed money his combine planted in Chicago still in place.
Auchi knows that, for the first time since Elf/Aquitaine, he was caught fixing a major contract, this one under U.S. rather than French jurisdiction. It was also the first instance where he was seen to bribe foreigners as part of an intelligence operation with both British and U.S. elements, and one which had the apparent approval of a small cadre of people in the U.S. government determined to use telecommunications to shape new leadership in Iraq.
Auchi overplayed his hand in Iraq because he thought he had all the support he needed with a bribed American contact as his Coalition Provisional Authority (CPA) operator in Baghdad, and with the Pentagon support group as the guarantor of his success. Yet, just as his bribed contact's inexperience and incompetence was the proximate cause of Auchi's exposure in the Iraq telephone caper, it was the self-destruction of Ahmed Chalabi, the Pentagon's chosen candidate, that thwarted his support group's plans.
Chalabi, who had once been a business colleague of Auchi, was not wholly trusted by him, and was only able to become one of Auchi's anointed beneficiaries because the Pentagon support group wanted him to become the George Washington of Iraq.
The telecom fix in Iraq was, for Auchi, a vehicle for making money.  He fed at that trough and moved on.  Auchi's bribed American insider and his combine at the Ministry of Communications had been taken care of and were expendable, the same way Rezko was in Chicago, and Chalabi was in Baghdad.
Auchi's intelligence service sponsors presumably cashed in on whatever advantages they had sought from their relationship, and no doubt look forward to further mutual efforts with Auchi in Europe, the Middle East, and perhaps even the U.S.  Auchi has, after all, brought a new diversity to the American Middle West.
The group at the Pentagon had missed an important attribute of Auchi's: He was President of the Anglo-Arab Organisation, the stridently pro-Arab lobbying group that provided the lead for their causes in the U.K. and beyond, especially opposition to Israel; Middle East Online , supported by Auchi, is stridently anti-Semitic and Auchi himself took the lead in supporting the recent Turkish flotilla sailing to end the Gaza blockade. While Auchi is adept at making his way through and around Arab politics and sectarian divisions, he is dependably supportive of the Arab cause in anything that involves Israel. His building of the railroad to Chicago, with its Black Muslims presence, takes on a more sinister air when the extent of his commitment to widely-held Arab and Muslim interests is considered.
In Iraq, Auchi wasted no time in advancing his combine beyond telecom to electricity, then into the health sector and the chase for oil leases. With the ability to influence Maliki, Auchi won everything worth getting in Iraq.
In Chicago, the Arab combine is still alive, if less well off, and Auchi is working with the new city government to develop his considerable land holdings there.
His man is President of the United States as Auchi awaits the return of his visa and Rezko's pardon.
Today, the incriminating evidence against him from Iraq is boxed up in the office of Gary Shapiro, the new U.S. Attorney in Chicago who had long been Fitzpatrick's First Assistant, to be forgotten by the New Year.  That material was passed from the DoD, to the Department of Justice, and then down to U.S. Attorney Patrick Fitzpatrick's office for further investigation. And there it sits.
Whether Obama wins or loses in November, Auchi will profit, because his Chicago, Washington, Baghdad Railroad is in operation. So, watch your step!
All aboard!
Previously in this series:
Part 1:  REZKO,OBAMA, AND THE NADHMI AUCHI RAILROAD LINKING CHICAGO, WASHINGTON, AND BAGHDAD (Part 1of 3)
Part 2: NADHMI AUCHI: THE RAILROAD ENGINEER(Part 2 of 3)  
John A. Shaw, a former senior official of the Defense, State, and Commerce departments, served on several White House staffs. He is a specialist in international technology transfer and arms sales, and in the economic development of the Middle East.